Customer Logins
Obtain the data you need to make the most informed decisions by accessing our extensive portfolio of information, analytics, and expertise. Sign in to the product or service center of your choice.
Customer Logins
Global manufacturing outlook improves as PMIs rise in majority of markets

Global PMI signals marginal improvement in manufacturing conditions for first time in seven months in November
Outlook brightens as higher PMIs recorded in 18 out of 30 markets; highest number for two years, including US and China
Greece continues to lead PMI growth rankings
Global manufacturing activity increased for the first time in seven months in November, according to PMI survey data, albeit improving only fractionally. New orders and output edged higher, showing the strongest gains seen so far this year, helping employment levels stabilise for the first time in seven months.
Moreover, headline PMIs rose in more countries surveyed than at any time seen over the past two years, which augurs well for a further improvement in global business conditions in coming months.
Output and new orders increase
The JPMorgan Global Manufacturing PMI, compiled by IHS Markit from its surveys in 30 markets, rose from 49.8 in October to 50.3 in November, rising above the 50.0 no-change level for the first time since April.
Production rose globally to the greatest extent seen since December 2018, accompanied by a similar improvement in new order inflows, albeit with still-subdued rates of increase seen in both cases. Worldwide goods exports continued to fall, pointing to overall growth of manufacturing being held back by lacklustre worldwide trade flows.
The improvement in orders was nevertheless sufficiently strong to encourage manufacturers to bring a halt to the recent trend of job cutting seen over the prior six months, leaving employment levels unchanged in November.
Signs of recent deflationary pressures easing were also evident, with suppliers raising prices for raw materials very slightly and prices charged for goods by manufacturers up for the first time in five months, albeit by the smallest of margins.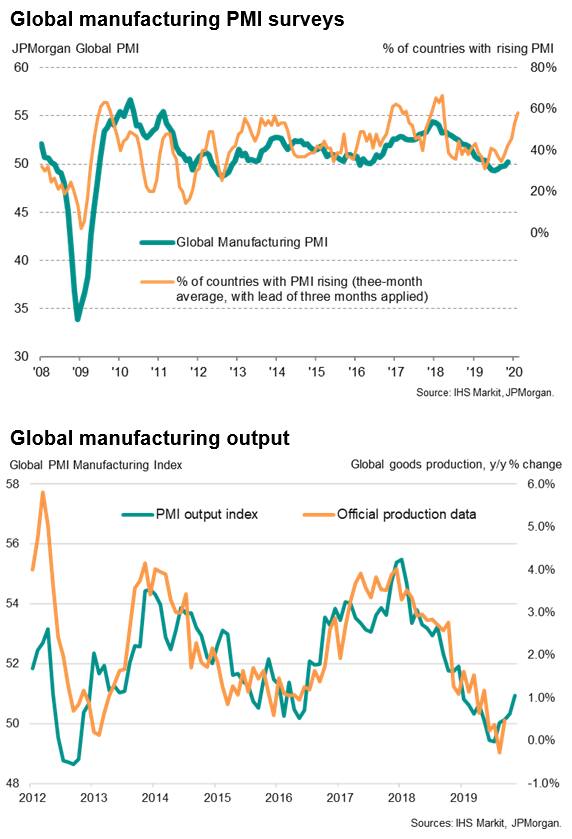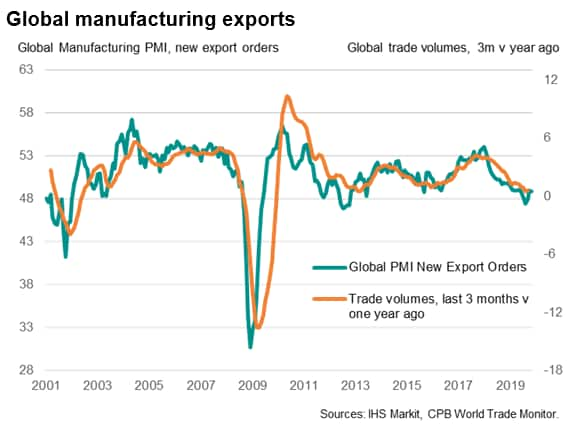 Majority of PMIs moving higher
Looking ahead, firms' expectations for output in the year ahead slipped lower, down to one of the lowest seen since comparable data were first available in 2012.
More encouragingly, however, PMIs rose in 18 of the 30 markets surveyed in November, a harbinger of better times to come for the headline global PMI. These improvements included faster rates of increase reported most notably in the US and China, as well as Canada, France, India, Brazil, Colombia and Greece, plus a return to growth in Vietnam.
Easing rates of decline were meanwhile reported in Germany and Spain (in turn playing a key role in helping to moderate the rate of contraction of the Eurozone), as well as in Japan, Turkey, South Korea, Indonesia, Malaysia, Poland and Austria.
Offsetting these improvements were increased rates of decline in the UK, Russia, Italy and the Czech Republic, as well as renewed downturns in Australia, Mexico, the Netherlands, Ireland and Thailand. Slower rates of expansion were meanwhile reported in the Philippines and Myanmar.
The number of countries reporting rising PMIs has now risen steadily since bottoming out back in May and June, up from lows of 3o% of the total of 30 to 63% in November, representing the highest proportion since November 2017.
Importantly, the changing number of countries reporting rising or falling PMIs seems to impart some information about the likely future trend in the headline PMI, tending to move ahead of turning points in the global manufacturing PMI by several months (see first chart, where the proportion of markets reporting higher PMI numbers is advanced by three months against the headline PMI to demonstrate the lead).
The recent rise in the number of countries reporting rising PMIs therefore looks likely to feed through to improved global manufacturing business conditions in coming months, barring any sudden developments that could throw this trend off course.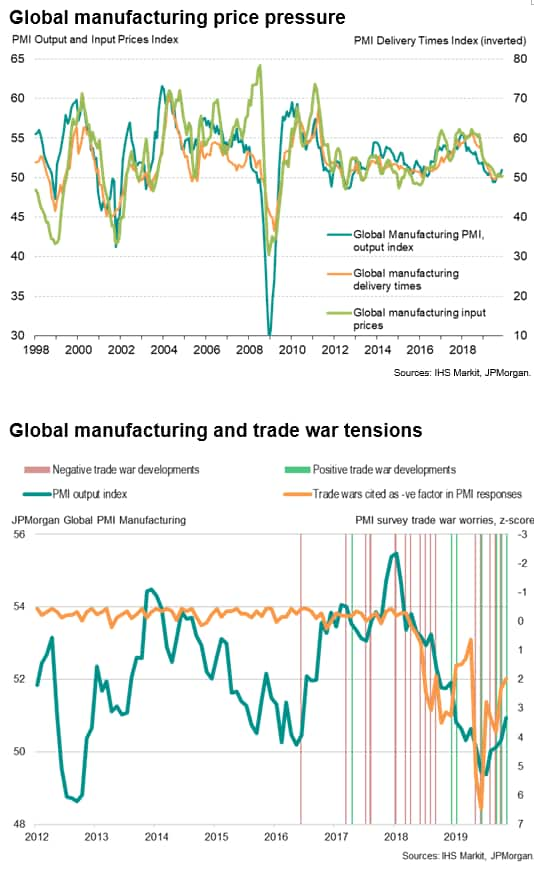 Trade war tensions
One such adverse development could be an escalation of trade war tensions. In our chart we track the development of trade war tensions with two gauges.
First, as shown by the orange line, we analyse the number of times "trade" and "tariffs" were mentioned by PMI contributors as factors that they perceive to have had a detrimental effect on their business, causing either a drop in orders, exports or output.
Second, we overlay the newsflow on whether US-China trade discussions moved in a positive or negative direction (as measured by the impact on equity markets).
This analysis highlights how an increasingly negative newsflow relating to trade wars quickly fed through to lower global manufacturing PMI readings in 2018 (the PMI peaked in December 2017). More recently, an improving newsflow (shown by vertical bars moving from red to green), and an easing in panel member concerns about trade wars, has been accompanied by some improvement in PMI readings.
The analysis therefore hints at a strong link between trade war developments and actual manufacturing growth trends globally, suggesting that the future development of trade discussions could be instrumental in steering the direction of the PMI in coming months.
Greece continues to lead the PMI rankings
Looking in more detail at country trends, Greece led the manufacturing PMI rankings for the eighth straight month in November. While Greece has been enjoying it best growth spurt since the global financial crisis in recent months, Germany has been suffering its steepest downturn, albeit lifting off the bottom of the global rankings for the first time in nine months, replaced in November by neighbouring Czech Republic.
Russia, Austria and Poland also reported particularly steep downturns, highlighting the geographical clustering of sub-par performance in northern Europe.
Only 11 of the 30 countries reported expansions in November (as indicated by a PMI above 50), down from 13 in October.
Of the world's largest economies, the strongest expansions were reported by Brazil, the US, China, France, Canada and India.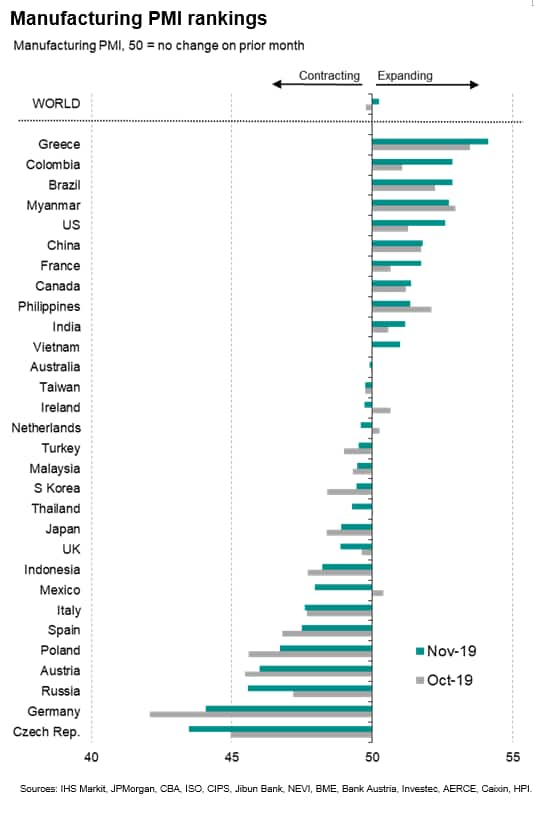 Chris Williamson, Chief Business Economist, IHS Markit
Tel: +44 207 260 2329
chris.williamson@ihsmarkit.com
Recent commentaries on global manufacturing PMI

© 2019, IHS Markit Inc. All rights reserved. Reproduction in whole or in part without permission is prohibited.
Purchasing Managers' Index™ (PMI™) data are compiled by IHS Markit for more than 40 economies worldwide. The monthly data are derived from surveys of senior executives at private sector companies, and are available only via subscription. The PMI dataset features a headline number, which indicates the overall health of an economy, and sub-indices, which provide insights into other key economic drivers such as GDP, inflation, exports, capacity utilization, employment and inventories. The PMI data are used by financial and corporate professionals to better understand where economies and markets are headed, and to uncover opportunities.
RELATED INDUSTRIES & TOPICS