Customer Logins
Obtain the data you need to make the most informed decisions by accessing our extensive portfolio of information, analytics, and expertise. Sign in to the product or service center of your choice.
Customer Logins
Securities Finance August 2020

August revenues decline by 22% YoY
Sharp decline in North America equity lending revenues
EMEA equity revenues increase YoY
Lowest monthly revenue YTD
Global securities lending returns declined by 22% YoY in August. US equities were the largest contributor to the shortfall, as special balances continued to decline from the YTD peak in June. August was the fourth month of 2020 to deliver less revenue than the 2019 comparable and the first since May. The August shortfall puts QTD revenue at $1.5bn, a 9.9% YoY decline. To some degree the decline could be anticipated, with US equity revenue trending down steadily over the month of July, however the magnitude was startling. Lower M&A and new issuance activity contributed to the sequential decline, which was largely seasonal with some high-profile IPOs expected this Fall. Formerly lucrative lending opportunities relating to arbitrage trades in June and July concluded. In this note we'll review some of the drivers of global lending income in August.

August was the first month of 2020 to have the most revenue generating security be a European equity. German equity lending revenue has been bolstered by hard to borrow shares YTD, with Varta Ag delivering $11.9m in August revenue. EMEA was the only region for equities to deliver YoY growth in August; Germany represented most of the growth, the rest of EMEA combined for 15% YoY decline in August revenues. A pair of equities listed in the Netherlands also appear on the top revenue generating equities for August, NN Group Nv and Unibail Rodamco Westfield Se, which led Dutch equity lending revenues more than doubling YoY. The boost to July revenues, partly from delayed dividend record dates, along with the increase in German & Dutch revenues in August puts EMEA QTD revenues at $248m, a 14% YoY increase.
Americas equity revenues came in at $220m for August, a 35% YoY decline, however the $656m QTD total only reflects a decline of 9% YoY. US equity revenues tumbled in August after stellar returns in June and July. Share borrowing related to convertible, merger and warrant arbitrage led in the prior months but had already substantially trailed off by the end of July; August offered limited special situation lending opportunities. US equities delivered $194m in August revenue, a 30% YoY decline. Despite the sharp decline in August there is cause for optimism heading into the Fall with several firms planning to go public via IPO or SPAC, which will likely result in elevated fees. It's also worth noting that the YoY shortfall in US equity returns was partly just a function of Beyond Meat (BYND) delivering $48m in August 2019, excluding that the YoY decline was 'only' 16%; BYND generated $65M in September of 2019, which will make the YoY comparison even more challenging next month. Canadian equity lending revenues also declined sequentially and YoY, with the Cannabis related returns declining steadily as increased issuance translated to additional lendable shares and lower fees. Canadian equities have delivered $65m QTD, a 45% YoY decline.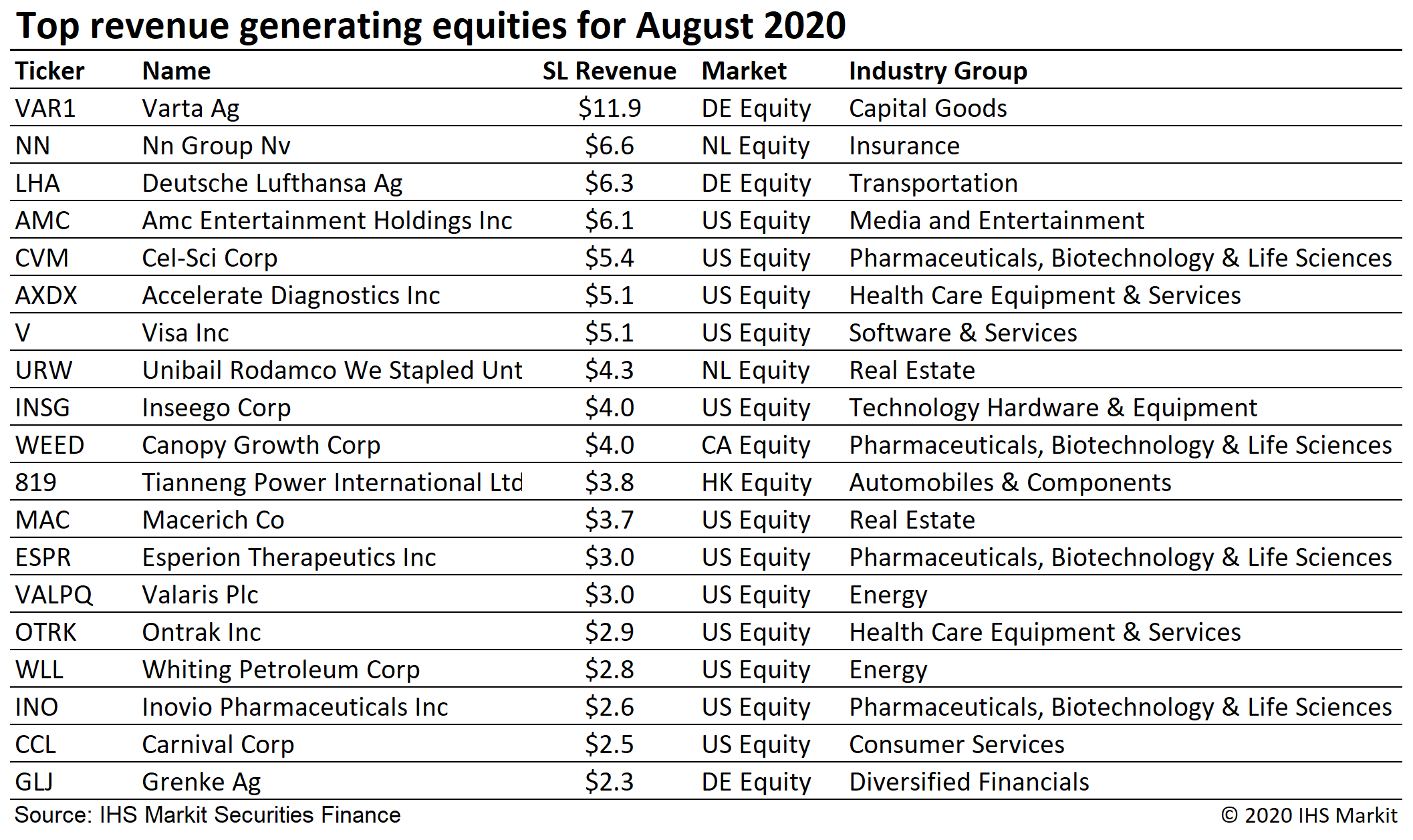 Asia equity lending revenues continue to fall short of 2019, with August revenues of $118m reflecting a 23% YoY decline. The largest market, Japan equities, delivered $47m in August revenues, a decline of 28% YoY, though also an 8.6% improvement compared with July. Hong Kong equity lending revenues slipped in August, with $27m in revenues the lowest monthly figure since April. The short sale ban in South Korea continues to limit lending revenue, with $13.5m in August revenue being the lowest for any month of 2020 and reflecting a 52% YoY decline.
Global ETF revenues were $29.8m for August, an 11% YoY increase, however it is also the lowest monthly revenue for the asset class since February. The lower returns are the result of declining on-loan balances, average fees increased 11% YoY and at 62bps remains in a similar range to June and July. Global ETF utilization in August extended the trend lower from the March peak, as borrow demand failed to keep pace with the growth in lendable assets. There has also been a dearth of hard to borrow ETFs with any significant balances; The most revenue generating fund globally, Chinaamc Csi 300 Index ETF, generated less than $2m in August.
Corporate bond lending revenues continue to be lacklustre. Corporate lending returns came in at $34.4m for August, a 33% decline YoY. Corporate bond lending revenues declined during Q1 and have been consistently near $35m per month since. Central bank support for global credit has dampened borrow demand while lendable value has increased steadily since April, causing utilization and spreads to decline.
Government bond lending activity has substantially returned to pre-COVID levels in terms of spread and reinvestment revenue. Global government debt lending revenues totalled $117m in August, a 2.1% YoY increase resulting from larger on-loan balances while average fees declined by 5.8%. Fee-based revenue for US government bond lending came in at $67m for July, a 1.8% increase YoY. From the peak revenue in April, the downtrend in spread returns for UST lenders has been steady, with August delivering the lowest monthly return since February. Returns from lending European sovereigns were $39.6m for August, a 7% YoY increase and the most revenue for any month since March.
Conclusion:
Global securities finance revenues decreased 22% YoY in August, a particularly challenging month following stellar returns in June and July. The trend for US equities remains to the downside, with the last week of August having the lowest revenue for any week in the month for the largest contributor to global returns, which was also the case for July. Global Utilization of assets in securities lending programs has been on a stead downtrend after spiking in March, with August having the lowest average globally for any month YTD. Despite the recent challenges there is cause for optimism in terms of corporate action related trades which are likely to materialize this Fall. YTD global returns are down 6% through August.
Stay tuned for monthly Securities Finance updates from IHS Markit!
IHS Markit provides industry-leading data, software and technology platforms and managed services to tackle some of the most difficult challenges in financial markets. We help our customers better understand complicated markets, reduce risk, operate more efficiently and comply with financial regulation.
---
Follow Financial Services
RELATED INDUSTRIES & TOPICS