Customer Logins
Obtain the data you need to make the most informed decisions by accessing our extensive portfolio of information, analytics, and expertise. Sign in to the product or service center of your choice.
Customer Logins
World's largest payer-industry partnership? A case against unilateral cost-containment efforts

27 October 2014
Margaret Labban
Canada's unprecedented "18 at 18%" national generic drug pricing agreement is set to save the healthcare system billions.
On 1 April 2014, the Canadian Generic Pharmaceutical Association (CGPA) reached a three-year national agreement with the Council of the Federation, comprised of Canada's provincial and territorial premiers, that will significantly impact the generic industry in Canada over the next few years. Based on the terms of the agreement, the prices of 18 heavily prescribed generic prescription products (such as atorvastatin) will be capped to a maximum of 18% of the price of the corresponding brand name product before patent expiry (Pfizer's Lipitor in the case of atorvastatin). So far 18% caps have been implemented on ten drugs (see Table below), with eight more anticipated to be capped in the next two years. This is a significant price drop for generics that have traditionally been priced at around 25-40% of the price of the branded drug.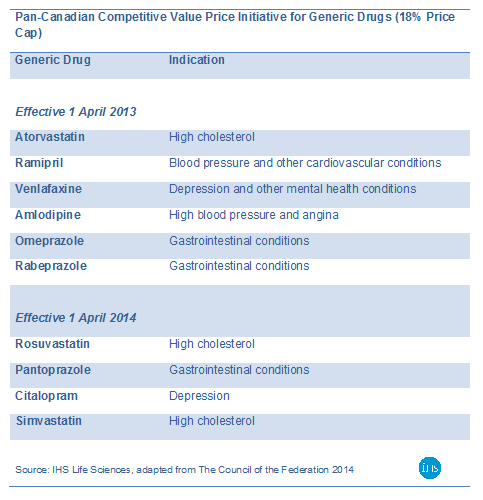 While at first glance this may sound like it would be the last thing the CGPA would want to agree to, it is important to understand the background leading up to this initiative.
An unpredictable market
Provincial and territorial governments have been actively seeking ways to cut down prices of pharmaceuticals in Canada - and have often competed with each other in doing so. For example Quebec's policy of pricing generics at the lowest level of any Canadian territory or province was believed to be discouraging pharmaceutical companies from offering a low price to some of the smaller and lower-income regions of Canada. But this has gradually changed. Under the mantra of strength in numbers, the individual jurisdictions have come together to find ways to drive down costs. Tendering protocols, bulk purchasing initiatives, and centralised pricing negotiations were discussed in depth; however it seems that at least for now, the latter will be the method of choice used by the Council of the Federation.
For branded drugs, the Pan-Canadian Pharmaceutical Alliance (PCPA) was formed to conduct pricing negotiations on behalf of the participating provinces and territories. By August 2014, 43 branded pharmaceutical products had realised price reductions through the alliance by "capitalis[ing] on the combined purchasing power of public drug plans across multiple jurisdictions". All brand-name drugs processed through the two national health technology assessment agencies - the Common Drug Review and the Pan-Canadian Oncology Drug Review - are now considered for negotiation through the PCPA.
For the generics industry, things looked even more grim, as the Council of the Federation implemented a fixed 18% price cap on six commonly-prescribed generics on 1 April 2013, soon followed by Alberta's unprecedented across-the-board 18% cap on all generics, implemented on 1 May 2013. If the first initiative had worried the generics industry and raised concerns as to what further cuts may come, the latter definitely struck fear and outrage in stakeholders' hearts. In a press release issued a few days after Alberta revealed its plan, the CGPA called the province's indiscriminate cuts to generic prices "a betrayal" that was "announced without consultation, or prior notice to, generic pharmaceutical manufacturers, community pharmacy or other key stakeholders in the pharmaceutical supply chain". The association warned that the significant price cuts would result in drug shortages, and planned to inform Health Canada of the products that might no longer be viable. The generics industry felt "blind-sided" and there was even greater pressure now to go back to the drawing board to iron out a mutual agreement.
The CGPA - Council of the Federation Agreement
Now we return to the seemingly unusual pricing alliance that has considerably more to offer than just the 18% price caps on 18 generic products. Here are some additional details from the "18 at 18%" agreement that CGPA Vice-President Corporate Affairs, Jeff Connell kindly discussed with me:
Price of ten identified generic products has been capped at 18% of the price of the originator for three years.
Four more generic products will be identified and capped effective on 1 April 2015, and another four on 1 April 2016 based on the top-selling generic products at that time.
All other multi-source generic drugs will have a tiered pricing system that mimics market forces applied to both current and future generic products:

Single-source generic: price capped at 75-85%
Dual-source generic: price capped at 50%
Multi-source generic: price capped at 25%
Injectables, creams and ointments (non-solids): price capped at 35%

The price caps will be applicable to generics reimbursed by public and private drug plans as well as for individuals paying out-of-pocket throughout Canada.
Terms of the agreement are subject to change following the end of the three-year period.
World's largest payer-industry partnership
What could be considered one of the world's largest payer-industry partnerships is now set to save the Canadian healthcare system nearly CAD3.8 billion, while providing much needed stability and consistency for the generics pharmaceutical industry in what used to be a tumultuous and unpredictable market. Canada currently has a relatively low 67% generic utilisation rate by volume compared to the US currently at 89%, however there is considerable room for expansion on that front, particularly as private payors are incentivised now more than ever to benefit from particularly low generic prices for top-selling drugs much like their public counterparts.
The unprecedented agreement may serve as a model for other countries that have focussed on reducing prices through harsh legislative pressure - sometimes a mutual agreement can be just as effective with far fewer negative consequences than an otherwise unilaterally imposed policy. For industry the motivation to enter such deals will be particularly high if the country has a decentralised healthcare provision model - with regions competing with each other to bring prices ever lower and in the course of doing so implementing increasingly random and unpredictable price control measures. This was precisely what that pharma industry faced in Canada and the current agreement is one way to reduce the risk by limiting the number of drugs exposed at any one time to the worst price cap to 18. The deal also ensures that Canada will finally start to behave as a single market for generics and not a collection of regions under-cutting each other in their "race to the bottom" with regards to generic drug prices.
Posted 27 October 2014
RELATED INDUSTRIES & TOPICS
{"items" : [ {"name":"share","enabled":true,"desc":"<strong>Share</strong>","mobdesc":"Share","options":[ {"name":"facebook","url":"https://www.facebook.com/sharer.php?u=http%3a%2f%2fihsmarkit.com%2fresearch-analysis%2fworlds-largest-payer-industry-partnership-a-case-against-unilateral-cost-containment-efforts.html","enabled":true},{"name":"twitter","url":"https://twitter.com/intent/tweet?url=http%3a%2f%2fihsmarkit.com%2fresearch-analysis%2fworlds-largest-payer-industry-partnership-a-case-against-unilateral-cost-containment-efforts.html&text=World%27s+largest+payer-industry+partnership%3f+A+case+against+unilateral+cost-containment+efforts","enabled":true},{"name":"linkedin","url":"https://www.linkedin.com/sharing/share-offsite/?url=http%3a%2f%2fihsmarkit.com%2fresearch-analysis%2fworlds-largest-payer-industry-partnership-a-case-against-unilateral-cost-containment-efforts.html","enabled":true},{"name":"email","url":"?subject=World's largest payer-industry partnership? A case against unilateral cost-containment efforts&body=http%3a%2f%2fihsmarkit.com%2fresearch-analysis%2fworlds-largest-payer-industry-partnership-a-case-against-unilateral-cost-containment-efforts.html","enabled":true},{"name":"whatsapp","url":"https://api.whatsapp.com/send?text=World%27s+largest+payer-industry+partnership%3f+A+case+against+unilateral+cost-containment+efforts http%3a%2f%2fihsmarkit.com%2fresearch-analysis%2fworlds-largest-payer-industry-partnership-a-case-against-unilateral-cost-containment-efforts.html","enabled":true}]}, {"name":"rtt","enabled":true,"mobdesc":"Top"} ]}