Customer Logins
Obtain the data you need to make the most informed decisions by accessing our extensive portfolio of information, analytics, and expertise. Sign in to the product or service center of your choice.
Customer Logins
With new commercial-scale test site approved for Oregon, US marine energy poised for innovation, growth

Marine energy in the US is starting to, well, make waves, as the first commercial-scale wave energy test site has received an operating license from federal regulators, and the National Hydropower Association (NHA) released a roadmap for marine energy capacity to reach 1 GW by 2050.
"Marine energy could be the missing link for meeting our nation's clean energy goals and decarbonizing our electricity grid," said Malcolm Woolf, NHA CEO, when the group's "Commercialization Strategy for Marine Energy" was released 14 April.
"Today there are marine energy devices in the water that are proving the viability of the technology as a climate solution. A strong commitment from the federal government is needed to accelerate commercialization, as global competitors are benefiting from significantly higher government incentives dedicated towards research, innovation, and early commercial activities," Woolf said.
The newest indicator of federal support was the approval of the PacWave South project off the Oregon coast near Newport. On 1 March, the Federal Energy Regulatory Commission (FERC) granted Oregon State University (OSU) a 25-year license to operate the project, which will consist of four different testing "berths" that can host 20 wave energy converter devices totaling up to 20 MW. In mid-March, OSU filed additional construction plans with FERC, and it said that, pending approval, construction would begin this summer.
Targeted for completion in 2023, PacWave South would be the first marine renewable energy research facility in federal waters off the US Pacific Coast and the largest wave energy array in the world, according to OSU.
The project is vital for the fledgling wave energy industry because it provides a real-world test site for developers to demonstrate the commercial viability of their technologies, which are designed to convert the kinetic energy of the up-and-down motion of waves into electricity, OSU said in a statement.
The Department of the Interior's Bureau of Ocean Energy Management approved the project in February.
National prospects
Demonstration of commercial viability is critical for the industry to reach its potential, said NHA. The group cited a report from the National Renewable Energy Laboratory in March 2021 that found that the total marine energy technical resource in the 50 states to be 2,300 TWh/year, or the equivalent to roughly 57% of 2019 US electricity generation. Of that total, 1,400 TWh/year could come from wave energy, such as PacWave South (see map).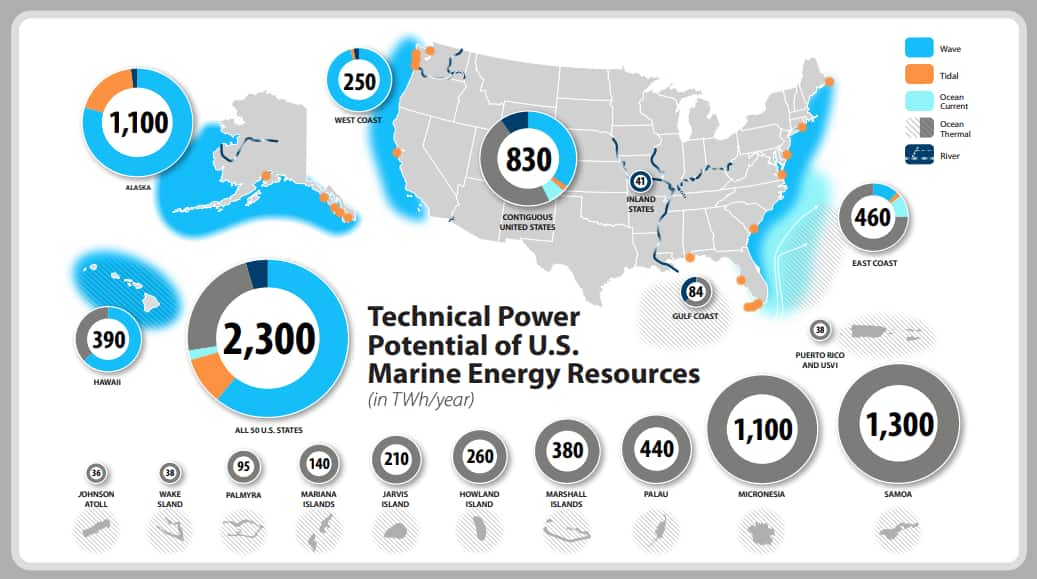 Source: NREL
"The surge in deployments of natural gas, wind, and solar over the last decade happened after extensive federal support helped drive cost competitiveness," Woolf said. "With a commitment from the federal government, marine energy can follow a similar trajectory, while also helping to make President Biden's ambitious target of achieving 100% clean electricity by 2035 a reality."
NHA's report identified numerous wave and tidal power projects that are underway:
Verdant Power deployed three new turbines mounted in New York City's East River, a tidal strait. Operational since October 2020, the one-half scale demonstration project generated 170 MWh in its first 150 days of continuous operation, which NHA said was "a record for marine energy production in the United States." NHA said the turbines performed at over 99% available capacity.
In Igiugig, Alaska, Ocean Renewable Power operated its 40-kW RivGen Power System in the Kvichak River for all of 2020, proving its ability to survive harsh Alaskan winters. A second RivGen unit will be deployed at Igiugig this summer.
OceanBased Perpetual Energy, in collaboration with the Southeast National Renewable Energy Center at Florida Atlantic University, completed an ocean current demonstration in the Gulf Stream this year.
The Navy's Wave Energy Testing Site in Hawaii will start two demonstration projects this year.
Funding issues
While the increase in demonstration projects is encouraging, NHA said the industry needs more funding, and it suggested carving out space in the Department of Energy's (DOE) $25-billion Innovative Energy Loan Guarantee Program. "While marine energy meets program eligibility requirements, the minimum $1 million upfront cost for due diligence is unreasonable as it effectively makes the program unavailable to projects below the $40 million to $50 million range," NHA said.
Another way the federal government could provide financial support is to allow marine energy developers flexibility in how they use two tax credits designed to incentivize renewable energy: the Section 48 Investment Tax Credit and the Section 45 Renewable Electricity Production Tax Credit. Marine energy is eligible for the credits, but current law only allows those to be taken against a taxpayer's revenue, and demonstration projects do not generate sufficient revenue. With an easier ability to "monetize" those credits, marine energy developers would have additional access to capital, NHA said.
The CLEAN Future Act, proposed in Congress by Democrats in the House of Representatives and Senate in March (see article here), and the Save America's Clean Energy Jobs Act, proposed in the Senate, would change the rules regarding renewable tax credits to make them easier to monetize, as NHA proposes.
The PacWave South project in Oregon illustrates the funding challenges encountered by the marine energy industry.
The project is facing a $9-million funding shortfall and is seeking to sign up technology developers to use the facility, Burke Hales, the leading scientist on the Pac­Wave project and a professor at OSU, said in an email to IHS Markit on 8 April.
PacWave South has a projected cost of about $82 million for design, construction, and the initial two years of operation, and OSU has secured about $73 million from federal, state, university, and other sources, including a $35 million award from DOE in 2016, Hales said. "The $9-million deficit is nominally the cost of the first two years of operations," he wrote. "We are actively fundraising and pursuing other sources of support for those operations."
According to FERC's order, OSU will need to show the regulator that "the licensee has acquired the funds, or com­mitment for funds, necessary to con­struct the project in accordance with this license" at least 90 days before starting construction.
"We have had discussions with a number of developers that have expressed intent to test devices there, but nothing that could be considered a commitment," he said. "Developing and deploying a device like these is hugely expensive and develop­ers need to secure funds from private and public sources before [they] can commit to testing."
The test site will be linked to the onshore grid operated by the Central Lincoln Public Utilities District. Currently, there are only two grid-con­nected wave energy test facilities in the world — one similar to PacWave in waters off Scotland's Orkney Islands and another in Hawaii operated by the Navy, though the latter only tests certain technologies.
According to OSU, the marine energy market — which also encompasses tidal power — is projected to reach nearly $700 billion by 2050. The World Energy Council estimates that 10% of worldwide electricity demand could be met by harvesting ocean energy.
Includes original reporting by Ellen Meyers, "The Energy Daily."