Customer Logins
Obtain the data you need to make the most informed decisions by accessing our extensive portfolio of information, analytics, and expertise. Sign in to the product or service center of your choice.
Customer Logins
Will renewables and gas dominate Southeast Asia's future fuel mix?

Southeast Asian economies have grown on average by 4% to 7% per annum since the start of the decade. In terms of power demand, this has translated to peak demand growth of almost 48 GW from 99 GW and consumption increasing by 315 TWh from 760 TWh over the past eight years.
This sustained high growth has so far been fueled by low-cost coal-fired generation and domestic gas fired generation, as many of the countries began their growth trajectory from relatively low-income levels. Coal-fired capacity has grown from 32 GW to 71 GW as compared to gas-fired capacity which grew 66 GW to 90 GW between 2010 to 2018. In terms of generation, coal has increasingly been dominating the power mix, from 29 % in 2010 to 40% in 2018.
Many countries in the region face a decline of domestic gas production increasing cost of domestic gas, while at the same time maintaining a keen interest in growing the share of gas-fired generation, potentially through imported liquified natural gas (LNG). The issue of affordability is becoming less of a hurdle for the development of gas-fired generation as countries have been gradually increasing their electricity tariffs to a less subsidized level and have become more cost reflective. Comparing the levelized cost of electricity for a new entrant combined-cycle gas turbine fueled by LNG and the current electricity prices, all the prices in countries in Southeast Asia (except for Indonesia and Singapore) are enough to recover both the capital and operating cost of a CCGT.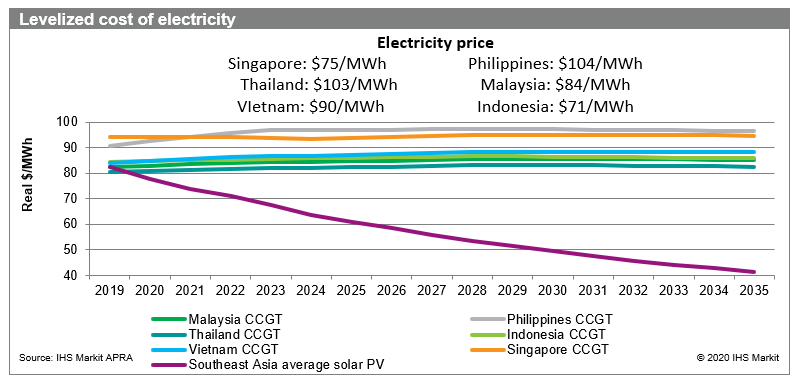 The Association of Southeast Asia Nations (ASEAN) have set an aspirational target to incorporate 23% of renewables into their energy mix by 2025. Alongside this regional target, the individual countries have also set renewable targets, which are mostly less aggressive than the aspirational one but still highly ambitious. These targets were either announced by the government or incorporated into the countries' power development plans and have a myriad of policies to support the achievement of the targets.
In addition to these policies, the cost of renewables is declining and is expected to continue, driven by technology learning curves, competitive tenders, and improvements in local expertise. Owing to the above factors, the increased availability of green financing, and the growing demand for green energy, renewables are forecasted to experience strong growth in the future.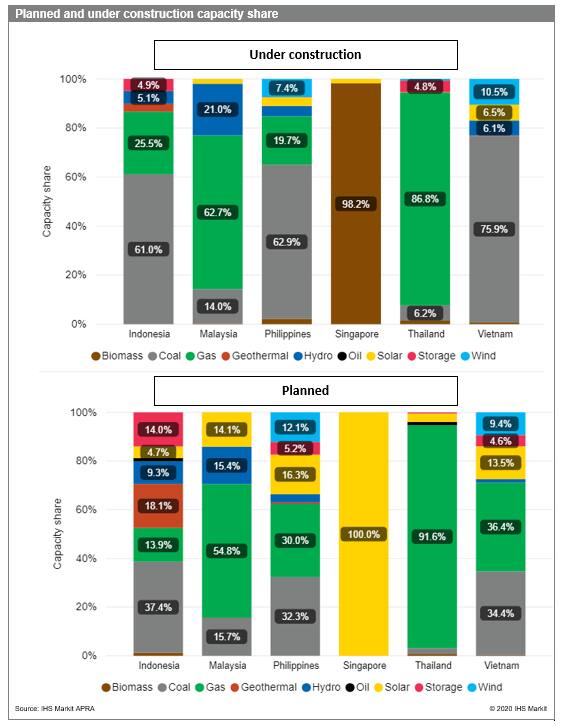 Although it seems like coal's growing dominance will persist based on the capacity under construction, new coal-fired generation is facing increasing challenges to secure financing as more financial institutions tighten their financing policy towards coal. The coal market also faces external threats from the declining cost of renewables and growing interest in the transition away from coal-fired generation towards a cleaner fuel mix. The significant decline in coal's share in the planned capacity indicates that a transition will be taking place in the future.
The region is expected to continue along its strong growth trajectory, with peak demand more than tripling to around 350 GW by 2050, a compounded annual growth rate of 4.3%. Given this strong sustained growth, even with falling cost of renewables and both the emergence and growth of LNG imports to fuel the power sector, IHS Markit expects strong growth across all generation types to meet the demand. Overall, the share of gas and renewable capacity and generation is forecasted to grow in the region. By 2050, 72% of the installed capacity will come from gas and renewables (compared with 63% in 2018) while the generation share will reach 62% from 57% in 2018.
Learn more about IHS Markit's Asia-Pacific power and renewables insight and analytics.
---
Follow IHS Markit Energy
RELATED INDUSTRIES & TOPICS