Customer Logins
Obtain the data you need to make the most informed decisions by accessing our extensive portfolio of information, analytics, and expertise. Sign in to the product or service center of your choice.
Customer Logins
Will payer alignment across sectors in Sweden lead to harmonisation of drug P&R procedures?

Having covered drug P&R developments in the Nordic markets here at IHS and with my participation in this recent study on flexible pricing, I have grown increasingly concerned with the fragmented drug P&R structures currently in place in Sweden. In this market, the procedures for in-patient and out-patient drugs operate separately from one another, and at times even directly contradict each other. This contradiction has been evident not least in the contentious legal proceedings between a couple of County Councils (in-patient payers) versus the Dental and Pharmaceutical Benefits Agency (TLV) (out-patient payer) in regards to the pricing of several drugs, extensively covered in IHS same day analysis.
It has nonetheless become apparent that there is a flux of bodies, reports and initiatives in Sweden proposing to tighten the collaboration between the various payers and to harmonise the drug P&R procedures, in order to address the gap. More specifically, as highlighted in a report which evaluated the pilot HTA project for in-patient drugs, issued last month, it was proposed that national drug recommendations in this segment should be centralised to the State, or alternatively to a joint Council decision. This proposal is in line with that proposed in the current Planned Introduction initiative, although emphasising that Councils should maintain their right to a final decision following a national in-patient HTA recommendation.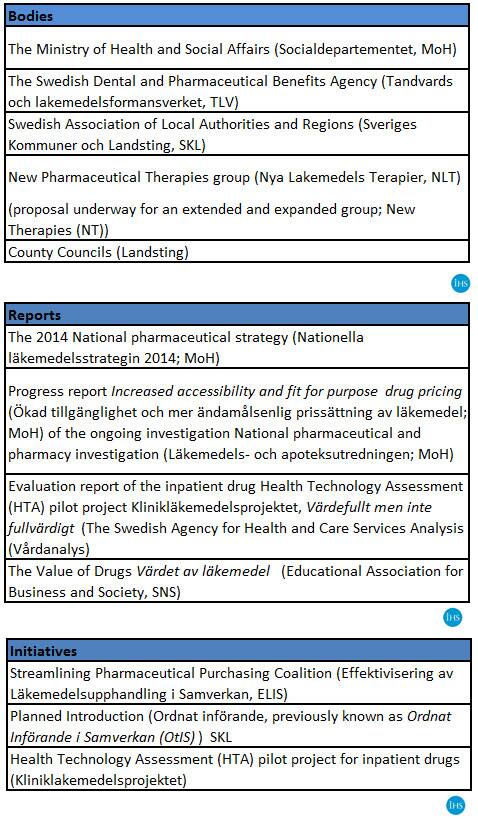 The reason for my concern can perhaps be better understood through the critical questions:
Do these payer discrepancies boil down to the construction of the financing system?
And if so, is this an obstacle for procedural harmonisation?
The pull between payers can arguably be attributed to a funding system where payers in the in-patient sector are constrained by local budgets for the uptake and price negotiation of drugs, but are at the same time increasingly expected to consider national HTA recommendations. It is thus reasonable to believe that the uptake of such recommendations, regardless if issued by the State or by a joint Council group, would remain inconsistent at the local level if implementing these recommendations remains voluntary. In other words, to introduce permanent centralised dug recommendations to a decentralised funding system would not come without its challenges. Similar critique was raised in the 2013 report "Value of Drugs", issued by the politically independent non-profit organisation SNS, claiming that the financing model is not fit for purpose and the system should be restructured.
Meanwhile, in neighbouring country Finland, a significant social and healthcare reform (Sote-reformen) was rolled out in March this year. The reform will see all services delivered by five regional providers aiming to maximise healthcare equality since the entire system now is "under the same administration and budget". The Planned Introduction initiative currently represents the closest example of such reform in Sweden since it is seeking to reduce healthcare inequality and ensure equal access to medicines by national recommendations for new drugs. But does this initiative promise too much? Is it likely to minimise the postcode lottery, to offer a P&R procedure that is fit for purpose and to ensure rapid market access for drugs? While I would say it is a relatively feasible ambition, its impact may not carry the same magnitude as would a restructured financing system. However, some in-patient payers have said to IHS Life Sciences that they do not believe such hypothetical reform would make a real difference to local drug decision-making. It is not expected that such significant measures as seen in Finland would be introduced in Sweden in the near to medium term.
In light of this, can we still realistically expect payer alignment across sectors in Sweden and harmonised drug P&R procedures as a result? And if so, what would it bring? Well, there is at least a significant common denominator among the stakeholders in the Swedish pharmaceutical market, and that is the consensus that the construction of the current system is not ideal. Payers from both sectors also share the view that cost-effectiveness assessments are the "gold standard" and will aim to use these health-economic models to control costs – despite the fact that the intricate details of their continued use in the in-patient sector is yet to be finalised. Another commonality with the above-mentioned reports and initiatives is the willingness to increase transparency, move toward drug prices associated with volume and improve relations between payers and other stakeholders. As per these initiatives, change is almost certainly to be expected, but what would it bring?
If we consider a potential payer alignment and a subsequent harmonisation of P&R procedures – this is great news from a patient perspective, provided it lives up to its aim of minimising healthcare inequalities. From the payer perspective, centralised recommendations in the in-patient sector may threaten Councils' autonomy in decision-making, while at the same time compensating for the insufficient local HTA expertise. Meanwhile for the Industry, tighter payer collaboration and a harmonisation of P&R procedures would, if successful, increase transparency but would also threaten the negotiating power currently possible at a local level. Despite the flux of bodies, reports and initiatives currently seen in the P&R landscape in Sweden, the across-the-board dissatisfaction with the current system will be the main driver for change.
Posted 21 May 2014
RELATED INDUSTRIES & TOPICS