Customer Logins
Obtain the data you need to make the most informed decisions by accessing our extensive portfolio of information, analytics, and expertise. Sign in to the product or service center of your choice.
Customer Logins
Will foldable OLED displays arrive in 2018?

Foldable displays are a possible alternative to curved or flat flexible AMOLED displays
Foldable organic light-emitting diode (OLED) stepped into the limelight at the Consumer Electronics Show (CES) in 2013 when Samsung Electronics unveiled a video that demonstrated a tablet with foldable OLED display technology.
Since then, several companies have rushed to produce various prototype foldable OLED displays at exhibitions and conferences. A few panel makers even pledged to mass-produce foldable OLED displays competitively, but to date, none has fulfilled that pledge. This is because panel makers have encountered a few issues that have negatively affected the practicality of foldable OLED display technology, IHS Markit believes.

Consumers are interested in whether these new mobile devices will be well designed, lightweight, thin, and feature a simple, uncomplicated structure. For their part, mobile brands want panel manufacturers to provide foldable displays with an extremely low bending radius (less than 1-3 mm) for the panel makers to produce a thin and simple foldable device.
Here an important distinction arises. A flexible active-matrix organic light-emitting diode (AMOLED) panel lends itself to being easily folded. In comparison, a flexible AMOLED module—which includes the panel, polarizer, touch sensor, and cover lens—cannot be easily folded due to its low flexibility. For instance, one can imagine how easy it is to fold a piece of paper. Cardboard, however, is not so easy to fold without causing wrinkles.
Maturity of key technologies
To complete a foldable OLED display, the panel manufacturer must create a simpler and thinner module structure. This typically results in reducing the thickness of the module by replacing the conventional structure of the polarizer, touch sensor, and cover lens.
A cover lens is usually hard-coated glass, but it can be as thick as 0.350 mm. Panel makers are trying to replace it with ultra-thin glass or colorless polyimide, which is much thinner than a conventional cover.
Film add-on touch was initially applied to flexible AMOLED displays, but was replaced in 2017 with touch sensors on thin film encapsulation, which is much thinner for curved-edge structures without a touch-base film.
It is difficult to reduce polarizer thickness and to change its structure or material while maintaining the optical characteristics. As a result, panel makers are considering the use of innovative polarizing structures, such as a coating polarizer.
If the above improvements are achieved, the thickness of flexible AMOLED modules conceivably could be reduced to approximately 0.5 mm—thin enough to be foldable.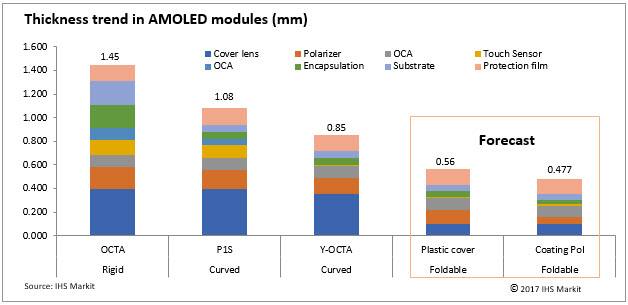 At present, however, the innovative solutions under consideration are not mature enough in their current form for panel makers to launch foldable displays. Consider:
Colorless polyimide is more flexible, but it also has lower optical characteristics than glass (transparency). And because its surface is not hard enough to prevent scratches, the material requires hard-coating, which reduces flexibility.
Ultra-thin glass is also flexible, but less so than plastic, and it is fragile. Therefore, it can be used only for foldable displays with a larger bending radius than that of plastic.
Touch sensors on thin film encapsulation need to be more reliable to endure repeated folding.
Alternatives to the current polarizer used in AMOLED displays cannot yet fully satisfy required optical characteristics.
Smartphone brand concerns
In 2017, Samsung expanded the application of flexible AMOLED displays to all its flagship smartphones, including the Galaxy S8, S8 Plus, and Note 8. Samsung is expected to continue this strategy in 2018. Meanwhile, Apple waited until 2017 to introduce its first iPhone with a flexible AMOLED display in 2017, but is now playing catch-up with the expected launch this year of two iPhones with flexible AMOLED displays.
For now, both the Galaxy line of smartphones from Samsung as well as Apple's iPhone are not under threat from the flagship smartphones of any other brand—yet. So, how likely would they risk currently guaranteed flexible AMOLED smartphone demand for their products, and instead chase after the new foldable display technology?
One question to consider with foldable technology is that smartphone brands usually manufacture tablets as well. And because foldable devices typically merge both large and small display applications—i.e., a tablet and smartphone—introducing foldable devices to consumers could quickly ruin the tablet market. That, in turn would hurt smartphone brands.
Another consideration is that smartphone brands will likely need to add mechanical parts to foldable devices to help control the folding movement, since moving parts usually increase the risk of defects—compared to, say, a bar-type smartphone—the smartphone brand must guarantee against those potential defects. This increases the responsibility of manufacturers, since they cannot afford to displease their customers—the brands—with low-quality fare.
Finally, in launching a foldable device, the brand must be careful with how it is priced. Current flagship smartphones with a 6 inch flexible AMOLED display can often cost more than $1,000. What, then, would be an attractive price point for a foldable device sporting an 8 inch display and a handful of innovative technologies? While foldable devices might justify lofty pricing, brand must still carefully consider an appropriate pricing level to avoid sticker shock for the consumer.
Given these various considerations, smartphone brands would do well to prepare for the market to change first before launching foldable devices.
Foldable devices may be launched in 2018, but…
Foldable displays are a possible alternative for those panel makers prepared to replace demand for curved or flat flexible AMOLED displays. Yet there is good reason to believe that panel makers will choose to delay launching foldable AMOLED displays for now. On the one hand, panel makers are enjoying sufficiently high demand for flexible AMOLED displays without having to resort to a new technology like foldable AMOLED in a bid to retain or entice consumers. On the other hand, the components in foldable AMOLED technology won't be at a stage that can be deemed reliable anytime soon this year.
All told, IHS Markit is forecasting that foldable displays are still projected for launch in 2018, but shipments will be extremely limited at 1.2 million units. By 2024, foldable displays will make up 7.4% of total flexible AMOLED shipments.
To be sure, the high cost of foldable AMOLED modules will make foldable devices expensive, which could limit demand. A plausible scenario for future demand will likely start with out folding models first being introduced to the market, gradually giving way to more desirable in folding as well as in and out folding models.
David Hsieh is Research & Analysis Director within the IHS Technology Group at IHS Markit
Posted 9 February 2018
RELATED INDUSTRIES & TOPICS