Customer Logins
Obtain the data you need to make the most informed decisions by accessing our extensive portfolio of information, analytics, and expertise. Sign in to the product or service center of your choice.
Customer Logins
Will automotive luxury brands succeed in Brazil?

08 October 2013
IHS Markit Automotive Expert
Do you have the impression that the Brazilian president meets the CEO of an automaker daily?
Lately there have been a lot of announcements that OEMs will start - or resume - production in Brazil. This year, Honda and Mercedes-Benz announced new plants, while Audi stated it is coming back to Brazil and making cars in a VW plant where it built the A3 some years ago. VW confirmed it is finally updating the locally made Golf (currently still in its fourth generation). Last year, BMW announced its factory in Brazil.

Aside from the new plans announced now, Nissan, Chery and JAC are scheduled to open brand new production sites in 2014. In the following year, it will be Fiat's turn. Mitsubishi, Toyota and Ford will have new engine plants in the near future.
Not that Brazil is a new market for OEMs. VW's first plant outside of Germany and Toyota's first factory outside of Japan were located in Brazil during the 1950s. Ford and GM have been there since the 1910s and 1920s. The French makes and Honda came in the late 1990s and early 2000s. So what has changed now? The government is making it more expensive to import vehicles to Brazil.
In 2011, foreign vehicles (including those made in Argentina and Mexico, countries that have free trade agreements with Brazil) reached 23.6% of all light vehicle registered, coming from 18.8% in 2010 and 15.6% in the previous year. Without any consumer research, it is easy to say why Brazilians were buying more and more imported vehicles, especially from Hyundai and Kia and to a lesser extent JAC and Chery: they cost as much as a car made in Brazil, but with more features.
Imported vehicles' increasing popularity turned the government's yellow light on. And, by the end of 2011, taxes for them went up by 30 percentage points. Many countries threatened Brazil with complaints before the World Trade Organization, and the government finally came up with new rules, called Inovar-Auto, to benefit companies that have production facilities in Brazil. There is no incentive to exports, so the policies are toward local consumption.
If Korean and Chinese brands are still struggling to go back to 2011 levels, the luxury makes are growing much faster than the total industry. In September, for example, registrations grew 6.1% from one year ago, but BMW was up 74.6%, followed by Audi (52.9%), Land Rover (28.4%) and Mercedes-Benz (16.3%, not including Sprinters). The luxury market is small in Brazil, but there is certainly room for more expensive products. Brazil is a very unequal country - according to the World Bank, 42.9% of income is held by 10% of the population.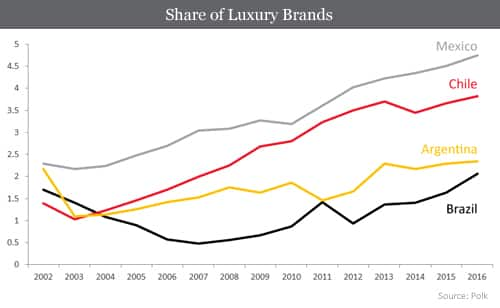 Price is another big obstacle. The C-Class, Mercedes' best-seller in Brazil and one of the chosen models to be made there in 2016, costs at least US$ 55,000. Audi charges the minimum of US$ 60,000 for the Q3, which will also be made in Brazil in 2016. BMW is yet to confirm the products that will be locally manufactured, but Polk assumes the X1 will be one of them - the German one does not cost less than US$ 56,000.
In theory, they would be more affordable as they are made in Brazil, right? But that may not be the case. In June, Mitsubishi started building the ASX (Outlander Sport in the US) in Brazil, but the price reduction was between 1.1% and 1.5%. Sales may increase because of availability at the dealer network, but it is hard to believe new prices will drive sales up considerably.
Assuming premium brands will not make their cars a bargain, Polk's automotive forecast does not show these makes having more than 3% of the Brazilian market. It will be a long way until more people can afford luxury vehicles.

Augusto Amorim is senior analyst, South American light vehicle production forecast, IHS Automotive
Posted 8 October 2013
RELATED INDUSTRIES & TOPICS