Customer Logins
Obtain the data you need to make the most informed decisions by accessing our extensive portfolio of information, analytics, and expertise. Sign in to the product or service center of your choice.
Customer Logins
Wildfires: Impact on the Australian and Californian agricultural industries
Australian bushfires burned 18.6 million hectares between September 2019 and March 2020.
Australian recovery fund: USD1.45 billion. 
The 2021 Australian honey production may halve year-on-year.
The 2020 Californian summer fires hit around 1.7 million hectares.
The 2018 Californian recovery investment: USD2.3 bln.
Uncontrolled fires are frequently taking place in warm and dry areas such as Australia, California and Mediterranean countries in summer. These countries have developed special programmes to reduce their impact on the farming industries and environment. However, wildfires have become a real danger for their economics, also hitting their agricultural industries. Australia and California, both key agricultural suppliers in both hemispheres, have suffered the worst of all worlds between 2019 and 2020: rising costs due to Covid-19 restrictions and fires and smoke hitting farms.
Australia
Australian wildfires took place between September 2019 and March 2020, before the start of the southern hemisphere summer. The 2019-20 bushfire season hit 18.6 million hectares, a record, agricultural soil taking for 13-14% of the total area. Rainfall cut the bushfire risk from March onwards and winter crops (wheat, barley, canola and chickpeas, mainly) developed as usual.
IHS Markit expects the Australian economy to contract by 4.9% in 2020 due to the combination of severe drought, bushfires and Covid-19 outbreaks. The 2020-21 agricultural volumes are expected to rebound. However, weak consumption and prices may offset this rise, the net revenue being stagnant at AUD61 billion (USD44.4 bln), due to the economic crisis caused by the Covid-19 outbreak. The federal government forecasts that the farming industry will resume rising sales in the 2024-25 season.
The Australian Insurance Council estimated that bushfire losses were around AUD1.9 bln in insured claims. The industry has been suffering the worst of all words because bushfires confluence with Covid-19 restrictions from March onwards. The farm production value is expected to fall by 4.8% year-on-year to AUD58 bln, according to the federal government.
Smoke expanded to neighbouring New Zealand, hitting its environment and affecting its manuka honey industry.
As a result, the federal government announced the formation of a National Bushfire Recovery Agency to coordinate the reconstruction works. The programme's resources initially totalled more than AUD2.0 bln, having spent AUD1.6 bln until October 2020. Agricultural growing and processing recovery projects may receive around AUD270.1 mln, assessed by local authorities on behalf of the federal government.
The most affected agricultural industries were:
Grapes. The Australian Wine Association (Australian Wine) estimates that around 3,620 acres were devastated by fire (1% of the total planted area). However, smoke hit around 5% of the total acreage, especially the areas of Kangaroo Island and Adelaide Hills (South Australia) and Tumbarumba (New South Wales). Affected winemakers decided not to process grapes as low-quality grapes and wine may degrade the brand reputation.
Beekeepers. 12,500 hives were burnt, only around 0.5% of the total, according to the Australian Honey Bee Industry Council (AHBIC). However, bushfires damaged most of the industry because the Australian honey crop is dependent on eucalyptus forests, these trees being essential to secure healthy feed for bees. AHBIC estimates that eucalyptus forest recovery may take between 30 and 40 years. There were 16,000 apiary sites in Australian forests, which accounted for 65-80% of the honey crop. The Australian honey and wax crop and pollination service gross value estimated at around AUD147 mln (USD103.3 mln) and AUD14.2 bln, respectively, before 2019-20 bushfires. Domestic beekeeping associations estimate that honey outputs fell by 30%-50% from 2020-25 compared with the 2018 level. Most beekeepers combine revenues from honey and pollination services, especially for deciduous fruit and almonds. Australian beekeepers had to face low yields due to severe drought in previous years and bushfires have triggered a long-term recovery plan (six years) sponsored by the federal government, which must combine short-term beekeeper necessities and environment recovery.
Sheep and cattle. Initial assessment estimates that around 100,000 sheep and 25,000 cattle were destroyed, a small rate for the huge Aussie population, estimated at around 63.7 mln for sheep and 28 mln for cattle on 200 mln hectares. However, destroyed pasture may have impacted on 16% of cattle and 1% of sheep livestock, according to the Australian meat and livestock association (MLA).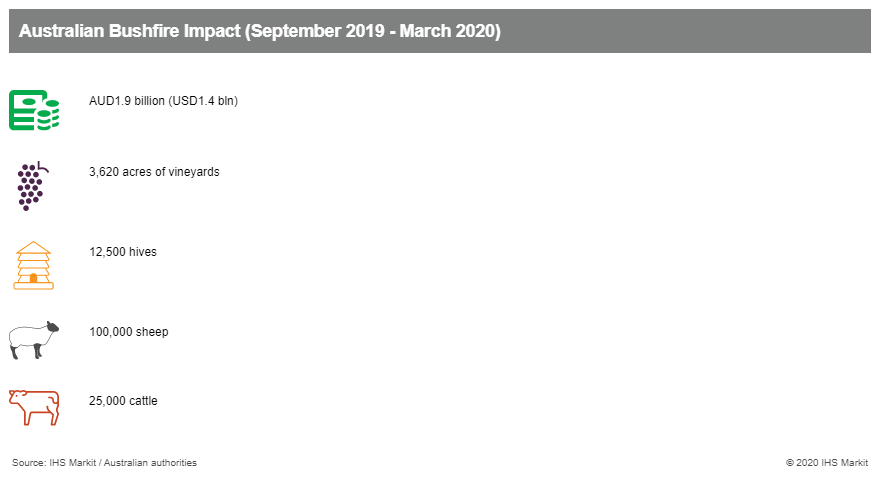 California
The 2020 Californian wildfire season burned 1.7 mln hectares until 24 October 2020, a record. As a result, some experts are calling this fire season a 'gigafire'; a new word to enlarge a classification was above the existing 'megafire'. The 2018 fire season brought a total expense of USD2.3 bln and the 2020 season is expected to exceed this record.
Smoke has been covering most space between Central Valley and the coast, cutting sunlight and lifting average temperatures. Fires have also destroyed irrigation infrastructure and have increased harvesting costs as farmers had to use special masks due to smoke after assuming PPEs as a result of Covid-19 restrictions. In addition, some products require clear skies and warm temperatures to complete their production cycles successfully.
The University of California listed the following negative impacts of smoke on crops:
With less sunlight reaching crops, crops develop more slowly.
Less sunlight can lead to higher disease loads. When ash coats leaves and fruit, crops have even less access to light.
Protecting workers delays harvest, leading to destroying overly ripe crops.
Some crops absorb enough smoke to change the flavour.
Fires and their consequences are under the umbrella of the  USDA's disaster assistance programs.
As a result, products whose harvesting takes place between July and October may be the most affected.
Almonds. The 2020 output is expected to reach a record volume of 3.0 bln meat pounds, unaffected by wildfire effects. However, the Californian grower Blue Diamond has reported that the lack of radiant heating from the sun have hampered the drying of the crop after shaking. Many growers have had to leave crop on the ground for as much as two weeks, hoping to get hull moisture down to levels safe for stockpiling or to allow for adequate hulling and shelling. This has complicated pest management for many. Leaving almonds on the ground for an extended period increases the potential for ant damage. Additionally, delaying the harvest of the polliniser varieties increases the potential for damage by the next generation of Navel Orange worm (NOW), which began laying eggs on splitting hulls in mid-September.
Grapes. Smoke already impacted on quality of the harvested grapes in 2018. This fire season may hit also fresh grape flavour and the drying process for raisins. The Californian Farm Bureau Federation (CFBF) reported that raisin drying has been delayed for two weeks due to a lack of sunlight. This delay is increasing insect attacks on raisins left in the countryside for over 30 days. Many farmers are planning to use drying machines to accelerate the process, although it will lift production costs.
Tomatoes. The 2020 California crop is expected to reach around 10.2 mln tonnes, slightly up from 10.1 mln tonnes the last year, as IHS Markit reported on 2 7 October. Smoke slowed harvesting tasks but did not affect the crop.
Strawberries. Rising product cost, lifting prices as IHS Markit reported on  21 October.
Figs, pears, walnuts and pistachios. Harvesting has being delayed, although crop quality and volume have not been damaged.  
Federal government led by the president Donald Trump considered that wildfires were the result, mainly, of uncleaned forests and human intervention. As a result, its administration planned to develop an ambitious programme to prevent forest fires. Meanwhile, the Democratic Party proposed a more holistic approach, considering the rising impact of fires a consequence of climate change combined with human action. As a result, IHS Markit will follow initiatives and recovery projects launched by the Californian and federal governments in 2021, both supported by the Democratic Party.

Conclusion
Summer wildfires are common in warm and dry regions, such as California, Australia, Spain and Portugal, hitting their farm industries. Latest bushfires have been especially damaging in California and Australia, the global agricultural industry keeping an eye on their consequences. The recovery projects developed by governments will be essential to understand how new plantation projects are developing in both areas. Their federal government policies will drive how farmers and rural population are reacting in the mid and long-term, as they did to shape their current key industries.
---

RELATED INDUSTRIES & TOPICS
{"items" : [ {"name":"share","enabled":true,"desc":"<strong>Share</strong>","mobdesc":"Share","options":[ {"name":"facebook","url":"https://www.facebook.com/sharer.php?u=http%3a%2f%2fihsmarkit.com%2fresearch-analysis%2fwildfires-impact-on-the-australian-and-californian-agricultura.html","enabled":true},{"name":"twitter","url":"https://twitter.com/intent/tweet?url=http%3a%2f%2fihsmarkit.com%2fresearch-analysis%2fwildfires-impact-on-the-australian-and-californian-agricultura.html&text=Wildfires%3a+Impact+on+the+Australian+and+Californian+agricultural+industries+%7c+IHS+Markit+","enabled":true},{"name":"linkedin","url":"https://www.linkedin.com/sharing/share-offsite/?url=http%3a%2f%2fihsmarkit.com%2fresearch-analysis%2fwildfires-impact-on-the-australian-and-californian-agricultura.html","enabled":true},{"name":"email","url":"?subject=Wildfires: Impact on the Australian and Californian agricultural industries | IHS Markit &body=http%3a%2f%2fihsmarkit.com%2fresearch-analysis%2fwildfires-impact-on-the-australian-and-californian-agricultura.html","enabled":true},{"name":"whatsapp","url":"https://api.whatsapp.com/send?text=Wildfires%3a+Impact+on+the+Australian+and+Californian+agricultural+industries+%7c+IHS+Markit+ http%3a%2f%2fihsmarkit.com%2fresearch-analysis%2fwildfires-impact-on-the-australian-and-californian-agricultura.html","enabled":true}]}, {"name":"rtt","enabled":true,"mobdesc":"Top"} ]}