Customer Logins
Obtain the data you need to make the most informed decisions by accessing our extensive portfolio of information, analytics, and expertise. Sign in to the product or service center of your choice.
Customer Logins
Wi-Fi use in automobiles continues to build and grow

Over the past few years, the use of Wi-Fi technology in consumer automobiles has been steadily growing, with telematics units that offer broadband data leading the way in the wide adoption of in-vehicle Wi-Fi hotspot services, particularly in the United States. And in deploying Wi-Fi technology, infotainment system vendors are beginning to introduce wireless smartphone projection technology that no longer requires USB connection.
Given these developments, IHS Markit projects that the total number of Wi-Fi-enabled automotive devices-infotainment systems and telematics systems combined-shipped in light vehicles will grow from 13.8 million units in 2016 to 47.3 million in 2021, equivalent to a compound average annual growth rate (CAGR) of 28%.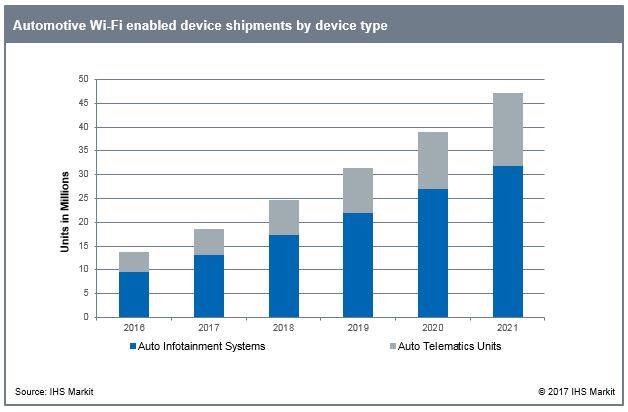 In-vehicle Wi-Fi hotspot service gaining traction in North America
Although in-vehicle Wi-Fi hotspot was introduced in the United States as early as 2008, a more extensive implementation of broadband Wi-Fi hotspot service in automobiles did not occur until 2014. That was when GM OnStar introduced its 4G LTE Wi-Fi hotspot service to GMC, Chevrolet, Buick, and Cadillac vehicles sold in North America. Fast-forward to the end of the first quarter this year-almost three years after the initial launch-and more than 5 million 4G LTE Wi-Fi-equipped vehicles can be found on the road, OnStar reports.
Earlier this year in March, GM and Jaguar Land Rover started to offer in-vehicle 4G LTE hotspot service with unlimited data for $20 a month through AT&T. Other major vehicle manufacturers including Audi, Ford, and Volvo quickly followed suit, and the reduced pricing is expected to contribute to wider adoption of Wi-Fi connectivity inside automobiles in North America.
Wireless smartphone projection technology using Wi-Fi
Smartphone projection refers to a smartphone integrated with an infotainment system and displaying projected icons on the touch screen. By using these icons, drivers can more safely access the smartphone applications through the head-unit while driving.
The two most popular projection applications currently in the market are Apple CarPlay, offered on the iPhone; and Google Android Auto, offered on Android-based smartphones. The majority of infotainment systems supporting Apple CarPlay and Android Auto currently require a USB cable connection. However, from late 2016, infotainment system vendors-first Harman, and then followed by Alpine Electronics-started to launch infotainment systems offering wireless smartphone projection technology.
Because all drivers still need USB cables to charge smartphones inside automobiles, the benefits from using wireless smartphone projection technology are currently limited. As a result, the technology is not expected to grow quickly in the near future. Even so, as more vehicles use wireless smartphone-charging technology in the next few years, wireless smartphone projection technology is expected to gain broader market acceptance, inasmuch as the combined technologies will allow drivers to eliminate the need to carry USB cables.
Adoption of V2V technology remains to be seen
Vehicle-to-vehicle (V2V) refers to an automobile technology designed to allow cars to communicate wirelessly with each other, so that vehicles in proximity-typically within 300 meters (about 985 feet)-can exchange information to warn of hazardous road conditions and to avoid collisions. In the United States, V2V technology is called WAVE, or Wireless Access in Vehicular Environment, which builds on IEEE 1609, a higher-layer standard that builds on the low-level IEEE 802.11P benchmark.
In December 2016, the US Department of Transportation proposed a rule mandating V2V communication on light vehicles by 2019. After Donald Trump was sworn in as the new US president a month later, however, he signed an executive order requiring that two active regulations be eliminated first before any new regulation could be issued. This signed executive order makes prospects very difficult for the proposed rule to mandate V2V communication to be issued in the near future, leaving industrywide adoption of V2V technology in the United States uncertain at this time.
Wi-Fi is here to stay
At present Wi-Fi hotspot service in automobiles continues to gain wider acceptance in the North American market, particularly in the United States. Meanwhile, wireless smartphone projection technology is expected to be the next promising Wi-Fi use case in automobiles a few years from now. But for V2V WAVE technology, industrywide adoption is yet to be seen.
Overall, however, it is clear that by adopting Wi-Fi technology in automobiles, vendors are able to offer high-performance applications, such as broadband internet and wireless smartphone projection, to drivers and passengers.
And as today's automobile continues its transition into becoming a home away from home for both drivers and passengers in the future, Wi-Fi's position as a key wireless standard in this transformation remains secure.
For more info:
Christian Kim is Senior Analyst for IoT & Connectivity within the IHS Technology Group at IHS Markit
Posted 4 September 2017
RELATED INDUSTRIES & TOPICS