Customer Logins
Obtain the data you need to make the most informed decisions by accessing our extensive portfolio of information, analytics, and expertise. Sign in to the product or service center of your choice.
Customer Logins
Blog: Why beef and dairy production is being unfairly criticized in the global food sustainability conversation

Production has far less of an impact on human-grade food production than its critics make out, with almost 90% of feed for beef production made up of elements inedible to humans
Cattle, sheep and other ruminants - defined as mammals that ferment plant-based food in stomachs with four compartments - serve a valuable role in sustainable agricultural systems. They are particularly useful in converting vast renewable resources from rangeland, pasture, and crop residues or other by-products into food edible for humans.
However, a criticism that has been directed towards ruminant production - such as cattle reared for human consumption - is that they consume food edible for humans and graze on pastures that could be used for crop production. Furthermore, livestock are often portrayed as poor converters of feed ingredients into human food products.
In reality, a large proportion of most ruminant diets are various forages such as hay, silage or fresh grass. These materials are totally inedible for humans and they are produced in large volumes. Ruminants, both beef cattle and dairy cows, have historically also been the main consumers of by-products from the human food and biofuels industries supporting a waste-disposal problem and contributing to the circular economy.
What feed goes into beef production?
In an extensive Life Cycle Assessment (LCA) of beef production in the USA the total volume of food consumed by cattle to produce 1 kg of carcass weight of beef was about 22 kg (Rotz et al., 2019). The feed comprised about 82% forage, 11% grain and 7% by products and waste products.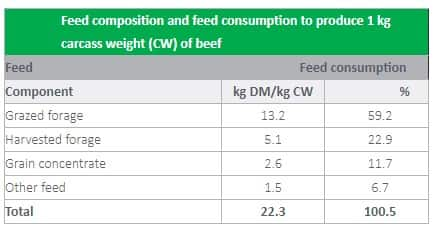 It is important to note that only 12% of the total feed consumed to produce 1 kg of beef was from grain concentrate, which might have had a potential availability for direct human consumption. The major constituents of the feed were forage at 82% and by-products or waste products at 6.7%, all totally unsuitable for human consumption. Therefore, about 2.6 kg of potentially human edible grain was used to produce 1 kg of beef. The nutritional value and desirability for humans of 1 kg of beef is far greater than 2.6 kg of a grain concentrate. This is a very powerful demonstration of the value of ruminants to convert large amounts of forages and other materials, totally inedible for humans, into high-value human food products.
Considering nutritional value is important
A problem with much of the research on LCA from agriculture is that it does not incorporate the nutritional value of the foods but rather focuses on mass of product produced. However, it is important to be able to capture the actual nutritional value of food products of animal origin for humans in order to fully assess the efficiency of animal production. It is evident that LCA can be used to generate a wide range of values relating to global warming potential and greenhouse gas emissions. Nevertheless, comparing environmental performances of products on a mass basis may not be appropriate but the nutrient composition of the product must also be considered. It is also clear that foods from ruminants with a high nutritional value can be produced that do not contribute excessively to environmental problems.
Meat, especially beef, is a good source of protein and of micronutrients such as iron, selenium, vitamins A, B12 and folic acid. Iron has a high bioavailability when derived from meat. Milk and other dairy foods, particularly cheese, provide important nutrients such as calcium, magnesium, protein and fat.
Reducing environmental impact
Ruminants have two major adverse impacts upon the environment. They produce various greenhouses gases and release nitrogen and phosphorus into the environment which can impact upon air quality, global warming, and soil and water pollution. These problems are recognised and are being addressed. Reducing crude protein levels to around 140 g/kg DM in dairy cow diets increases the efficiency of nitrogen capture and reduces nitrogen excretion to the environment. Similarly, reducing over-feeding of phosphorus is a powerful tool to decrease the phosphorus content of manure.
A fundamental improvement in sustainability can be achieved by improving ruminant production. Higher output of milk and meat from ruminants reduces the number of animals required. This in turn reduces feed requirements and the consequent environmental pollution. There is considerable scope to improve dairy cow efficiency in the EU which will help in sustainability.
A major strength in the argument for the sustainability of ruminant production is the fact that ruminants eat substantial quantities of forages and increasing quality or digestibility of forages will increase production efficiency. There has been a large amount of research directed to processing various crop residues to improve their digestibility for ruminants. Various chemicals such as sodium hydroxide, potassium hydroxide, calcium hydroxide, ammonia and urea are the most important and effective in improving the digestibility and nutritive value of straws.
Methane is a major greenhouse gas emitted by ruminants and nowadays there is considerable research efforts devoted to reducing these methane emissions. Phytochemicals, vaccines, dietary lipids, electron acceptors such as nitrate and ionophores have all been studied as part of a methane reduction strategy. The compound. 3-nitrooxypropanol is of interest in methane reduction. Good manure management and anaerobic digestion also contribute to reducing the environmental impact of ruminant production.
Future directions are to improve the nutritional quality of meat and milk, to manage ruminant health without antibiotics and to develop the use of new and novel feed ingredients such as wood, microalgae, seaweeds and insects.
Ruminants have served and will continue to serve a valuable role in sustainable agricultural systems.
To find out more the benefits and impacts, mitigation strategies and future direction of ruminant production in agriculture download a sample of our latest 60-page special report titled The Role of Ruminants in Sustainable Agriculture 2020, authored by Dr Clifford Adams.
---

RELATED INDUSTRIES & TOPICS