Customer Logins
Obtain the data you need to make the most informed decisions by accessing our extensive portfolio of information, analytics, and expertise. Sign in to the product or service center of your choice.
Customer Logins
Wage watch: What to expect in Houston after Harvey

Hurricane Harvey caused between US$60-100 billion in damage to the Houston area destroying housing, commercial buildings, and local infrastructure. Last Friday's employment report released by the Bureau of Labor Statistics revealed the immediate impact of Harvey on the US labor market with a net job loss of 33,000 mostly concentrated in food services and drinking places. Looking forward to next quarter and beyond, Hurricanes Harvey and Irma will end up providing a boost to construction employment. In Houston, reconstruction has already begun and local contractor backlogs are expanding quickly, putting pressure on an already tight labor market. Construction wages in the Houston area will likely experience an aggressive jump in the fourth quarter, and continue to accelerate through 2018.
Here are some highlights of what employers should expect:
Demand for construction equipment operators will accelerate through the second quarter of 2018.
Priorities will be repairing the local infrastructure systems, including highways, sewers and water systems. The Houston area has a well-equipped labor force, however labor markets were tight before the storm, and the cleanup effort will add significant pressure to local wages. After Hurricane Katrina hit Louisiana, construction employment jumped 10% in 2016. For equipment operators engaged in tasks such as excavating, demolition and dirt moving, employment jumped 20% in the state and nearly quadrupled in directly affected areas. Houston's infrastructure was not as badly damaged as New Orleans after Katrina; however firms should still expect to see higher price tags for both operator wages and equipment leasing.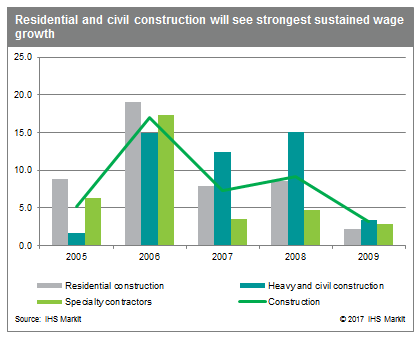 Reconstruction will increase demand for residential construction workers.
Most of the damage caused by Hurricane Harvey was a result of flooding. As flood waters recede, homeowners and business owners will be turning to contractors to rip out drywall and carpeting, and stripping houses to their studs. Demand for unskilled and semiskilled construction workers like drywall installers, painters, flooring contractors, and carpenters will jump by roughly 5% in the fourth quarter and continue to rise through 2019, wages for these workers have the potential to rise over 10% over the next twelve months. Skilled workers which overlap with residential and commercial construction such as electricians and plumbers will see similar growth. In Louisiana, employment in the above occupations peaked eight quarters after Katrina hit, 15% higher than pre-Katrina employment.
Wages for industrial skilled workers (welders, machinists, boilermakers) are less likely to be affected by the hurricane.
Most of Houston's industrial capacity appears to have weathered the storm relatively well. 95% of US crude oil refining capacity has been restored, and 100% of natural gas liquids operations are online with terminals now loading cargos. Chemicals capacity is still recovering, however the slow ramp-up of production has more to do with the complexities of re-starting chemical facilities rather than damage sustained. Labor markets for skilled workers are still tight, but we do not expect to see a demand surge, and are less likely to see a wage spike.
Bottom line
Construction workers will be in short supply in the Houston area as demand from the residential and commercial sectors surges over the next two years. The initial ramp-up will be the most painful, with wage growth approaching double digits for equipment operators, unskilled, and semi-skilled construction workers over the next twelve months. Wage growth will moderate after 2019, but wage levels will remain elevated for some time due to a generally healthy local economy.
Emily Crowley is a principal economist for the pricing and purchasing service at IHS Markit
Posted 10 October 2017
RELATED INDUSTRIES & TOPICS