Customer Logins
Obtain the data you need to make the most informed decisions by accessing our extensive portfolio of information, analytics, and expertise. Sign in to the product or service center of your choice.
Customer Logins
VR market growing rapidly with AMOLED

The display is one of the most important elements of a virtual reality (VR) device.
At SID 2016 (Society for Information Display), Samsung Display unveiled a 5.5-inch active-matrix organic light-emitting diode (AMOLED) panel with a pixel density of 806 pixels per inch (ppi). Its resolution is 40% higher than the company's existing 577 ppi AMOLED panel, and it is the first ultra-high definition (UHD) 5.x-inch AMOLED panel (3840 × 2160).
Samsung Display developed this panel using an electroforming mask technique. This new technology allows electrical current to pass through the plating master embossed with slit patterns so that metal atoms in the plating solution can be deposited on the surface of the plating master. It can form thinner and more elaborate slits than conventional etching processes. However, manufacturing an electroforming mask takes longer, and the new technique is unsuitable for large-sized panels. Therefore, rather than being widely applied to smartphones, Samsung's 806 ppi AMOLED panel is expected to be adopted by a niche small- to mid-size panel market that requires ultra-high resolution displays like the VR market.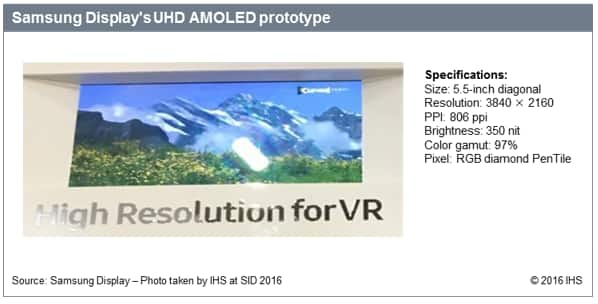 The requirements for VR displays are as follows:
High resolution - A higher resolution is required due to the close proximity of the screen and the user's eyes.
Fast response time - A fast response time is critical to present on-screen images promptly in response to the user's head movements.
Low power consumption - Displays with lower power consumption are preferred because multiple sensors operate at the same time.
Wide field of view (FOV) - For an enhanced visual effect, the field of view should be wide enough to cover the full range of human vision.
Lightweight - Lighter displays are preferred since VR devices are mounted on the head.
Until 2015, most VR manufacturers used micro displays that were smaller than one inch - such as liquid crystal on silicon (LCoS) and OLED on CMOS (OLEDoS) displays - in an attempt to produce smaller and lighter VR devices with high resolution, fast response times and lower power consumption. However, these displays were so small that they had to be placed close to the eyes in order to obtain a wide field of view. In that sense, larger VR displays will help to widen the field of view.
Given the requirements of a VR display, a 5.x-inch UHD AMOLED display would be a perfect match for VR devices. AMOLED displays are lightweight and offer fast response times. In addition, VR AMOLED displays are free from ambient light reflection, so they do not require polarizers, resulting in higher luminous efficacy and significantly lower power consumption.

Even before 2010, some manufacturers, including Sony and Epson, were producing personal VR devices. However, the VR market did not grow much due to a lack of VR content and devices. VR devices also failed to receive much attention from consumers. In 2014, however, public interest in wearables expanded with the launch of Google Glass and the Apple Watch, raising expectations that the VR market would grow. Still, unlike wearables, VR devices restrict users' vision and motion, so they are unlikely to appeal to a wide range of consumers. VR makers could, instead, target video console users who enjoy games or movies.
Although micro display shipments for VR devices have been declining, the VR display market is expected to expand significantly in 2016, driven by the rapidly growing interest in VR and the release of high-resolution VR AMOLED panels.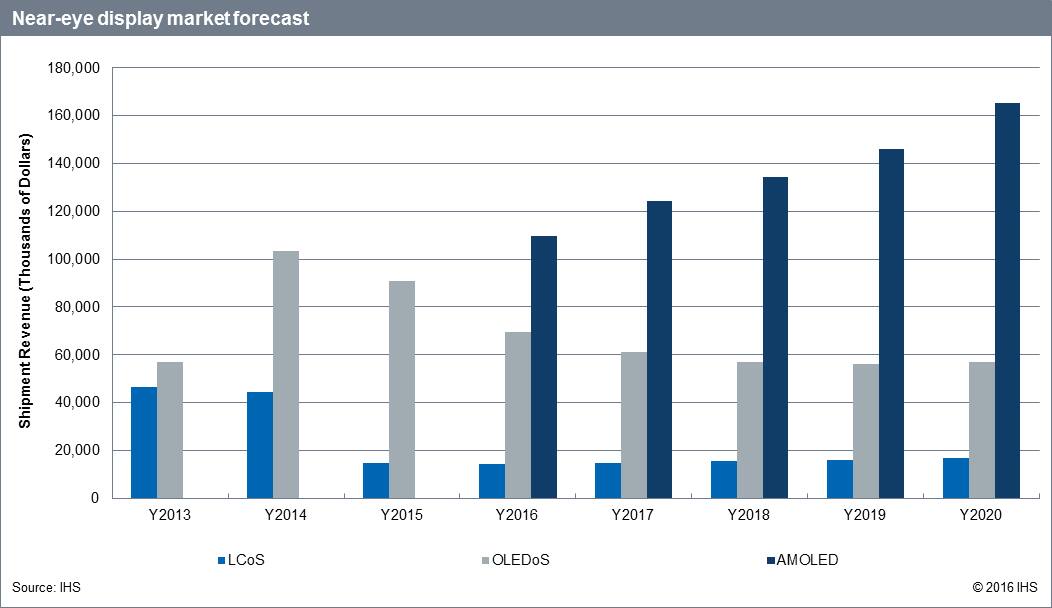 David Hsieh is Director of Analysis & Research within the IHS Technology group
Posted on 8 July 2016
RELATED INDUSTRIES & TOPICS