Customer Logins
Obtain the data you need to make the most informed decisions by accessing our extensive portfolio of information, analytics, and expertise. Sign in to the product or service center of your choice.
Customer Logins
Virtual reality in retail: the case for business drivers

In the abstruse technological arena of virtual reality (VR), there is no shortage of hype or outsize conjecturing. True, the format is now widely accepted by the games industry, where immersive experiences serve to enhance many applications. But how applicable is this success to other industries?
For instance, do home-shopping channels and the ecommerce sector need to be prepared to invest in VR technology? Will companies gain a competitive edge if they have a VR app?
To discuss these topics, I recently had the pleasure of moderating a panel during the Multi-Channel Money Streams (MCMS) Congress, held on the occasion of the Electronic Home Shopping Conference this past June in Venice, Italy. Joining me in the panel were three industry leaders: Richard Burrell, previously at QVC, the world's leading video and ecommerce retailer; Maurits Bruggink from EMOTA, or the European ecommerce and Omni Channel Trade Association; and Alex Kunawicz from Laduma, a Virtual Reality content company. The event offered a unique opportunity to hear from industry experts and thought leaders on topics expected to affect the future of the modern multi-channel industry.
The first panel in the conference focused on the subject of business drivers of virtual reality, as well as on the practical implications of VR for the retail industry.
Based on the findings of a 2016 report that we published on the subject, IHS Markit believes that VR remains a niche technology-not only for now but also for a good number of years moving forward. There are several reasons, but in particular, the added expense of specialized headsets, along with the need for users to possess a technical understanding of the format, means that VR is not yet consumer friendly or ready for the mass market.
There is also the issue of fragmentation and format discoverability, both of which do not lend well to consumer compatibility. For instance, while there are many notable applications already available for virtual reality, most consumers are still not aware of them. And many of the current owners of VR headsets do not know where to find content, or even what platforms are available and compatible with their particular brand of headset.
In order, then, to make VR more successful, investment is needed in creating content, standardising technologies, raising consumer awareness, and educating the consumer, all serving to underscore the benefits of using VR as well as the availability of the technology.
And yet, an important question must be addressed: who should be leading the charge toward a VR future?
The big guns duke it out
The likes of Facebook, Google, and Samsung are heavily investing in VR, but which of them is, in fact, going to push things forward?
In the case of Facebook, it has invested $2 billion on its Oculus headset offering, and such a large investment from a ubiquitous global content platform implies a desire make the technology as popular and widespread as possible-far from what is today's niche user base. To expedite matters, Facebook will be launching live video streaming to its social VR product, called Spaces, which lets users operate avatars that hang out with the avatars of other users in a virtual world. From all appearances, Spaces appears to be not only an innovative application that meshes well with the company's social media roots, it also marks Facebook's intent to create awareness and education of its initiative and make VR more popular in general. The numbers tell a daunting story: while Facebook has currently a global subscriber base of approximately 2 billion, less than 1% of the social media giant's base owns a VR headset.
Current opportunities: but who controls the VR headset market, anyway?
Smartphone VR makes up the vast majority of headsets, counting an installed base in 2016 of almost 16 million units, equivalent to 87% percent of the VR addressable market by device. By 2020, however, this share is forecast to erode to 53% as other platforms find traction. Even so, smartphone VR will rule as the biggest addressable market for VR content.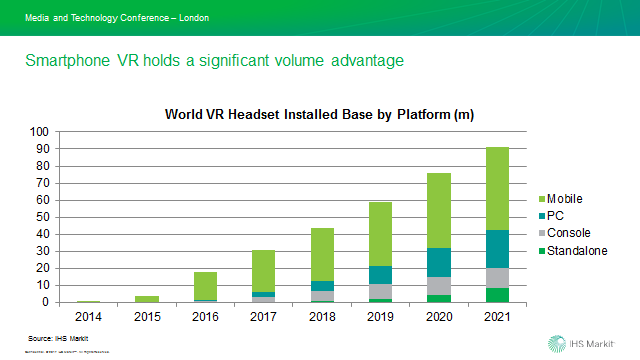 Among VR players, Google's Daydream will become the dominant smartphone VR platform by 2019, reaching a projected 14 million units by then. IHS Markit believes that Google's next-generation VR platform circulating by that time will eat into Samsung's Gear VR headset, directly impacting the market fortunes of Samsung's offering.
Across the high-end VR headset market, Sony's PlayStation VR is expected during the early part of our forecast to outsell PC-based VR headsets, including Facebook's Oculus Rift and Taiwanese-based HTC's Vive. By 2019, the installed base of PC-based headsets will overtake the game-console-based PlayStation VR, as adoption of Sony's headset slows in tandem with the aging PS4 sales cycle. Overall, however, consumer adoption of VR across all platforms will be slow as buyers take their time in evaluating the technology.
Investing in VR: should you do it?
So, apart from Facebook's "Spaces," is VR applicable to just games and experiences? In fact, there have been some successful applications of VR in other markets-such as the retail industry. Some examples of VR use in retail include the following:
Customising of cars as well as bespoke automotive products (Audi)
Virtual walk-throughs and remote selling in real estate, hotels bookings
Interior design and decor (IKEA)
Ecommerce: Chinese ecommerce retail giant Alibaba has a VR retail app called Buy+ that lets consumers shop in Alibaba's virtual reality universe, enabling China's vast consuming public to explore big shopping centres across other parts of the world.
But while VR can be deployed, as shown above, in fresh and innovative ways for some products, this does not mean that the VR experience is universally applicable, especially as the marketing hype of the format or the novelty factor begins to wear thin.
When deciding on whether to invest in VR technology, companies will need to consider two important factors: the big investments required by VR, as well as the less-than-certain revenue prospects or return that can expected from an investment in the new technology. For instance, is direct monetisation through the use of VR a realistic expectation for a company to justify investing in the technology?
For many companies contemplating a VR venture, the hope is to avoid repeating the mistakes made during the introduction of 3-D technology. Just because you can do it doesn't mean you should. In the television sector, many players that had invested in 3-D did so in the belief that the new and exciting technology was the way to go, and that not investing meant being left out or appearing old-fashioned and out of touch. Fast-forward to today, and 3-D live channels launched by companies and operators have mostly closed down. For their part, TV brands have all but abandoned the production of 3-D television sets.
The latest analysis from IHS Markit shows that VR is already performing better that 3-D TV ever did.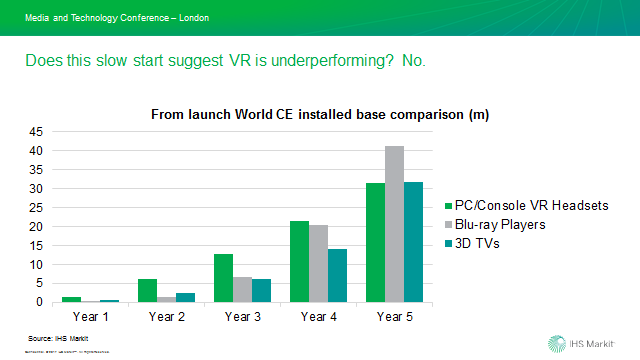 For those of us in the panel at the MCMS Congress, we've come to this conclusion following a very lively session: When it comes to investing in VR for retail and ecommerce, it is still too early at this point to get a clear sense of what to expect in terms of a return on investment, and how much companies should invest at this point remains uncertain. But as is the case with all new technologies, it is unquestionably important to remain aware of and be up-to-date with developments taking shape in the VR space, which would then allow for a considered and intelligent assessment of what VR could bring to your business.
For more info:
Maria Rua Aguete is Executive Director for Media, Service Providers & Platforms, within the IHS Technology Group at IHS Markit
Posted 14 August 2017
RELATED INDUSTRIES & TOPICS