Customer Logins
Obtain the data you need to make the most informed decisions by accessing our extensive portfolio of information, analytics, and expertise. Sign in to the product or service center of your choice.
Customer Logins
Video Everywhere: The highs and lows of a shifting ecosystem

Digital Orbit is an executive briefing from IHS Markit that tracks how six transformative technologies are disrupting life and industry. In this article, the second installment in the series, we focus on the sweeping changes being wrought by Video Everywhere.
At no point in time has video been more pervasive and influential: video is present wherever you go, and today's modern devices make accessing video content easier than ever. This is the idea and meaning behind the transformative technology known as Video Everywhere. With the increasing propagation of video and content services, driven by their rising capture, distribution, and consumption, Video Everywhere is forcing significant change as new players contend with the might of traditional media giants and businesses scramble to survive in the shifting video landscape.
While the media industry remains a clear leader in this technology, our recent Digital Orbit intelligence data indicate that other industries, such as healthcare and automotive, are also beginning to play a significant role in the rise of Video Everywhere. But as markets and industries adjust and adapt, there are elements of the shift to extol and others to monitor closely.

The world is ready
The key results in Digital Orbit include scores that employ the two critical measures of readiness and impact—the first to evaluate how prepared a technology is for adoption by industries, and the second to determine how a technology will change an industry.
In Video Everywhere, the scores for "industry attitude/culture" are high in Digital Orbit, indicating that a willingness to embrace video exists across markets. Video also received high readiness scores for "affordability" and "industry applicability" throughout various markets.

Networks are busy catching up
The growth of video will be dependent upon advances in network infrastructure that can accommodate increasing volumes of data. Video will account for more than three-quarters of fixed network traffic and 70% of mobile network traffic by 2022, and IHS Markit forecasts show the number of video-capable consumer connected devices in use will exceed 10 billion by the end of this year, as shown by the graphic below.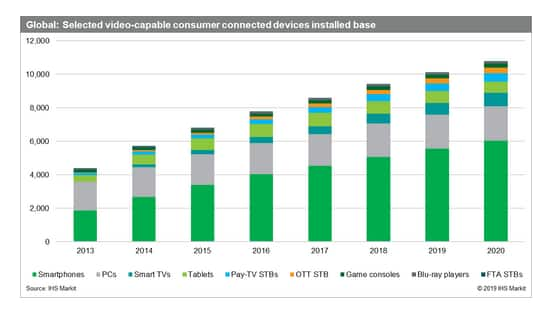 While the increase may be exciting for consumers and video-centric companies, the current network infrastructure is not equipped to support this demand. In response, the telecom industry is taking strides to create a next-generation network that can provide a reliable, high-quality user experience.
Though not yet fully developed, 5G will be transformative for video once the next-gen mobile standard gains traction, enabling the massive mobile broadband necessary to accommodate the expected surge in mobile traffic. 5G will also make applications of video more viable across market sectors such as the connected car, video surveillance, and camera-equipped robots and drones.

A rippling effect with profound implications
The disruption of Video Everywhere can be felt in many sectors. Newcomers to the video space are altering competitive dynamics and causing uncertainty in traditional business models. Online video advertising is triggering increasing levels of anxiety among long-standing media giants and service providers.
Meanwhile, the major media and telecoms companies are working hard to better position themselves to contend with the online competition, and in some cases are using large mergers to maintain status. Last year saw several mega-mergers take hold—AT&T and Time Warner, Disney and Fox, Vodafone and Liberty Global, and Comcast and Sky. The impact of this consolidation will become apparent as 2019 continues and new strategies unfold.

Uncertainty remains
In addition to competitive uncertainty, security concerns have an extreme impact on the willingness of many markets to implement video. Over half of companies recently surveyed cite security as a "significant hurdle." This is reflective of privacy concerns, as an increase in video capture in daily life will result in more images of private citizens at risk of data breaches.
Scores for "organizational alignment" remain low in many markets. Companies are experiencing difficulties in creating and integrating video divisions into their corporate structures. Furthermore, a low score in "business case" indicates concern that while video can make products and processes better, it remains unclear how video can generate a full and direct return on investment.

The verdict: A mixed picture
In short, the world is ready—and waiting—for Video Everywhere, which shows no signs of stopping. Major industries are also poised to adopt video for a range of applications and use cases. But until networks can fully support the expected explosion of data in video and companies can find a clear return on investment, the video ecosystem remains on rocky terrain.
For more details, visit our Digital Orbit section, where you can also download a free white paper.
Josh Builta is senior principal analyst for transformative technologies at IHS Markit
Ted Hall is director, TV & online video, at IHS Markit
Posted 22 April 2019
RELATED INDUSTRIES & TOPICS