Customer Logins
Obtain the data you need to make the most informed decisions by accessing our extensive portfolio of information, analytics, and expertise. Sign in to the product or service center of your choice.
Customer Logins
Venezuela mutiny and anti-government protests

A mutiny by national guardsmen on 21 January has sparked violent anti-government unrest in Venezuela's capital Caracas.
A total of 43 guardsmen have been arrested after, according to Venezuelan officials, attempting to steal weapons from a military barracks in Petare, Caracas.
Their arrest has sparked anti-government protests in traditionally chavista areas located to the west of Caracas, including in places such as Cotiza, 23 de Enero, El Valle, and Antímano.
The top military command remains loyal to President Maduro. Such loyalty, however, will likely be stretched if the protests escalate and the government violently represses unrest in shanty towns. The use of force against those living in these areas would likely accelerate discontent among junior ranks and middle-ranking officers, increasing the probability of new insurrections taking place.
Forty-three members of the National Guard were arrested on 21 January after delivering a message through social media calling on the armed forces not to recognize President Nicolas Maduro, and for their participation in anti-government protests. A statement from Minister of Defense Padrino López claimed that the arrestees, all from 43 Command of the National Guard, had stolen weapons from a barracks in the locality of Petare in the Caracas Sucre municipality that same day.
The Venezuelan economy has been in recession since 2014 and is now facing acutely adverse conditions. IHS Markit forecasts its real GDP to decline by more than 15% with the inflation rate reaching 3,000,000% in 2019. Oil production, exports of which generate over 95% of foreign-exchange earnings, is likely to fall to about 900,000 barrels per day (bpd), down 75% from 2.4 million bpd in 2015. These dire economic conditions have also intensified shortages of basic products which, together with water and electricity supply problems, have generated increased discontent among junior ranks and middle-ranking officers.
Similar failed mutinies/coup attempts in the last two years have included an attack on a military base in Valencia, Carabobo, to steal weapons, an attack on the Supreme Court and Ministry of Interior, and a UAV assassination attempt against Maduro at a military parade on 6 August 2017. All of those attempts were initiated in isolation by a relatively small number of disgruntled officers and junior ranks, and were quickly defused by the government. Maduro was sworn in for a new 2019-25 mandate on 10 January, but his government has not been recognized by the US, Canada, the EU, and most Latin American countries.
Protest in western Caracas
The 21 January incident has sparked protests in the west of Caracas. Protests in support of the arrested national guards and against the government have emerged in the neighborhood of San José de Cotiza in the Libertador municipality as well as in locations such as 23 de Enero, Antímano, Autopista Caracas - La Guaira, Avenida Fuerzas Armadas, Avenida Panteón, El Valle, and La Pastora. Security forces have been deployed to some parts of western Caracas to contain the situation. IHS Markit understands that tear gas, rubber bullets, and live ammunition has been used against protesters in Cotiza, that there has been looting incidents in locations such as El Valle, and that protesters have also set on fire the house of a late ruling United Socialist Party of Venezuela (Partido Socialista Unido de Venezuela: PSUV) member in La Pastora neighborhood. The president of the opposition-controlled National Assembly, Juan Guaidó, who has said that he is ready to assume the interim presidency of Venezuela if the people and armed forces supported him, has also called for an anti-government march on 23 January.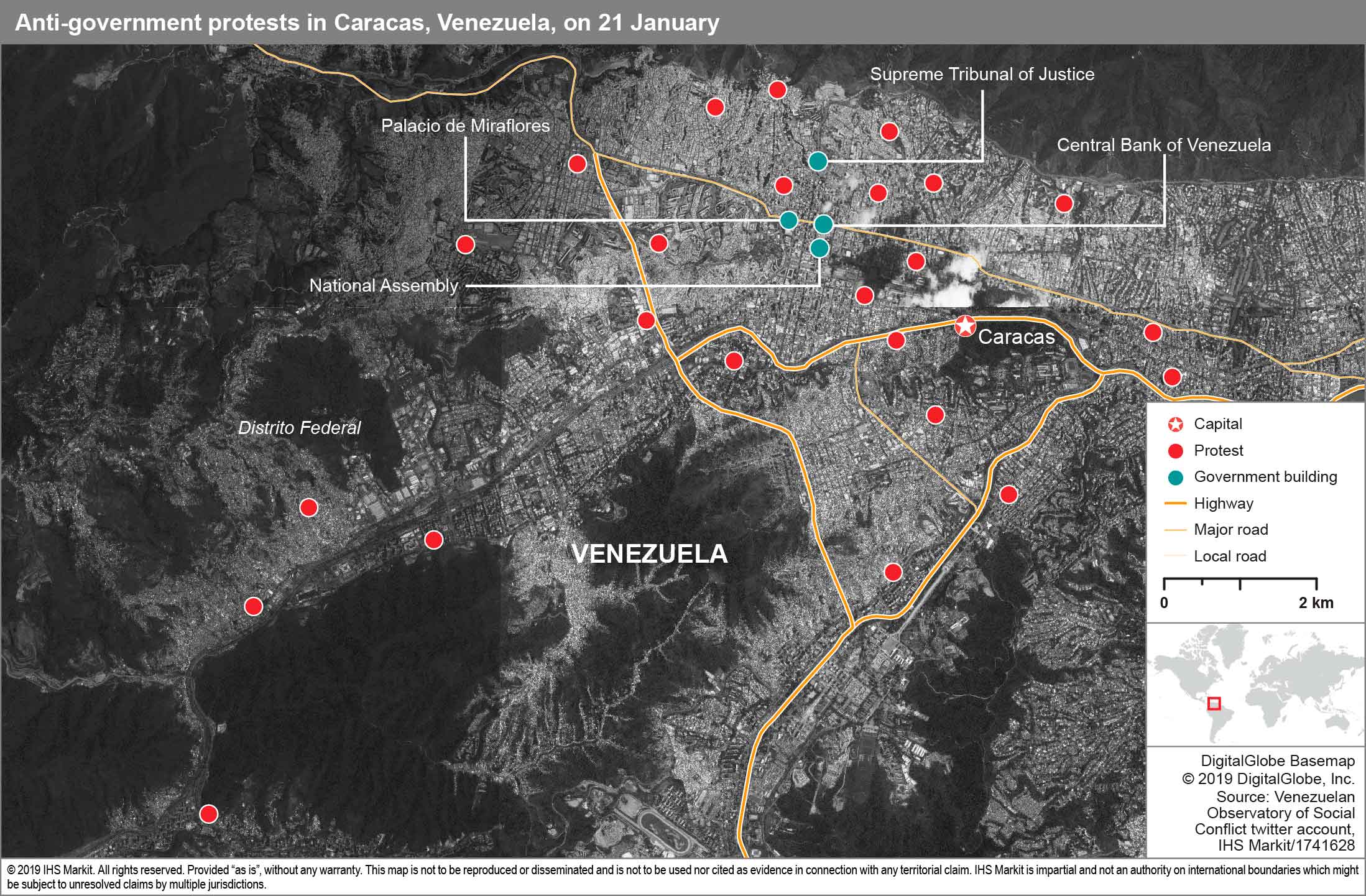 Outlook and implications
Despite Venezuela's economic situation, and international pressure seeking a timetable for early free and fair elections, the high military command continues to be loyal to the government. Top officers currently have little incentive to withdraw support for Maduro as he has granted control to the armed forces of oil, ports, and imports, and some military factions are directly involved in illegal activities, including drug trafficking, fuel smuggling, and illegal mining.
The emergence of protests within the western part of Caracas, however, will test their loyalty to Maduro. The military has historically obeyed orders to repress anti-government protests in middle-class areas located in east Caracas. The capital's west, however, has historically been a chavista stronghold. This part of the city is where the Miraflores Presidential Palace is located and the government rarely allows any protests in the area that could potentially undermine its stability. The forceful repression of protesters in this part of the city, including the use of pro-government armed groups, would be an important indicator during the upcoming days and weeks. The use of tear gas or even live fire, resulting in wounding or mass arrests of those living in shanty towns, would likely accelerate anti-government discontent in the security forces, increasing the likelihood of new mutinies among the military and of defections among the military leadership. The rapid containment of shanty-town protests, without excessive use of force, would, however, indicate that the military is still in control, loyal to Maduro, and capable of managing any foreseeable level of discontent within shanty towns.
RELATED INDUSTRIES & TOPICS