Customer Logins
Obtain the data you need to make the most informed decisions by accessing our extensive portfolio of information, analytics, and expertise. Sign in to the product or service center of your choice.
Customer Logins
US wind capacity installations soar 85% year on year in 2020 to record

US developers brought 16.913 gigawatts (GW) of wind generation online in 2020, an 85% increase compared with 2019, according to the American Clean Power Association (ACPA), which was a record annual total and enough to power more than 5 million American homes.
As a result, some 122.468 GW of wind power capacity was operational in the US at the end of last year, the trade association said in a report issued 4 February.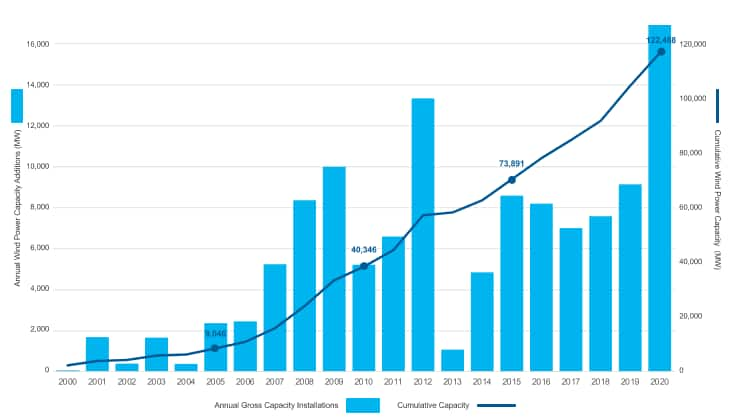 Source: American Clean Power Association
The jump in installations was due in part, ACPA said, to "strong continued demand from American consumers for clean energy to power their homes, as well as technological improvements that have allowed renewable energy prices to become more and more competitive in the marketplace." It said corporate demand also played role, as did the anticipated expiration of federal tax incentives, although said credits have since been extended.
Some 10.593 GW of 2020's capacity installations were brought online in the final three months of 2020, the highest quarterly total on record, and more capacity than was installed in any full year except 2012.
And the momentum isn't slowing, projects totaling 34.757 GW were under construction (17.302 GW) or in advanced development (17.455 GW) at the end of December in the US, the trade group, which replaced the American Wind Energy Association (AWEA), said. Federal waters host 26% of the total development pipeline, it added.
A total of 54 projects across 20 states were commissioned in the final quarter of the year, the data show. Texas led the table with 2.197 GW installed, followed by Wyoming at 895 megawatts (MW), Oklahoma (866 MW), Iowa (861 MW), and Missouri (786 MW).
GE Renewable Energy topped the table for US turbine installations in 2020, capturing 53% of the market through December. Vestas ranked second with 35%.
"2020 was a banner year for the wind industry," said ACPA CEO Heather Zichal. "Despite all the challenges COVID-19 placed on our businesses, we still shattered nearly every record for capacity and growth."
Following AWEA's transformation into ACPA at the start of 2021, the association now represents the solar and battery storage sectors. US utility-scale solar and energy storage also set annual capacity addition records in 2020, according to ACPA, citing US Energy Information Administration data.
Battery storage and electric vehicles (EVs) are part of President Joe Biden's plans to "Build Back Better," and as he noted on 29 January, on what he called "Climate Day," that "when we think of renewable energy, we see American manufacturing, American workers racing to lead the global market."
"We see these workers building new buildings, installing 500,000 new electric vehicle charging stations across the country as we modernize our highway systems to adapt to the changes that have already taken place," he said. "We see American consumers switching to electric vehicles through rebates and incentives."
California has long been seen as a trend setter in many of these areas, and remains so, according to a ranking of state transportation electrification programs released by the American Council for an Energy-Efficient Economy (ACEEE) on 3 February.
California earned 91 of 100 possible points, followed by New York (63.5 points) and Washington, DC (59), while 20 states earned 15 points or fewer.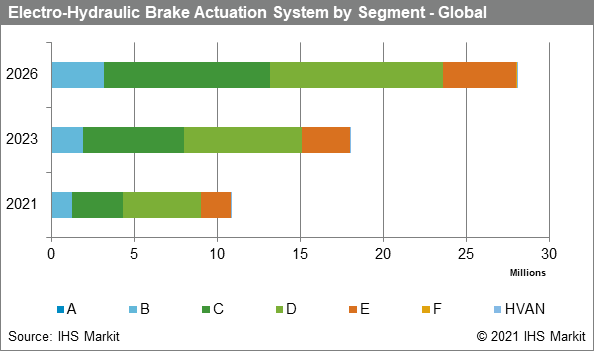 Source: American Council for an Energy-Efficient Economy
California is the only state to set deadlines for electrifying transit buses, heavy trucks, and commercial vehicles, according to ACEEE. The state is also one of few to offer assistance for lower-income drivers replacing older, high-polluting cars with zero- or near-zero-emissions vehicles, and it plans to deploy chargers in economically distressed and environmental justice communities, the trade group added.
For states not doing as well as the Golden State, ACEEE recommended what it called "foundational steps," including comprehensive planning efforts with specific goals, benchmarking progress, collecting data, incorporating spending carve-outs or funding adders for low-income, economically distressed, and environmental justice communities in state and utility EV planning. It also recommended leveraging existing sources of funding such as the Volkswagen settlement fund, and establishing clear direction to encourage utility and third-party investment in charging stations.