Customer Logins
Obtain the data you need to make the most informed decisions by accessing our extensive portfolio of information, analytics, and expertise. Sign in to the product or service center of your choice.
Customer Logins
US vehicle fleet emissions data show long road ahead to net zero

New US light-duty vehicle fleet emissions data show the challenge the country faces in changing course for the sector of the economy that contributed the largest share of greenhouse gas (GHG) emissions in 2019.
The US Environmental Protection Agency (EPA) in January released its estimate of real-world carbon dioxide (CO2) emissions for the US light-duty vehicle model year, finding that CO2 emissions for the 2019 fleet increased by nearly 1% compared with 2018. Estimated real-world CO2 emissions increased by 3 grams/mile to 356 g/mi in model year 2019.
Transportation accounted for an estimated 28% of US GHG emissions in 2019, slightly ahead of electricity at 27%, as electric power sector emissions fell in the last 15 years due to the closure of coal-fired plants and replacement with renewable and natural gas-fired generation.
EPA also reported that fleet fuel economy, which is closely linked to emissions, decreased by 0.2 mpg to 24.9 mpg from 2018 to 2019.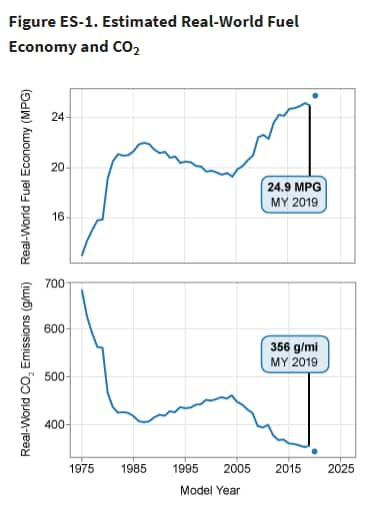 Source: US EPA
"The fleet improvements year over year are definitely stalling," said David Cooke, senior vehicles analyst, Union of Concerned Scientists, which has filed one of two federal lawsuits seeking to push the US towards tougher vehicle emissions and efficiency standards.
"I'm certainly not surprised at where the fleet average is landing," said IHS Markit Principal Analyst for North America Powertrains Devin Lindsay. "The more fuel-efficient vehicles out there are still struggling at this point, and electric vehicles (EVs) are not out in large volumes except for Tesla."
Automakers have taken the fuel efficiency of the internal combustion engine fleet about as far as they can with existing technology, Lindsay said, and the way to improve efficiency and reduce emissions is through electrification, either via all-electric or hybrid vehicles.
EPA's report
EPA's annual report emerged as the administration of President Joe Biden is expected to ramp up attention on reducing vehicle emissions as a critical element of reaching US net-zero carbon emissions. He has already announced a plan to turn over the entire US fleet, approximately 645,000 vehicles (224,000 light-duty vehicles and 412,000 trucks), to EVs.
The Trump administration chose not to target autos for aggressive decarbonization. It issued the Safer Affordable Fuel Efficient Vehicles Act (SAFER Act) in January 2020, which downgraded the required year-by-year GHG reductions set by the Obama EPA from 5% per year to 1.5% annually instead. The Union of Concerned Scientists has filed one of two federal lawsuits against the SAFER Act.
In his first week in office, Biden issued an executive order to direct EPA and the Department of Transportation to review the SAFER Act as part of a broad look at which rules and regulations address "national interests" in minimizing climate change.
Biden also said that he will not challenge an agreement between the California Air Resources Board and five automakers that they will reduce GHG emissions by 3.7% per year for model years 201-2026. The Trump administration tried to block that agreement in court.
Emissions trends
EPA's report shows that the long-term emissions trend has been positive, despite the static 2019 results. "Since 2004, CO2 emissions have decreased 23%, or 105 g/mi, and fuel economy has increased 29%, or 5.6 mpg," the agency said.
EPA says that preliminary data show the model year 2020 fleet's average estimated real-world CO2 emissions falling by 12 g/mi to 344 g/mi, and fuel economy improving by 0.8 mpg to 25.7 mpg.
But at the current rate of change, the fleet average will fall far short of the plan marked out by the Obama administration of 163 g/mi of CO2 for the model year 2025 and an average fuel efficiency of 54.5 mpg.
CO2 emissions vs. GHG compliance
EPA measures both real-world carbon emissions and GHG compliance. Though they are based on the same EPA-mandated two-cycle engine tests, the components in each tell a slightly different story, according to EPA spokesperson Aaron Hula.
Carbon emissions can be thought of as direct "tailpipe emissions" from federal test procedures, Hula said. GHG emissions estimates start with those tailpipe emissions, but then add other sources of emissions, such as from air conditioner leakage, and then give "credits" for inclusion of numerous types of technology to improve fuel economy. This takes into account the limitations of the two-cycle engine test, which does not replicate all aspects of driving under varied conditions.
For the purposes of compliance, EPA calculates GHG emissions. For model year 2019, EPA's mandate for each large manufacturer was 246 g/mi, but they registered emissions, on average, of 253 g/mi. That 7 g/mi gap was filled by using emissions credits earned by over-compliance in prior years, Hula said.
In 2019, 24 teragrams (24 trillion grams) of credits were used, or about 9% of the existing pool, according to EPA.
"Three manufacturers-Tesla, Honda, and Subaru-achieved compliance with the greenhouse gas standard for model year 2019 through the performance of their fleets and thus generated excess credits that can be used in subsequent years," EPA stated in its report.
But the credit system as it is currently operating is a problem, said Cooke. He said it was one of the two main reasons-along with a changing mix of vehicles purchased-that CO2 emissions from the fleet are not falling.
GHG emissions are closely correlated with fuel economy, and when the GHG regulations went into effect in 2012, automakers were concerned they would not be able to meet the standards as they were reduced each year. EPA granted a series of "allowances" for installation of technology that improved fuel economy, such as low-resistance tires. Credits also are granted for EVs and hybrids to incentivize their sales.
Through aggressive installation of those technologies, car companies banked trillions of credits, which Cooke said they are now using instead of maximizing improvements in fuel economy of their new cars. "Because many credits have expiration dates in the next couple of years, automakers have no incentive to improve their vehicles until the credits expire," he said. "They can kind of coast along through the model year 2021, when the original bank of credits expires."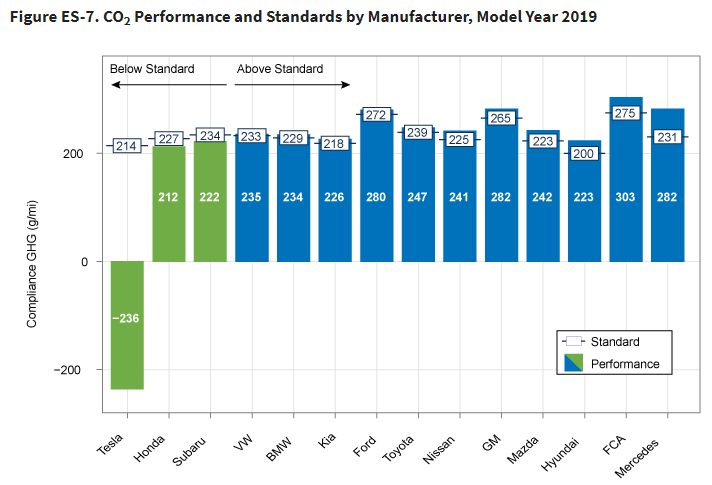 Source: US EPA
Every manufacturer ended the model year 2019 with "banked" credits that can be used in subsequent years (see graph), with Fiat Chrysler, Honda, and Toyota atop the list.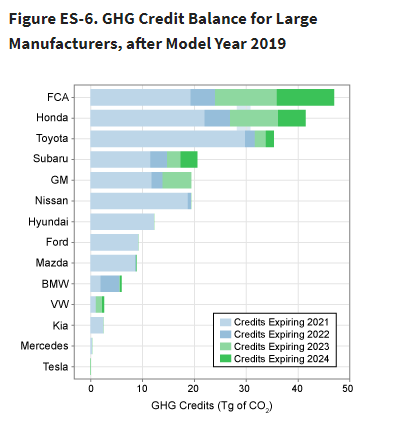 Source: US EPA
Starting with model year 2022, much of this excess should have been withdrawn, and the impact of the Obama EPA's 5% annual GHG reductions and fuel economy increases would start to drive technology implementation again, said Cooke. But the Trump EPA's rollback of that rule "keeps the gravy train going through 2026," he said. The Trump EPA's 1.5% GHG reduction per year is approximately the industry's average for the last 30 years anyway, Cooke said.
IHS Markit's Lindsay agrees. "When Trump came in and lowered the requirement, there was a big sigh of relief, and it bought them a little more time for what will probably coming from the Biden administration in the next four to five years," he said.
The federal lawsuits seek to overturn the Trump SAFER Act, but as of now, the 1.5% annual reductions are "locked in through model year 2026," Lindsay said.
But Biden does have some tools at his disposal, said Cooke. "Biden has ordered EPA and [the National Highway Transportation Safety Administration] to review the standards; we see this as a very positive step," he said. "We've said from the get-go that even the Obama rules were weaker than they needed to be [to clean up vehicle emissions]."
A possible first step by Biden could be to support California's agreement with Ford, BMW, Honda, Volvo, and the Volkswagen Group on a 3.7% annual GHG reduction. Given California's high demand for new vehicles, the agreement could drive technology nationally on new cars. "It's got to be seen as a floor," Cooke said.
Fleet mix
EPA's report highlighted one other aspect of the current light-duty fleet that is proving to be a challenge for reducing emissions: the rise in demand for larger vehicles.
EPA divides light-duty vehicles into five categories: sedan/wagon, car SUV, truck SUV, minivan/van, and pickups. The market share of sedan/wagon vehicles-the most fuel efficient-fell to 33% in model year 2019 from 50% in 2013, while truck SUVs reached a record 37% market share and car SUVs reached a record 12% market share in 2019.
"The fleet mix is changing, and it's overwhelming the gains in each category in fuel efficiency," Cooke said.
Where is the industry headed? Lindsay said that forecasting 10 years into the future is a challenge, especially with lawsuits, potential new EPA regulations, and California and Massachusetts setting 2035 as the end of internal combustion engine new vehicle sales in those states. "If we look at EVs, the first car was the Nissan Leaf in 2009. At the time, everyone would have expected adoption of electric vehicles to come much earlier than it has, partly because gasoline prices were higher at the time," he explained.
Instead, adoption has been slower than anticipated, despite the success of Tesla. "Because you are asking people to change how they interact with their vehicle [electric charging vs. gasoline or diesel], it is taking a while," Lindsay said.