Customer Logins
Obtain the data you need to make the most informed decisions by accessing our extensive portfolio of information, analytics, and expertise. Sign in to the product or service center of your choice.
Customer Logins
US tax credit extension won't move needle on already committed solar projects: IHS Markit

Developers with power purchase agreements (PPAs) under their belts for upcoming solar projects won't benefit from an extension of deadlines to qualify for federal investment tax credits (ITC), while those without such contracts will get "breathing room" to apply, IHS Markit analysts said 30 June.
The US Internal Revenue Service announced in a 29 June notice it is extending "safe harbor" construction deadlines to six years from four years for projects that started construction between 2016 and 2019, and to five years from four years for projects that began construction in 2020.
The IRS action creates a safe harbor for developers who had qualified for the 26% ITC as well as the 30% ITC. The former tax credit applies to solar projects that started installation after 1 January 2020 and before 31 December 2022 and are to be placed online no later than 1 January 2026.
The latter tax credit is for projects that began installation prior to 31 December 2019 and are to be placed online by 1 January 2024.
Developers were unable to make the deadlines due to the COVID-19 pandemic, which "disrupted supply chains, created significant permitting delays, and jeopardized the timely completion of many renewable projects," Gregory Wetstone, president of the American Council on Renewable Energy, said 29 June following the IRS announcement.
Wiggle room
A safe harbor against expiring tax credits is of most use to a developer when that deadline is imminent, which IHS Markit Senior Solar Analyst Christine Beadle said explained the rush to build solar photovoltaic capacity during the 2019-2020 period. More importantly, it also has the benefit of protecting developers from losing that much sought-after credit when they cannot continue with development due to supply chain disruptions, she added.
Beadle and other IHS Markit researchers cautioned that the IRS extension would have no bearing projects that are tied to PPAs. This is because those developers have obligations to their buyers that aren't eased by the IRS plan. They can renegotiate them if the ITC changes, but they can't benefit from it if they don't complete the installation within the timeframe.
"Developers of projects already under contract will have to start generating electricity, leaving 'little wiggle room' for developers to delay project completion deadlines despite the recent safe harbor extension," Alex Kaplan, another senior solar analyst with IHS Markit's Clean Technology and Renewables team, told Net-Zero Business Daily 30 June.
In fact, Kaplan said, "the latest extension will give breathing room to a few developers, but many will complete their projects well before the six-year deadline."
Solar takes time
The time it takes to fully develop, permit and obtain all entitlements, execute interconnection agreements, finance, construct, commission, and place in service a utility-scale PV power plant can take many years, Dan Nelson, vice president tax for California-based 8Minute Solar Energy, wrote in a 30 June email.
Then along came the pandemic, which Nelson said brought about "unprecedented additional challenges to the development timeline, including supply chain delays, remote worker transitions, safety protocols, government delays, and financing challenges,"
A large utility-scale solar project can take anywhere from six months to four years to build from the time regulatory approval is obtained, through financing being lined up, PPAs secured, to when installation is complete. "In the end, it all boils down to the scale and complexity of the project," Beadle said.
The IRS notice also includes a new compliance option for developers to demonstrate that they have been performing continuous work on their project, known as the continuity requirement. The agency is allowing developers to meet one of two continuity standards, regardless of earlier decisions on compliance methods.
For instance, Kaplan said, one of the ways the IRS defines construction is the "Five Percent Safe Harbor," which means a developer pays for 5% of a given project's capital expenditures. The other way IRS tracks construction is by requiring a certificate for when a developer starts actual physical work on the site to install the equipment, he added.
According to IHS Markit research, 20.6 GW of utility-scale photovoltaic capacity is currently under construction in the US and slated for completion in 2021 and 2022. In addition to those projects, another 211 GW of projects has been announced so far that is expected to be completed by the end of 2025.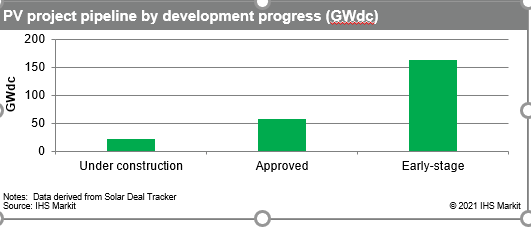 "It is therefore challenging to track how many projects, and how many megawatts, qualify for that safe harbor mechanism and could benefit from the latest extension," Kaplan said.
IRS clarifies ambiguity
Eligibility for the 26% tax credit was extended in late December by the US Congress as part of a comprehensive federal spending and energy policy overhaul package.
In that legislation, Congress extended the time frame to place solar plants in service by two years, according to 8Minute Solar Energy's Nelson.
"This week's 'continue construction' guidance issued by IRS aligns the Treasury's regulatory guidance with the legislation enacted late last year," he said.
The regulatory flexibility was welcomed by Solar Energy Industry Association President Abigail Hopper.
"Without clarity on safe harbor rules from the IRS, some of these solar projects, and the local economic benefits they bring, would not have made it across the finish line," Hopper said in a 29 June statement.
RELATED INDUSTRIES & TOPICS