Customer Logins
Obtain the data you need to make the most informed decisions by accessing our extensive portfolio of information, analytics, and expertise. Sign in to the product or service center of your choice.
Customer Logins
US renewables, carbon capture projects see tax credits revived in federal stimulus bill

Companies engaged in developing wind, solar and carbon capture projects were energized to learn that President Donald Trump signed into law legislation extending tax credits that were due to expire for these projects.
Congress agreed to extend US tax credits for renewable energy, battery storage and carbon dioxide storage projects and to authorize clean energy research and development under a single piece of legislation that funds both the federal government and coronavirus relief.
The tax provisions were included in a $900 billion relief package that Congress passed 21 December alongside a $1.4 trillion dollar spending bill for the federal government.
The 5,593-page spending bill also includes a new clean energy section that promotes research, development, and demonstration of next-generation technologies that will reduce greenhouse gas emissions from the power sector, industry, and buildings.
Trump signed that comprehensive legislative package into law on 27 December, nearly a week after he raised objections about the spending provisions in the legislation.
The bill illustrates a heightened awareness and need among congressional leaders to address the threat that climate change poses and the role that renewables play in providing electricity that doesn't involve burning fossil fuels and releasing carbon dioxide emissions. It also indicates the growing support carbon storage has among both Democrat and Republican lawmakers as one of the approaches to reducing GHG emissions.
U.S. House of Representatives Speaker Nancy Pelosi (D) and Senate Minority Leader Chuck Schumer touted the eleventh hour bipartisan deal, saying the agreement includes "sweeping clean energy reforms, R&D enhancements, efficiency incentives, extends clean energy tax credits to create hundreds of thousands of jobs across the clean economy."
Boosts carbon capture and storage
The deal extends the carbon capture storage tax credit commonly known as 45Q through 2025. Absent congressional intervention, the credit was due to expire at the end of 2023.
It also includes directives to the US Department of Energy (DOE) to establish a research, development and demonstration program for carbon capture and storage as well as a separate one for carbon utilization. Additionally, it calls on DOE to study the benefits of blue hydrogen, or hydrogen derived from natural gas that is then captured for storage.
Momentum has been gathering in the US carbon capture space, with a 1 December Global CCS Institute report noting that US involvement in 12 of the 17 new facilities underway globally in 2020 was largely due to the enhanced 45Q tax credit signed into law in 2018.
On the renewables front, the relief package gives a one-year extension to developers qualifying for ederal production tax credit for onshore wind farms, which was due to expire 31 December. Developers also will be able to get a 30% offshore wind investment tax credit for projects that qualified for construction after 1 January 2017 and no later than 31 December 2025.
The bill also extends the existing 26% investment tax credit to developers for solar facilities that qualify before the end of 2022 and 22% for projects that start construction before the end of 2023. This investment credit also will remain valid for owners and developers looking to install battery storage systems with solar generation.
What this means in practical terms is that "it will lead to more renewables installation but it will change the pace at which it happens," Rafael McDonald, IHS Markit director of North American Renewable Power, explained.
The recently enacted energy package is expected to prop up the renewable industry and position it for further federal policy support under President-elect Joe Biden, IHS Markit analysts wrote in a 7 January report.
The analysts noted that energy storage was not awarded tax credits, but they said the extension of the tax credit for batteries paired with solar projects will likely boost demand in the short term, while research and development investments may improve battery storage economics in the long-term.
With Democrats in control of the Senate though not with the clear majority that would allow them to push legislation through the chamber, prospects for addressing tax credits for stand-alone energy storage improve considerably.
Sen. Ron Wyden (D-Ore.), who currently is the ranking member on the Senate Finance Committtee and expected to take over the chairmanship, has been pushing for clean energy measures for the last decade. In the just-ended congressional session, he introduced legislation to create a stand-alone tax credit for energy storage, but it was never taken up by the committee.
Renewables targeted for federal lands
Renewables received yet another boost in the energy reform section of this omnibus legislation. The bill directs the US Secretary of the Interior to set national goals for wind, solar, and geothermal energy production on federal land by 1 September 2022, and to permit at least 25 GW of electricity from wind, solar, and geothermal projects by 2025.
According to IHS Markit, an additional 49.5 gigawatts (GW) of generating capacity was under construction in the lower 48 states as of September 2020, of which 30% or 15.01 GW is from solar projects and 45% or 22.12 GW from wind. But IHS analysts say these may not necessarily come online in 2020.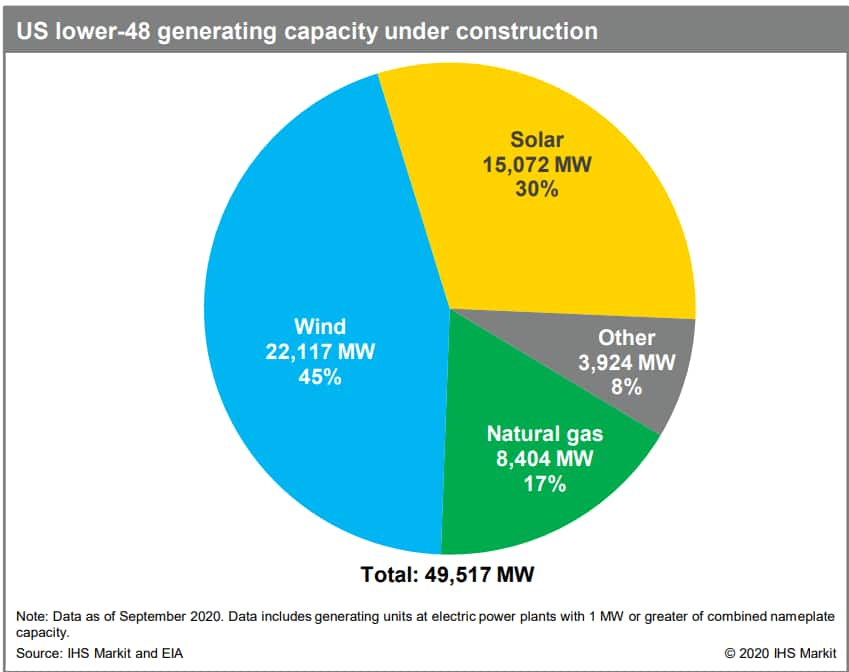 IHS Markit's projections of 22.26 GW for wind are slightly less bullish than those of the US Energy Information Administration, which is projecting 23.2 GW to come online in 2020. The International Energy Association (IEA) is also not as optimistic as IHS Markit or the EIA, but still projects 17 GW of wind capacity to come online, which the association described as "an unprecedented expansion."
On the solar front, IHS Markit's projections of 11.1 GW are less bullish than those of the EIA, which projects utility-scale solar capacity will increase to 12.8 GW in 2020 and to 13 GW in 2021.
The IEA said in a 1 December report that renewables generation in the US has continued to expand despite the pandemic due to federal tax incentives and favorable tax policies.
Energy policy reform
Sen. Lisa Murkowski (R-Alaska), the outgoing chair of the chamber's Energy and Natural Resources Committee, described the energy portion of the bill as "the first modernization of our nation's energy policies in well over a decade."
Murkowski was responsible for the inclusion of the energy bill that she introduced with the energy committee's top Democrat, Sen. Joe Manchin (WVa), in spring 2020. It also included elements of a House of Representatives energy bill too.
The American Clean Power Association, a newly formed trade group to represent renewables, said the bipartisan agreement reached in Congress provides more opportunities for American consumers to receive reliable, zero-free carbon, and pollution-free electricity in their local communities.
"As we enter the new year, stable policy support will help ensure that wind and solar can continue providing the backbone of our country's electricity growth," Heather Zichal, CEO of the association, said in a 21 December statement. The trade association succeeds the American Wind Energy Association and practices advocacy on behalf of the wind, solar and storage sectors.
Important signal
Bob Perciasepe, Center for Climate and Energy Solutions president and former Deputy Administrator of the US Environmental Protection Agency, said the energy package of the stimulus legislation sends "an important signal" for climate and energy progress in the new year.
He said the stimulus legislation passed 21 December lays the groundwork for the kind of ambitious, durable, and bipartisan climate policy that 42 companies called for earlier this month in a statement to Congress and the incoming Biden Administration.
"There's still much more to be done, and we look forward to working with congressional leaders to present ambitious climate legislation to the White House next year," added Perciasepe.
Perciasepe in November told IHS Markit that the Biden administration faces a challenge of putting forward a new nationally determined contribution (NDC) for the US that is widely viewed as "ambitious and credible.
President-elect Biden has pledged to align his campaign pledge to make the US electricity net zero for carbon emissions by 2035 and the economy by 2050.
— Updated story with President Trump's decision to sign the legislation on 27 December.
RELATED INDUSTRIES & TOPICS