Customer Logins
Obtain the data you need to make the most informed decisions by accessing our extensive portfolio of information, analytics, and expertise. Sign in to the product or service center of your choice.
Customer Logins
US reassesses China's technological progress

US perceptions that China is incapable of hi-tech innovation have given way to rising concern over China's rapid advancement in this field. Tate Nurkin examines the nature of China's progress in innovation and ways that the United States could respond to the intensifying competition.
This is an extract from an article published in Jane's Intelligence Review and available as part of Jane's Military and Security Assessments Intelligence Centre.
Key Points
China has demonstrated rapid advances and genuine innovation in a range of hi-tech disciplines that have potentially transformative implications for its strategic competition with the US and other actors in the Indo-Pacific.
The US government is increasingly concerned that China's ability to marshal and direct the resources of its hi-tech sector in support of development goals represents a strategic advantage.
The US has begun responding to shifting competitive dynamics with China, but further investment in competitive assessment, capability development, and partner engagement are likely to be central to maintaining a US advantage.
On 24 September 2018, the White House Office of Science and Technology Policy announced a new strategy for advancing research in quantum computing and encryption. The audience for the announcement included representatives from a range of leading US-based companies, including several of the US's most prominent defence contractors.
On the same day, the US Department of Energy announced USD218 million in funding for 85 research awards in quantum information science. Earlier, on 13 September, the US House of Representatives had passed the National Quantum Initiative Act, which provided USD1.3 billion of funding over five years to "ensure the continued leadership of the United States in quantum information science and its technology applications".
These moves reflect an acknowledgement of the strategic importance of quantum technologies for the future of a wide range of critical commercial, civil, and defence and security endeavours. However, Jane's judges that they also reflect a broader sense of growing alarm in the US defence, intelligence, and policymaking communities that the US has ceded the initiative to China in the development of a range of emerging technologies that will shape the future of defence capabilities and military-technological advantage.
Intensifying competition
China and the US are engaged in a multi-dimensional geopolitical, economic, military, and technological competition. This competition has become more complex since 2013, as China has become more assertive - most prominently in the South China Sea - and as perceptions of overwhelming US military and technological superiority and strategic coherence in the Indo-Pacific region have eroded. The military-technological dimension of this competition is particularly meaningful. China's military modernisation programme has matured, rearranging the military balances and stabilising imbalances that have helped sustain security in the region since the start of the 21st century.
US policy response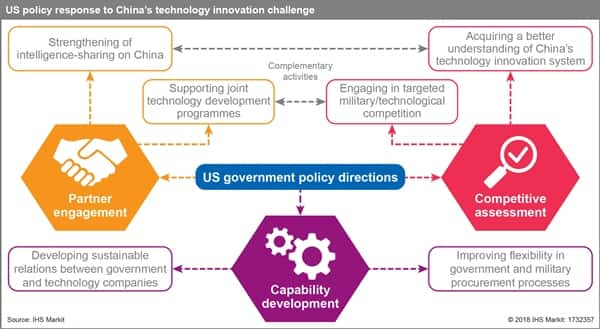 US efforts to meet the new and enhanced challenges stemming from China's maturing modernisation effort will likely require investment in three overlapping areas: competitive assessment, capability development, and partner engagement.
First, the US will likely move to develop a better understanding of the full parameters of China's innovation system and of the Indo-Pacific military-technological competition.
Second, US responses are also likely to include an effort to build capabilities. Beyond developing new weapon systems and platforms, this is likely to involve efforts to find a more sustainable approach to leveraging its world-leading hi-tech industry and system.
Third, the US response is likely to involve engagement with allies and partners in the Indo-Pacific region. States including Australia, India, and Japan to varying degrees share US concern over China's growing assertiveness and technological advancement.
This is an extract from an article published in Jane's Intelligence Review and available as part of Jane's Military and Security Assessments Intelligence Centre.
RELATED INDUSTRIES & TOPICS