Customer Logins
Obtain the data you need to make the most informed decisions by accessing our extensive portfolio of information, analytics, and expertise. Sign in to the product or service center of your choice.
Customer Logins
US, Canada expand clean energy cooperation

The US and Canada are set to expand their clean energy cooperation in an effort to accelerate the transition to net-zero emissions by 2050, government agencies said.
The initiative will also seek to strengthen the countries' intertwined electricity grids at a time when American power imports from its northern neighbor continue to increase—the majority of the electricity sourced from renewable generation.
A revised memorandum of agreement between the two countries sees 15 areas for strategic bilateral energy cooperation, including advancement of a clean electric grid; clean fuels; energy efficiency standards; the Canada-US Joint Action Plan on Critical Minerals; knowledge sharing on nuclear energy policies; and collaboration on carbon capture, utilization, and storage (CCUS).
"The United States and Canada have a shared commitment to protect our planet and ensure that all pockets of North America have access to affordable, clean energy," US Secretary of Energy Jennifer Granholm said in a statement announcing the deal 24 June.
"We can't tackle the climate crisis alone—we must work together to accelerate the flow of low-carbon electricity across our borders, spurring job growth and ushering in a 100% clean energy future," she added.
Regional and international cooperation on electricity transmission can provide significant net economic benefits—up to $180 billion through 2050, according to the first North American Renewable Integration Study (NARIS) released at the same time as the MOU was announced. The study was compiled by the US National Renewable Energy Laboratory (NREL).
Between 2015 and 2019, the US was the destination for close to 80% of all Canadian cleantech exports, according to a fact sheet provided by Natural Resources Canada. Canada is the largest energy supplier to the US, and Canada is the second-largest market for US energy exports after Mexico, it added.
The US imported 52,309,354 MWh of electricity from Canada in 2019, while exporting 13,532,067 MWh of power that year, the latest full-year statistics from the US Energy Information Administration (EIA) show.
Canada's energy transition
Canada will be ramping up its cleantech and renewables spending and efforts in the coming years, the country's government said when laying out its first budget in two years in April.
Finance Minister Chrystia Freeland said 19 April the government will spend C$17.6 billion (US$14 billion) on "green recovery" programs for fiscal year 2021/22 that began on 1 April 2021.
"In 2021, job growth means green growth," Freeland said in unveiling the "Recovery Plan for Jobs, Growth, and Resilience."
Among the programs in the ruling Liberal Party's budget are a 50% reduction in income tax rates for businesses that manufacture zero-emission technologies as well as tax incentives to adopt CCUS.
The budget also includes funding for accelerated investment in clean energy technologies. Tax credits are set to be expanded under this budget request to equipment for pumped storage hydro, renewable fuel production, hydrogen, and some forms of wave, tidal, and geothermal energy projects.
Renewable power output is already on the rise in Canada. Wind power generation jumped 30.5% year over year in March to 4.4 million MWh, according to the latest Statistics Canada data available. The agency noted 8 June it was the highest production level since this data series began in 2008.
Solar generation (up 22.5%) and hydro generation (up 0.3%) also increased year on year in March. The backdrop for this data was that overall power output fell 1.9% year on year to 56.6 million MWh in March, the data show.
Export, import equation
Canada's electricity exports to the US totaled 4.78 million MWh in March, much of it from hydro-electric, according to the Canadian Centre for Energy Information. Of that, 2.1 million MWh, or around 43.9% was shipped from Quebec, the data show.
Quebec's power sector is dominated by province-controlled Hydro-Québec (HQ). A spokeswoman for HQ said of the new US-Canada MOU that "as the largest renewable energy producer in North America with decades of strong cross-border relationships, we are encouraged by the recent actions of the US and Canadian federal governments to strengthen their unique energy partnership."
"We stand ready and able to help deliver on these binational commitments to tackle the threat of climate change and support the clean energy transition," she added.
HQ has 63 hydro generation facilities and 36.7 GW of such capacity. HQ says it has been selling electricity into New England since the 1980s. The region accounts for about half the company's exports (see chart below).
And the province began supplying New York even earlier. The construction of the 200-MW Les Cèdres-Dennison intertie began before World War I. HQ's deliveries to New York totaled about 7 TWh of energy in 2019. Some 70% of the state's electricity use is expected to be met by renewables by 2030.
Construction of a 1,000-MW interconnection between Québec and New York City is underway, the company said.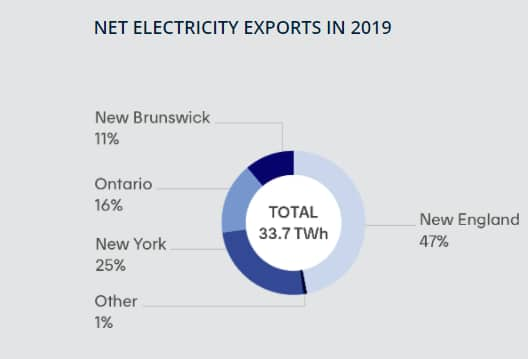 Source: Hydro-Québec
The company also plans to send more clean power to New England.
The Canada Energy Regulator (CER) on 21 May issued a permit authorizing the construction and operation of the Appalaches-Maine Interconnection line. The project will link to the New England Clean Energy Connect (NECEC) line, whose construction began in Maine in February 2021. The Appalaches-Maine project now has all the permits required for construction.
Work on the Appalaches-Maine project will begin in the coming weeks, with commissioning slated for 2023, HQ said in a statement in May.
Although NECEC construction is underway in Maine, a November 2021 referendum in the state could halt that work. The referendum, if it goes against project's backers, would ban transmission lines in the Upper Kennebec region and require legislative backing of lines of more than 50 miles in length.
The project faces a battle in the courts too. The Sierra Club, Appalachian Mountain Club, and Natural Resources Council of Maine in October challenged a US Corps of Engineers permit in an effort to block construction. The environmental groups and fellow opponents argue the work will damage Maine's natural environment and hurt wildlife habitat.
Need for more renewable power
Cooperation on power between the US and Canada will help the US fulfill its need for more renewable power in order to meet President Joe Biden's goal of a new-zero power sector by 2035.
The EIA, in its Annual Energy Outlook 2021, projects the share of renewables in the US electricity generation mix will increase from 21% in 2020 to 42% in 2050. Wind and solar generation are responsible for most of that growth, it said.
In 2020, consumption of renewable energy in the US grew for the fifth year in a row, reaching a record high of 11.6 quadrillion Btu, or 12% of total US energy consumption, according to a separate EIA dataset. Renewable energy was the only source of US energy consumption that increased in 2020 from 2019, the agency added.
"We're going to need all hands on deck to effectively tackle the climate crisis, and this new Memorandum of Understanding between the US and Canada can help accelerate the clean energy transition," American Council on Renewable Energy CEO Gregory Wetstone told Net-Zero Business Daily.
If the transition is accelerated, the 510 GW of solar generation by 2050 baseline predictions from NARIS, its business-as-usual expectations, would be blown away. Under NARIS' electrification scenario, where carbon emissions fall 80% compared with 2005 in the US and the power load doubles, the US' solar capacity more than doubles (see graph).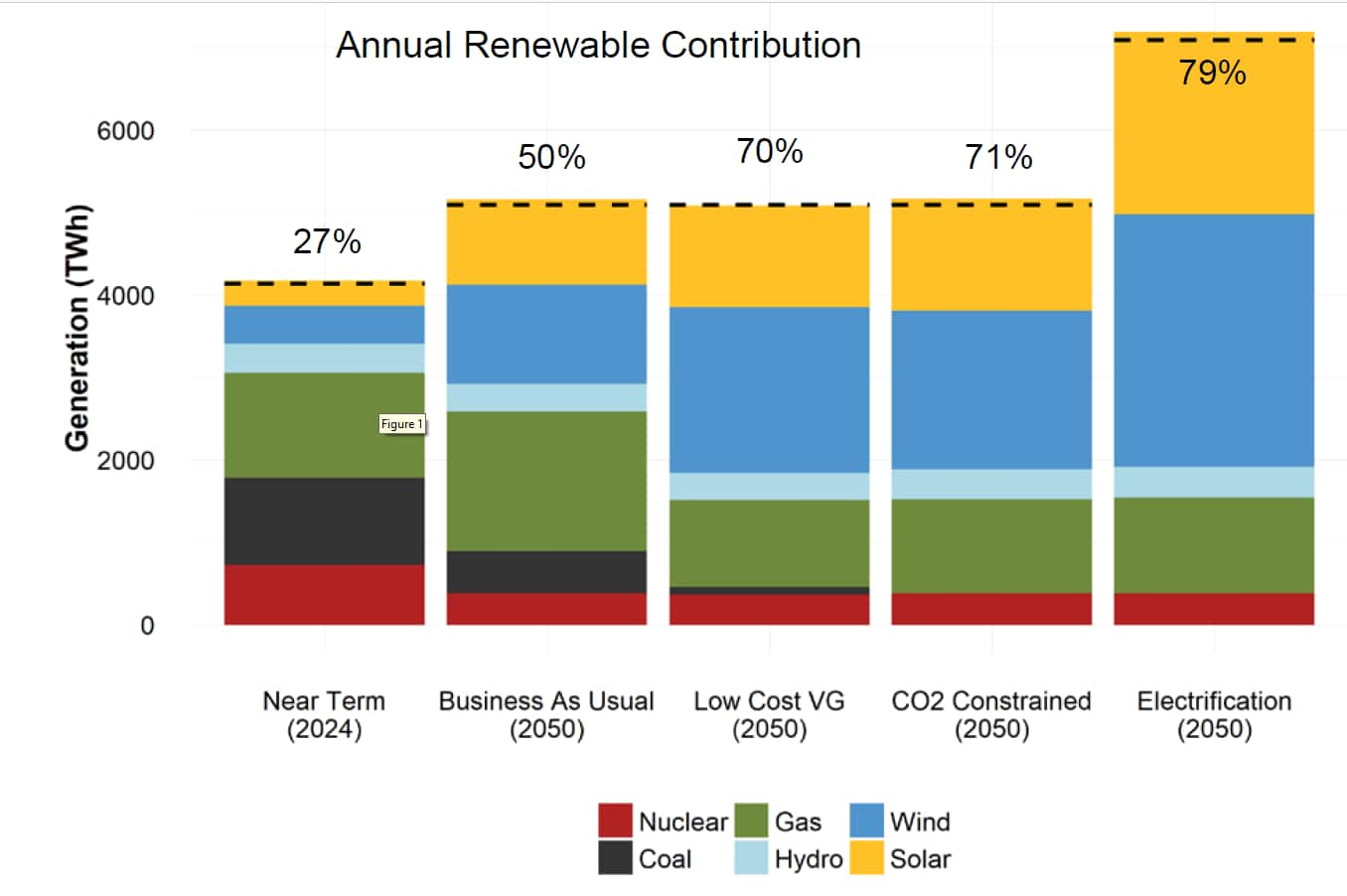 Source: NREL
As illustrated by the graphic above, wind would also play a substantial role, according to the NREL study. And IHS Markit analysts agree. In a report released earlier in June, analysts led by Senior Research Director Mark Griffith found 894 GW of wind capacity would need to be built between 2021 and 2050 for the US to reach net-zero carbon emissions.
Part of this would come from the nascent US offshore wind sector, where just 30 MW of commercial capacity is currently operational, but President Biden has set a 30 GW by 2030 target.
That will just be the start though, according to the Fast Transition forecasts in the report from Griffith and his colleagues. To fully decarbonize the power sector and achieve economy-wide carbon net-neutrality, they reckon annual renewable capacity additions would nearly double from 67 GW in the 2020s to 125 GW in the 2030s—compared with about 30 GW in 2020.
RELATED INDUSTRIES & TOPICS