Customer Logins
Obtain the data you need to make the most informed decisions by accessing our extensive portfolio of information, analytics, and expertise. Sign in to the product or service center of your choice.
Customer Logins
Unconventional techniques in conventional plays, North America

02 October 2014
Leta Smith
The horizontal drilling and completion techniques refined for development of unconventional shale resources are increasingly being applied to conventional, low-productivity plays in North America. In a prior briefing, "Unconventional techniques revitalize mature plays", IHS Energy Strategic Horizons profiled three examples from the United States and Canada of fields which had been producing since the 1950s. In our North American examples, the introduction of horizontal wells increased production by a minimum of 60% and up to over 200%. IHS Energy identified approximately 50 mature, conventional plays in the United States and 25 in Canada where unconventional techniques are being tried.
We outlined the impressive gains in production from three plays: the Granite Wash in Texas aimgnd Oklahoma, the New Mexico Delaware Sandstone, and the Canadian Cardium. Below are examples of two with some additional study background.
The geologic diversity of the North American plays indicates that there is broad applicability. And because these are being applied in mature areas with existing infrastructure, we anticipate that uptake in similarly mature plays outside North America to be faster than unconventionals. Indeed some experimentation is being done with mixed results. One field in France was revitalized after being abandoned for a number of years. The operator used horizontal wells without fracture stimulation and increased recovery in the field by 10%. Another field in Tunisia, however, is a cautionary tale. After drilling several horizontal wells with hydraulic fracture completions, the practice was abandoned. The hydraulic fractures intersected natural fractures that brought water up from the water leg, increasing water-handling costs.
We anticipate that the industry will continue to conduct additional testing and development outside North America to increase production in mature plays and old fields.
Learn more about IHS Energy Strategic Horizons and IHS Upstream Industry Future.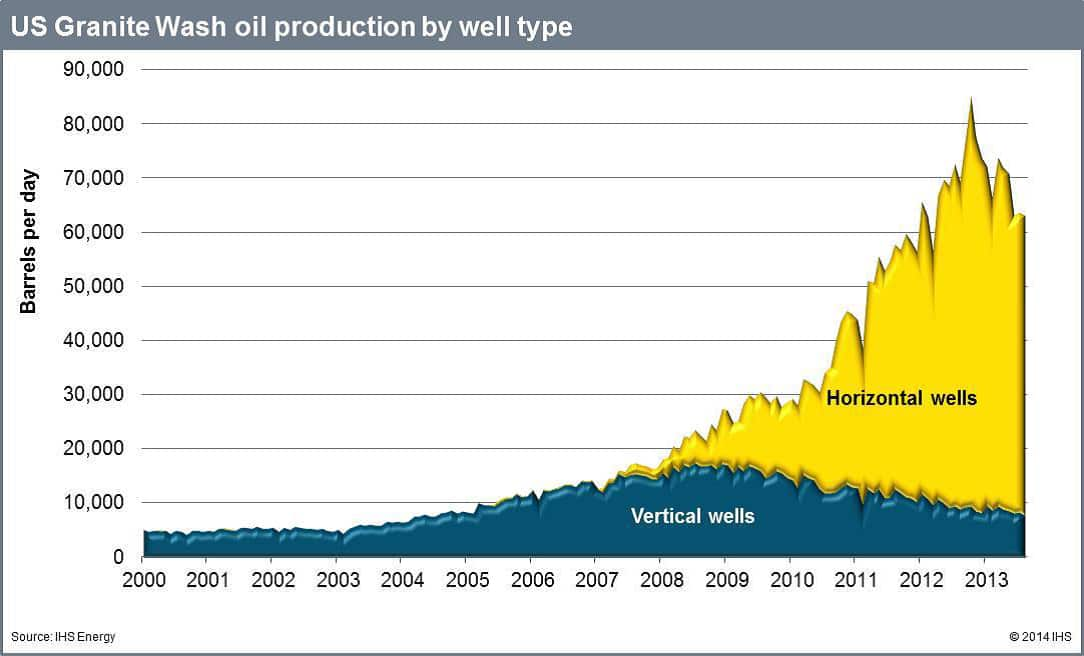 The US Granite Wash in Texas and Oklahoma has been in production since 1956. Activity has grown steadily since 2007 when the use of horizontal wells with hydraulic fracturing started. Production has increased fivefold.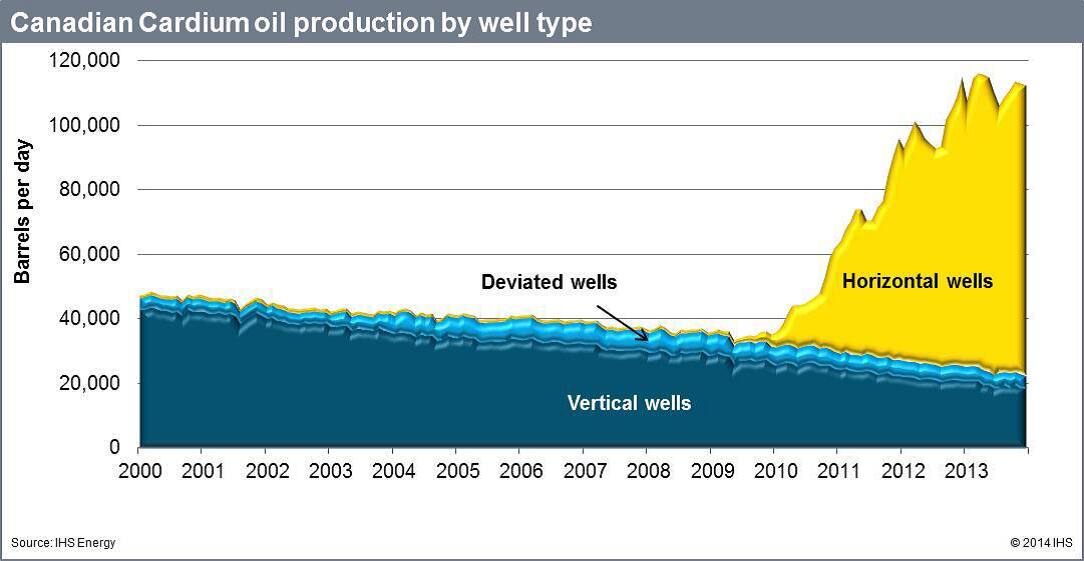 The Canadian Cardium play in the Alberta Deep Basin has also been in production since the 1950s. Horizontal drilling has been increasing since 2010, with dramatic results. Production increased from 33,000 bd in mid-2009 to nearly 114,000 in 2013, adding over 82 million barrels of oil in just 4.5 years.
 In the United States, over 300 plays were tested with at least one horizontal well in 2010 –2013. IHS Energy has identified 51 mature conventional plays in the United States where at least 10 horizontal wells have been drilled and have average IP rates greater than or equal to 100 bd. Some, like the Granite Wash, are established, but some are just emerging.
In Canada, over 90 plays were tested with at least one horizontal well in 2010 – 2013. IHS Energy has identified 26 mature conventional plays where at least 10 horizontal wells have been drilled and have
Leta Smith, Ph.D., is Director, Upstream Industry Future Service, IHS Energy
Posted 2 October 2014
---
Follow IHS Markit Energy
RELATED INDUSTRIES & TOPICS