Customer Logins
Obtain the data you need to make the most informed decisions by accessing our extensive portfolio of information, analytics, and expertise. Sign in to the product or service center of your choice.
Customer Logins
Ukrainian election outlook

On 31 March 2019, Ukraine will hold the first round of its presidential election, with 39 candidates running for the top office.
With up to 15% of the 35.5 million voters effectively disenfranchised, the election is likely to favor candidates with strong nationalist platform. Voters in Crimea and in parts of Donetsk and Luhansk regions can only vote if they pre-register for voting in government-controlled areas and physically travel to the voting station on the election day. Ukrainian citizens resident in Russia, estimated at up to 3 million, would not be able to vote at Ukrainian diplomatic missions in the country, as no polling stations were set up for security reasons. Those unwilling or unable to travel to Ukraine will effectively be excluded from voting.
As top candidates are polling significantly under 30%, a second round is almost certain, with three candidates best positioned to proceed to the second round on 21 April. Based on current polling, the following candidates hold highest chances to become one of the two candidates in the second round: comedian, TV personality and political newcomer Volodymyr Zelenskyi, former prime minister Yulia Tymoshenko, and incumbent President Petro Poroshenko (see chart). Such a configuration for the second round is in line with IHS Markit's 2018 forecast.
Both Zelenskyi and Tymoshenko are likely to benefit from protest voting against the current administration. However, Zelenskyi, a political newcomer, is likely to suffer on voting day from the vagueness of his political platform and because his support base is largely drawn from the younger and Russian-speaking demographics, which typically have a low turnout. Tymoshenko, a veteran of Ukrainian politics since the 1990s, ran unsuccessfully for the presidency in 2010 and 2014. She has a high negative rating due to her past history as prime minister and for her recent pledges to institute another constitutional reform and asset redistribution in Ukraine.
Poroshenko's results in the first round will likely be dampened by slow progress of reforms and the anti-corruption drive. Poroshenko, who has been in power since June 2014, struggled in polls due to a combination of a slower pace in reform implementation and fighting corruption than was anticipated. Poroshenko built his campaign around the slogan "Army. Language. Faith", which was designed to mobilize nationalist voters. This helped him to improve his polling since 2018, but Poroshenko's passage to the second round is not guaranteed. If he is eliminated from the race in the first round, he would continue as president until the new leader's inauguration on 3 June.
The uncertainty around the election outcome increases the likelihood of conflicting policy announcements by Poroshenko and his challengers in the three-month outlook. Last-minute developments, both domestic, such as corruption allegations or large-scale protests, have the potential to affect the outcome on voting day. This will likely trigger policy announcements, often mutually exclusive, by both the current administration and by Poroshenko's key competitors, which would further increase policy instability in Ukraine in the three-months outlook.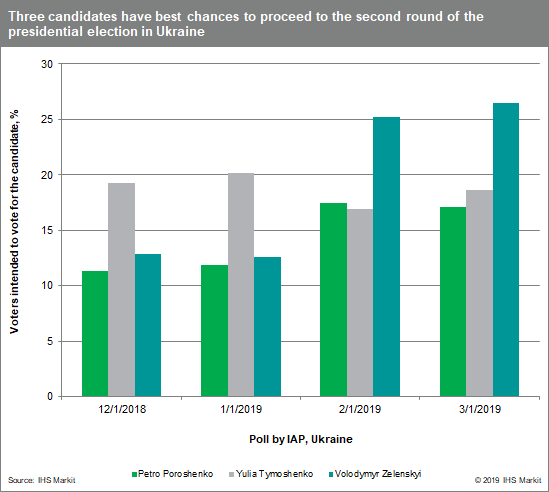 Indicators of changing risk environment
Indicators of increasing risk
Allegations of corruption or financial irregularities against major candidates.
Large-scale and potentially violent protests against Poroshenko and other candidates.
Indicators of decreasing risk
Low turnout would likely benefit the incumbent, thus decreasing the likelihood of major policy changes.
One of the candidates gaining an unexpected but clear majority in the first round.
Statements by Poroshenko of willingness to accept the election outcome.
Follow our ongoing global elections coverage and access our continually updated Global Election database.
RELATED INDUSTRIES & TOPICS