Customer Logins
Obtain the data you need to make the most informed decisions by accessing our extensive portfolio of information, analytics, and expertise. Sign in to the product or service center of your choice.
Customer Logins
Turbulence in Polyolefins Trade Flow Patterns

Polyethylene trade from the United States into the export markets has been in a state of flux for the past 12 months as the COVID19 pandemic pushed many economies into shutdown, causing resin producers to cut back production in the May/June 2020 timeframe. Other events such as the two fall hurricanes and the February 2021 deep freeze just added to the confusion on supply and demand trends in the US.
These unusual events created an almost seesaw pattern (Figure 1) in inventory levels that has hit the local suppliers, converters, and end users hard in the past few months. Inventory levels dropped to less than 34 days as of March 2021, well below the industry norms of 36 - 38 days historically. Prices escalated 50 - 100% from last year lows and converters are not able to find enough material to meet their needs, causing some converters to operate at lower rates and/or take temporary shutdowns. Even brand owners are seeing an impact in automotive (Toyota cuts production due to lack of resin) and consumer goods markets (price increases due to higher packaging cost).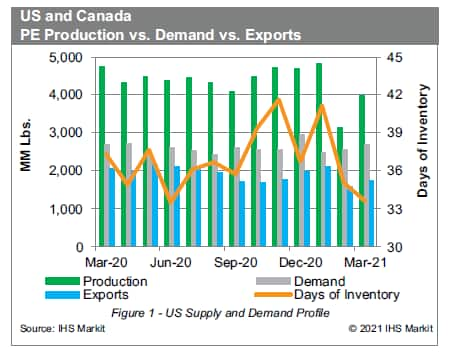 So, what does this low inventory mean to the industry - higher prices and product delivery delays primarily. Spot resin sales are, for all practical purposes, on hold. Exports are focused on contract volumes with very little discretionary spot resin available for prime/generic product and only some small volume available for widespec resin associated with plant startups. Contract prices have increased 43 cpp for PE since May of last year and April 2021 price increases are expected to continue, perhaps well into May 2021. This trend is not unique to the US as price increases and resin shortages have been noted in Europe as well.
Resin producers are faced with a long road to recovery depending on how they operate their plants. Most plant operations have returned from the freeze events but shortages on additives and comonomers such as hexene limit the type of resin that a producer can make. How long it will take for producers to recover to normal inventory levels will greatly depend on how well these plants recover. Given the strong demand for PE and PP in the domestic market, can the industry recover quickly?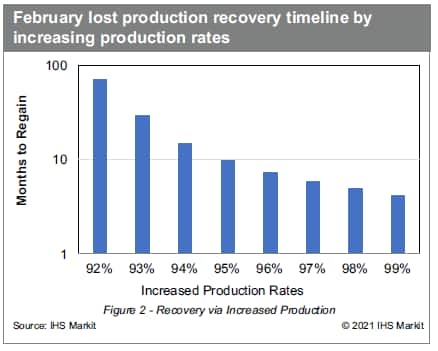 Figure 2 illustrates how long it would take to recover the estimated 1.3 billion lbs. of lost PE production associated with the February freeze. Based on this simplistic analysis, if the domestic producers return to the normal operations of 2019, i.e. production, sales, and exports, it will take over 70 months to regain the lost production. Even if the plants could operate at 95% operating rates, it would still require over 9 months to recover the lost production.
Another variable would be to reduce exports; however, resin producers have contracted sales in the export markets as well. There are limits as to how much one can reduce exports in order to rebuild inventories. Again, looking at exports from a simplistic analysis, Figure 3 shows that reducing exports can have a much faster impact in rebuilding inventories vs. increasing production rates. A 20% reduction in exports can reduce the time to recover the lost Feb. production from 72 months to 3.6 months. The industry can recover the lost production via lower sales into the export market, but full recovery to normal inventory levels may take 6 months or more for the US resin producers. Also, reduced exports from the US will only exacerbate the overall shortages for product in the global trade markets.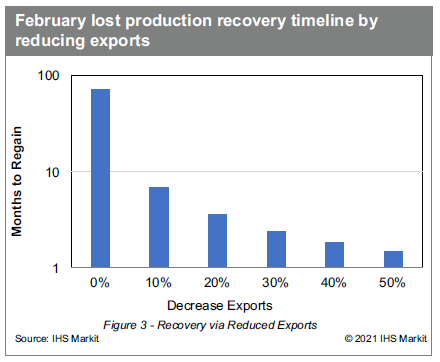 Such pressure comes from Asia as Mainland China's demand has been very strong after it exited the lockdown from COVID-19. It gradually became a major manufacturing base for hygiene supplies, which were extensively used due to COVID-19, while other countries globally were still struggling with the pandemic. Mainland China continues to import large volumes of resins to fulfill its domestic demand. PE imports grew by 11% and PP imports grew by 26% in 2020 relative to 2019. However, the winter storm in the US hampered imports into Mainland China, particularly for PE as the lack of exports from the US resulted in tighter supplies globally and prices in various regions increased rapidly.
Producers in Asia tried to capitalize on this situation and started to export to Latin America (LATAM). Since their major source of supplies from the US was not available, LATAM prices increased significantly, and producers could earn a high netback by exporting to this region. South Korean producers, who also have a Trade Agreement with the European Union, also started to export to both these regions. Meanwhile, Mainland China could fulfil its domestic demand by importing from ASEAN, Middle East, and Russian producers. However, as supplies continued to be tight globally, prices remained at a high level. For PP, as China has a higher self-sufficiency ratio, it started to export to other regions including LATAM which can give a higher netback. The higher planned shutdown maintenance in the Middle East, which is a major net exporter of PP, has also limited supplies for PP, resulting in very high-priced levels.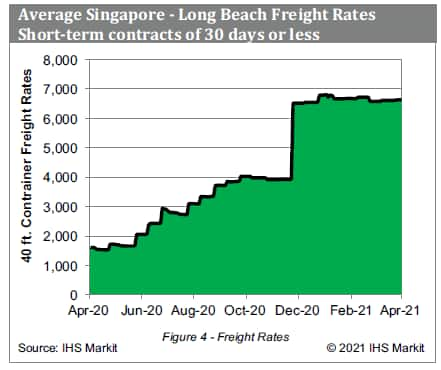 However, another unusual event unrelated to mother nature is the impact of high freight costs for shipments from SE Asia to West Coast of the Americas. This increase in costs to ship resin from SE Asia to the Los Angeles ports had a major impact on prices. Figure 4 shows a 4 x increase in freight rates from April 2020 to March 2021 for a 40 ft. container. Assuming 24.5 tons of resin in a 40 ft. container, this increase in freight adds another 6 cpp to the cost to move product from Asia to the US / LATAM coastal regions. Additionally, delivery times were as much as 6 - 8 weeks back in January vs. the standard 2 - 4 weeks, and thus US buyers were hesitant to secure product from the Asian market. This mindset has changed to some degree due to the freeze as buyers are now equally concerned with sourcing resin due to the lack of supply in the US.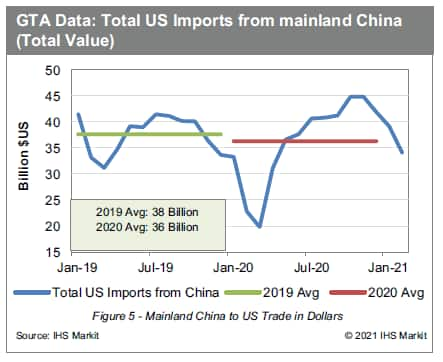 But what caused the higher freight rates and why was this unique to trade only for westbound trade from Asia to the Americas? The main reason was due to consumer demand for goods and products during the pandemic. Figure 5 shows that the amount of trade in dollars from the lows in March 2020 to the peak of October 2020 increased 2x, and it occurred in a very short period of only 7 months. This created a serious shortage of empty containers for product shipments. Commodity products like polyethylene and polypropylene had to compete for container space against higher valued products such as medical gear, appliances, electronics, etc.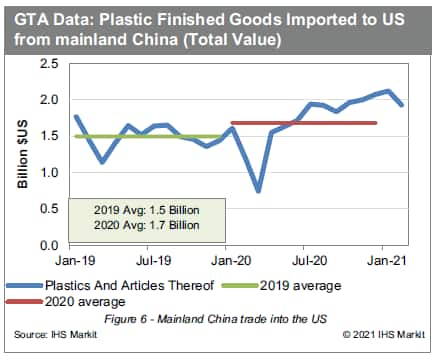 Even the overall shipment of plastic finished goods increased as shown in Figure 6. Although imported plastic products is quite broad and not specific to PE or PP demand, this trend is consistent with the demand growth in China for PE and PP resin in the past year. Since the low in March 2020, the value of plastic finished goods increased 3x. The large boom in demand has now been sustained since summer 2020 and is fundamentally due to consumers not being able to spend as much money on services as usual, and they have therefore switched part of that consumption into goods.
To put some numbers to this, personal consumption expenditures in the US in January 2020 before the pandemic was $13.4 trillion. Hereof, $4.8 trillion was spent on goods. With the latest data, it can be seen that January 2021 saw personal consumption of goods increase to $5.3 trillion. This is a 10 percent growth — an additional $480 billion spent buying goods on top of the normal flow from before the pandemic. And this spending was added in the month of January alone. But it also shows the extreme split in the current economy.
Given the tight supply and high prices, events such as the closure of the Suez Canal can have strong responses as well. Certainly, the recent Suez Canal blockage exacerbated an already stressed supply chain that has disconnected markets and prevented efficient trade flows. Stoppage of the key shipping channel through which the majority of European PE and PP imports move caused ripples in the supply chain; the full effect of which could be felt in the coming weeks. However, no impact has been felt in the production wheels, especially in Middle East or Gulf Cooperation Council (GCC) area. Loading and unloading was stopped for a few days in two key ports in the GCC area for West Bound vessels. Resins were stored in intermediate warehouses, inventory levels being low, this posed no issues. No diversion of cargoes, rerouting of cargoes or cancellation of orders were reported.
From a regional impact standpoint, it is estimated that seven-day blockage stranded ~50 kt of PE cargoes headed to Europe. Once the blockage was lifted, the cargoes faced delays in terms of unloading at the ports and onward transportation due to overcrowding. Considering that Europe is importing roughly 80 kt per week of PE, and unloading is hampered by COVID restrictions, the delay would be 2-3 weeks. The April market could lose about 3-4% of supply, which given current tight supply and cracker outage means ~15-16% supply constraint. Before the Suez crisis, the market was expecting supply normalization in April but now it is likely to happen in May. Due to the Suez crisis, the freight and price premiums have jumped, leading to an overall impact of €20-30/ mt increase in resin prices. Our forecast has been revised up by €50-60/ mt on account of the crisis. Already for inbound cargoes there was severe shortage of containers, the crisis will further worsen the situation and the effect will be felt in general trade over next few months.
Other regions impacted include Turkey and North Africa. Turkey imports roughly 30-40 kt through the channel every week from the Middle East and Asia. The backlog due to the blockage and the financial crisis (currency devaluation) caused intense volatility with price spikes of $200-300 per mt. After the blockage was removed, prices receded slightly but the net impact is still over $200 per mt. North Africa also experienced a severe impact as cargoes from GCC were stranded, causing HDPE prices to reach $2500 per mt.
In summary, when supply chain operates smoothly, trade flows operate to integrate global PE and PP material flows from surplus to deficit regions through optimization of arbitrage windows, helping to normalize the netback between regions. However, in recent times, due to supply chain bottlenecks, markets have become disconnected which has prevented arbitrage windows between regions from normalizing. Supply chain bottlenecks caused tightness and drove the US and European arbitrage to remain at an elevated level compared to Asia due to longer transit time, container shortages and high cost of transportation. These effects already increased prices and freight rates for April and the Suez impact only added to these events. Add to this unusual and hopefully temporary trade flow disruption, shortages of product due to natural events such as hurricanes and freezes, and one can expect that it will take some time for the global trade balance to normalize.
IHS Markit offers a long-term outlook on supply and demand globally and on a country level, along with a live capacity database and trade flow analysis on a country-to-country basis in our World Analysis (WA) service. In addition, the WA now also provides 10-year price and margin quarterly updates for North America, West Europe, and Asia.
RELATED INDUSTRIES & TOPICS
{"items" : [ {"name":"share","enabled":true,"desc":"<strong>Share</strong>","mobdesc":"Share","options":[ {"name":"facebook","url":"https://www.facebook.com/sharer.php?u=http%3a%2f%2fihsmarkit.com%2fresearch-analysis%2fturbulence-in-polyolefins-trade-flow-patterns.html","enabled":true},{"name":"twitter","url":"https://twitter.com/intent/tweet?url=http%3a%2f%2fihsmarkit.com%2fresearch-analysis%2fturbulence-in-polyolefins-trade-flow-patterns.html&text=Turbulence+in+Polyolefins+Trade+Flow+Patterns+%7c+IHS+Markit+","enabled":true},{"name":"linkedin","url":"https://www.linkedin.com/sharing/share-offsite/?url=http%3a%2f%2fihsmarkit.com%2fresearch-analysis%2fturbulence-in-polyolefins-trade-flow-patterns.html","enabled":true},{"name":"email","url":"?subject=Turbulence in Polyolefins Trade Flow Patterns | IHS Markit &body=http%3a%2f%2fihsmarkit.com%2fresearch-analysis%2fturbulence-in-polyolefins-trade-flow-patterns.html","enabled":true},{"name":"whatsapp","url":"https://api.whatsapp.com/send?text=Turbulence+in+Polyolefins+Trade+Flow+Patterns+%7c+IHS+Markit+ http%3a%2f%2fihsmarkit.com%2fresearch-analysis%2fturbulence-in-polyolefins-trade-flow-patterns.html","enabled":true}]}, {"name":"rtt","enabled":true,"mobdesc":"Top"} ]}