Customer Logins
Obtain the data you need to make the most informed decisions by accessing our extensive portfolio of information, analytics, and expertise. Sign in to the product or service center of your choice.
Customer Logins
Tunisia early election risk

On 10 January Tunisia's parliament rejected on 10 January a confidence vote on the coalition government of independent lawmakers proposed by Prime Minister-designate Habib Jemli. Jemli was appointed by President Kais Saied on 15 November 2019 with the support of the Islamist party Ennahda.
Populist party Qalb Tounes's rejection of Jemli's proposed government was key to his attempt failing. The party is the second largest in parliament after Ennahda following the November 2019 legislative elections. No party has a working majority.
According to the Tunisian constitution, President Kais Saied now has 10 days to appoint a new Prime Minister, who must be approved by parliament within a month. Failing that, Saied will be forced to dissolve the National Assembly and call for a new election.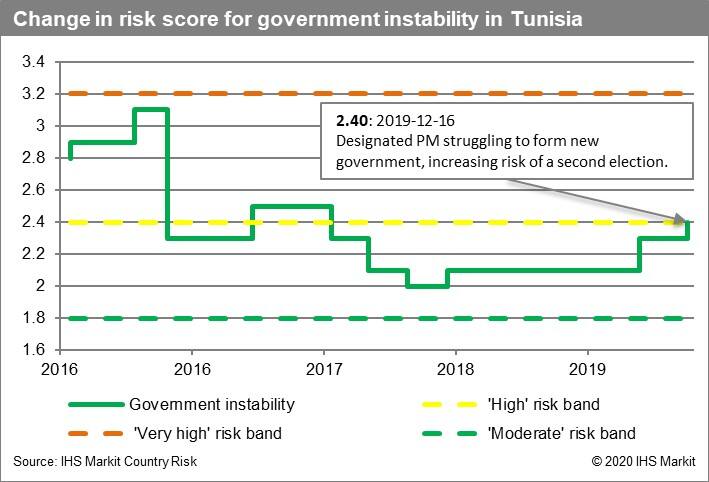 Significance
Jemli's failure to win the confidence vote in parliament means that a difficult coalition-building process has to be restarted by Saied and a newly designated PM, who will likely encounter the same difficulties as their predecessor in putting together a cabinet agreed upon by political parties with opposing political views. Even if a new cabinet eventually manages to obtain parliamentary approval, its majority is likely to be so small that a new government would be short-lived, increasing the likelihood of a fresh election in the six-month outlook.
The risk of new elections is compounded by the fact that Tunisia needs to secure another EUR3.5 billion loan from the International Monetary Fund to cover the 2020 budget. This loan is likely to be conditional on a new set of austerity measures that the next government would have to pass, potentially triggering popular discontent and further weakening its position.
According to local media, names now under consideration to try to form a government are not yet available. Saied's ability to identify and appoint an independent candidate as next PM accepted by the major political parties for their political neutrality would be the key indicator to watch to determine whether the new proposed cabinet will have a significant enough margin to obtain parliamentary endorsement.
RELATED INDUSTRIES & TOPICS