Customer Logins
Obtain the data you need to make the most informed decisions by accessing our extensive portfolio of information, analytics, and expertise. Sign in to the product or service center of your choice.
Customer Logins
Time to start living in the real world: Does Sweden's untapped goldmine hold the answers?

30 November 2015
Maria McGee
Time and again when we explore ways in which we can streamline market access, secure reimbursement and even refine pharmaceutical pricing, we are met with the evolving discussion about the role of real-world evidence. While this is becoming increasingly relevant as we move toward structures like conditional approvals, which have already been implemented by payers in countries such as France and Sweden, issues around collating such data have, to date, remained one of the main obstacles preventing more widespread adoption.
However, an article published in late October 2015 by the Swedish pharmaceutical newspaper Läkemedelsvärlden (LmV) suggests the answers may be staring us in the face, if you will, at least in this developed and largely transparent market. The article highlights Sweden´s so-called National Quality Registries as an "untapped goldmine" just waiting to be used for research purposes to a greater extent than they are today. A representative from the Swedish Office for National Quality Registries (ONQR ) echoes this view by claiming these data sets are underutilised by the industry; pharmaceutical firms are quoted by the source as having invested a mere SEK10-15 million on studies based on these registers, out of the total SEK5 billion spent on clinical trials in the market overall.
The Swedish government has also recognised the national registries as being largely under exploited, and referred to the potential for their expanded use in its 2013 reform known as Planned Introduction, or Ordnat införande . Today, there are in total 89 nationally funded registries up and running in Sweden, pertaining to a number of different therapeutic areas. In order to gain funding and to obtain one of the three certification levels awarded by the Office, there are strict criteria that need to be met to ensure the registries account for the appropriate degree of development and usability.
This "untapped goldmine" has received acclamations such as being a "unique asset" and Sweden's efforts have been recognised as those of a "pioneering country," with several other markets looking to mirror the initiative. It comes as no surprise though that Sweden is leading the way, given it has historically been known for its robust data infrastructure and focus on statistical analysis. This has in part been promoted by renowned figures such as Hans Rosling and the well-regarded Karolinska Institutet, serving as great representatives for these practices. The additional 18 registry candidates awaiting full certification status are a testimony to Sweden´s readiness to maintain its leading position on the path to continued improvement for real-world evidence and the role it can play in the future. Yet another indication is the 215% growth in the number of published articles based on the registries observed over the period 2009 to 2014, and the additional SEK320 billion set aside from national and local payer budgets toward this work for 2016 alone.
As perhaps best put by the government itself, the improvement of such monitoring processes and the increased use of the national registries is not only central to the actual governance of healthcare in Sweden, but also of great value to pharmaceutical companies in order to increase knowledge about effectiveness of therapies in everyday clinical use. This positive attitude toward real-world evidence among payers has previously been confirmed in primary research undertaken by the Life Sciences team here at IHS
We may be on the dawn of something even more far-reaching, where some commentators note that national registries in Sweden are advancing toward the same level of quality as that observed in industry´s safety data sets, and may thus also constitute an appropriate source for regulatory submissions to authorities such as the EMA and the FDA. A similarly optimistic sentiment was provided by a stakeholder from Sweden's outpatient reimbursement authority, Tandvårds och läkemedelsförmånsverket (TLV), who in past conversations with IHS Life Sciences mentioned that the potential adoption of adaptive licensing would certainly require thorough follow-up data such as those obtained from these registries.
The growing appetite that we see for real-world evidence aside, do these registries really have the potential to revolutionise market access and shift the P&R agenda, so that the access and value of drugs are reflected by actual patient outcomes? This opportunity should not be misinterpreted as being without its challenges. The president of the country's Pharmaceutical Industry Association (Lif) has been quoted as saying that these registries are unusable for the purpose of industry studies. This view was shared by a colleague of his in previous conversations with IHS Life Sciences where it was called attention to that, despite Sweden's many registries, there is for some therapeutic areas still the need to build up new registries from scratch.
Another potentially major issue for this untapped goldmine is the variation in quality and maintenance of registries across different therapeutic areas. One of the stakeholders who participated in our study on flexible pricing claims the quality issue is a vital factor to address if the registries are to be used for the proposed purpose. Lack of good quality data and low coverage rates can lead to uncertainty, and uncertainty in turn is the greatest threat for favourable P&R decisions. In order to address the quality concerns, the Swedish authorities have now set a target for next year aiming to reach 80% coverage in 80% of the registries, a figure currently standing at 71%.
Another stakeholder interviewed for the same study stated that one of the most advanced registries, with very high coverage rates, is the Swedish Rheumatology Registry, comprising nearly 60,000 patients. The use of this data is significant, not only considering that patients with these kinds of conditions typically face a chronic diagnosis, but also seeing as these patents incur high treatment costs due to the use of costly biologic drugs. As shown below, by mid-November 2015, twelve branded products were included in the registry. The following data, showing the total number of patients per therapy, are generated from the registry and made publicly available via its website.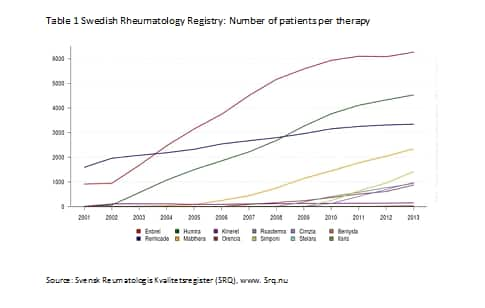 The topic of real-world evidence should of course not be discussed in isolation in Sweden, and is increasingly being debated across various conferences and pharmaceutical-related gatherings across Europe and indeed further afield. As I reflect upon the dilemmas we are now facing, and on the flip side, the huge potential to improve the way in which real-world evidence is captured and used, I am reminded that this discussion was mirrored by the panellists at the LSE-ICL Forum on Medical Innovation, details found here, about how best to finance medical technologies in the future. One suggestion made was that real patient outcomes data should be paid for by the public purse, and made publically available in order to benefit therapy market access and arguably contribute to a more accurate and fair value estimation of the product.
I remain hopeful and find it an exciting time ahead for both the industry and payers to be able to find a solution over how to address the quality issue and the financial and practical responsibility for patient registries. For Sweden, pending achievement of the coverage target, and assuming discussions between the various parties continue to improve, there should really not be any reason for trying to re-invent the wheel. I would invite you to join me in this discussion, to explore the underutilisation of these registries, and to see whether there really is a potential goldmine sitting right in front of us - for the benefit of industry by streamlining market access, the benefit of payers by ensuring rational healthcare spending, and not least, the benefit of improved patient outcomes.
Maria McGee is a life sciences analyst with IHS
Posted 1 December 2015
RELATED INDUSTRIES & TOPICS
{"items" : [ {"name":"share","enabled":true,"desc":"<strong>Share</strong>","mobdesc":"Share","options":[ {"name":"facebook","url":"https://www.facebook.com/sharer.php?u=http%3a%2f%2fihsmarkit.com%2fresearch-analysis%2ftime-to-start-living-in-the-real-world-does-swedens-untapped-goldmine-hold-the-answers.html","enabled":true},{"name":"twitter","url":"https://twitter.com/intent/tweet?url=http%3a%2f%2fihsmarkit.com%2fresearch-analysis%2ftime-to-start-living-in-the-real-world-does-swedens-untapped-goldmine-hold-the-answers.html&text=Time+to+start+living+in+the+real+world%3a+Does+Sweden%27s+untapped+goldmine+hold+the+answers%3f","enabled":true},{"name":"linkedin","url":"https://www.linkedin.com/sharing/share-offsite/?url=http%3a%2f%2fihsmarkit.com%2fresearch-analysis%2ftime-to-start-living-in-the-real-world-does-swedens-untapped-goldmine-hold-the-answers.html","enabled":true},{"name":"email","url":"?subject=Time to start living in the real world: Does Sweden's untapped goldmine hold the answers?&body=http%3a%2f%2fihsmarkit.com%2fresearch-analysis%2ftime-to-start-living-in-the-real-world-does-swedens-untapped-goldmine-hold-the-answers.html","enabled":true},{"name":"whatsapp","url":"https://api.whatsapp.com/send?text=Time+to+start+living+in+the+real+world%3a+Does+Sweden%27s+untapped+goldmine+hold+the+answers%3f http%3a%2f%2fihsmarkit.com%2fresearch-analysis%2ftime-to-start-living-in-the-real-world-does-swedens-untapped-goldmine-hold-the-answers.html","enabled":true}]}, {"name":"rtt","enabled":true,"mobdesc":"Top"} ]}