Customer Logins
Obtain the data you need to make the most informed decisions by accessing our extensive portfolio of information, analytics, and expertise. Sign in to the product or service center of your choice.
Customer Logins
Threefold increase in recycling needed to help meet 2030 demand for lithium-ion EV batteries

At least half the global demand for lithium-ion batteries used by plug-in electric vehicles (EVs) may be met at least a decade from now through a threefold increase in the recycling of spent, yet critically needed, minerals, analysts say.
IHS Markit analysts project annual global demand for lithium-ion batteries will rise from about 230 GWh in 2020 to nearly 1,700 GWh in 2030, with growth in demand driven overwhelmingly by use in EVs.
Global demand for lithium-ion batteries has grown as governments increasingly turn to EVs as an approach to decarbonizing their economies. Lithium, nickel, and cobalt are the three key minerals critical to manufacturing these batteries.
Since lithium-ion batteries in EVs degrade over time, recycling is now perceived as "the solution" to meeting that demand.
That's because widespread recycling can create "a more stable domestic source of materials for battery production, reduce the demand for raw materials, and minimize the risks of geopolitical disruptions of the supply chain," a US-based nonprofit, the Union of Concerned Scientists (UCS), wrote in a February 11 report on battery recycling.
Analysts at IHS Markit and the UCS say the lithium-ion battery recycling industry, though currently in its infancy around the globe, will need to ramp up as more EVs hit the market.
Currently, an estimated 1,301 kt per year of raw materials is recycled across the globe, but IHS Markit projects 3,500 kt/year of recycled battery materials will be needed by 2030 to keep up with demand for EV batteries, according to a 17 December analysis of lithium-ion battery recycling efforts.
"Recycling capacity will need to be built up quickly over the next decade to come close to providing this share of raw materials demand," IHS Markit Energy Storage Analyst George Hilton and other analysts wrote in a 17 March note.
IHS Markit reached these projections by tracking the lithium, nickel, and cobalt required, Hilton explained.
It estimates 9,300 kt of lithium, 55,000 kt of nickel, and 9,800 kt of cobalt will be needed between 2020 and 2050 to meet global demand. Of these totals, 48% of lithium, 47% of nickel, and 60% of cobalt demand can be met through recycling.
Growth in waves
On the positive side, supply for recycling efforts could increase as lithium-ion batteries in EVs reach the end of their intended life. Lithium-ion batteries typically only have warranties for eight to 10 years.
That means the lithium-ion batteries riding the wave of EVs hitting the roads today will translate into a "wave of end-of-life batteries reaching critical mass by the early 2030s," IHS Markit wrote in a 14 March note on global battery recycling efforts.
In other words, a nearly sevenfold increase in annual spent lithium-ion battery volumes -- from 57 GWh in 2020 to 350 GWh -- is expected. Most of the growth will take place toward the end of the decade, coinciding with the first mass-scale retirements of EV batteries.
"The growth of the global battery recycling industry will occur in lockstep with the increased production of lithium-ion batteries and deployment of electric vehicles," said Kunal Phalpher, chief commercial officer for Canada-based Li-Cycle, which though based in North America said the opportunities for recycling are greater in Europe and Asia.
Phalpher said the growth will occur in waves as the nearer term opportunity will be to recycle scrap from manufacturing of batteries.
"As more vehicles are deployed, and then down the road -- (8 to 10) years -- start to come off the road at large scale, there will be a second wave of demand for recycling," he added in an email.
Alain Vassart, of the European Battery Recycling Association (EBRA) is of the view that currently "there is enough capacity to recycle all end-of-life batteries because the fast-growing segment of EV batteries is still 'on the road' and not yet arriving in huge quantities to the recycling plants. In the future, we will need more recycling capacity."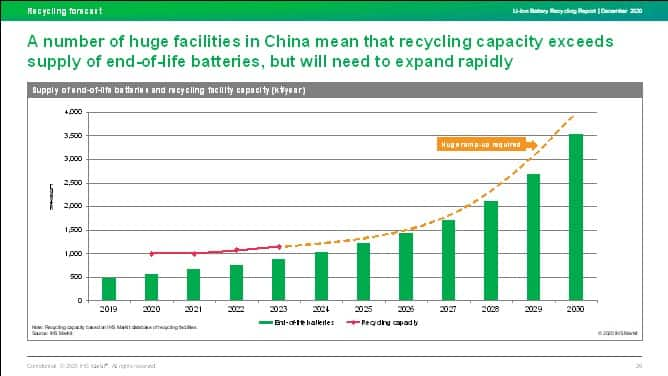 Industry still in infancy
According to IHS Markit, China currently dominates the battery recycling market, producing about 1,000 kt of spent materials, followed distantly in second place by Finland, which is responsible for 71 kt/year. South Korea is third with 64 kt/year, with France in fourth 26 kt/year, and the US holds fifth place with 25 kt/year.
US and EU political leaders already have expressed concerns about China dominating the market for lithium and about the Democratic Republic of Congo's practice of using child labor to extract cobalt.
Globally though, the lithium-ion battery recycling industry is still in its infancy, according to Doug Nickle, head of marketing for Nevada-based American Battery Metals Corporation.
The EU's current growth in battery production combined with higher EV penetration as well as existing producer responsibility regulations all point toward the EU being ahead, Phalpher added.
What's more, the EU is in the process of updating its 15-year old Battery Directive, which calls for collecting as much as 70% of portable batteries as well as enforcing rules that a minimum quantity of recycled material be used in new rechargeable batteries for industrial and automotive purposes.
By 2030, the proposed update to EU regulation will require that all EV batteries must be recycled and traceable, enabling manufacturers to reuse high levels of materials like cobalt, lithium, nickel, and lead.
That update, which is still being hammered out among various stakeholders, will have "a significant impact on recyclers," EBRA's Vassart said.
In contrast, the US has not updated its recycling regulations, which focus on lead-acid batteries found in cars, since 1996. Among the three main global demand centers, the US has the weakest regulations for battery recycling at present.
"If actions today were the basis for judgment, I would say Europe," said Jimmy O'Dea, senior vehicles analyst at UCS.
If battery recycling is a priority in the US, then O'Dea said the Biden administration needs to have a dialogue about battery manufacturing, given the intertwined nature. "If we don't have manufacturing domestically it is hard to set up recycling," he added.
Driving down costs
The key challenges for recyclers as they plan ahead are to drive down processing and logistics costs, which account for a combined 50% of total recycling costs.
But another challenge, recyclers say, is the lack of an infrastructure in place to collect spent batteries for recycling and transporting recycled materials to battery production sites. "One of the main challenges to growth in our industry is the lack of a clearly defined and streamlined infrastructure system that would enable lithium battery feedstock to reach recyclers," said Nickle, whose company is in the midst of obtaining the necessary permits to launch its pilot recycling plant in Fernley, Nevada.
The pilot, once operational, will be capable of processing 20,000 mt/year of spent batteries, scrap materials from EVs, consumer electronics, energy storage applications, and manufacturing waste, added Nickle, whose company is in the middle of changing its name to American Battery Technology Company.
Because the lithium-ion battery recycling industry is still in its infancy, outdated regulations hinder handling, transportation, and storage of this feedstock, which also is not consistently classified properly, Nickle said.
In fact, he said, the feedstock can be classified differently depending on the form and origin, creating "confusion for original equipment manufacturers [OEMs] and end consumers alike and leads to many end consumers simply throwing away their old batteries, which end up in a landfill."
Hub-and-spoke model
However, a hub-and-spoke model, such as the one adopted by Canada-based Li-Cycle is one that IHS Markit sees as lowering the processing and logistics costs.
Under this model, multiple sites -- acting as spokes to a wheel -- receive wholesale batteries, where they are sorted, shredded into a black mass, and sent off to a central site or hub, where they are refined into the materials producers require for battery manufacturing.
Li-Cycle will have three commercial spokes collecting 5,000 mt/year of battery production scrap and spent lithium-ion batteries in Kingston, Canada; Rochester, New York; and one in the southwestern US. These sites will then supply the hub in Rochester, which would process up to 6,000 mt/year of material.
"We see combining drivers of cost, sustainability, and security of supply come together to strongly drive the recycling industry forwards. These drivers are common amongst all stakeholders in the supply chain and should -- in our view -- be sufficient to enable the investment required to scale up infrastructure available," IHS Markit's Hilton said in an email.
Recycling results in lower costs than battery minerals being extracted from the ground, has a lower environmental footprint, and has the advantage of providing a local supply stream, he added.
Li-Cycle's Phalpher agrees. "A major driver of recycling growth is the focus on security of supply and sustainable raw materials in the production of batteries," Phalpher wrote in an email.
But O'Dea is optimistic about the US as President Joe Biden has made increased production and sale of plug-in EVs a cornerstone of his US climate plan. "The encouraging thing in the US is that battery recycling and securing mineral supplies is a bipartisan issue," O'Dea said.
RELATED INDUSTRIES & TOPICS
{"items" : [ {"name":"share","enabled":true,"desc":"<strong>Share</strong>","mobdesc":"Share","options":[ {"name":"facebook","url":"https://www.facebook.com/sharer.php?u=http%3a%2f%2fihsmarkit.com%2fresearch-analysis%2fthreefold-increase-in-recycling-needed-to-help-meet-2030-deman.html%3futm_campaign%3dpc018204%26utm_medium%3dorganic-social%26utm_source%3dtwitter%26hsid%3d18f6a6d7-8407-45c6-aa7c-f2f9121946c1","enabled":true},{"name":"twitter","url":"https://twitter.com/intent/tweet?url=http%3a%2f%2fihsmarkit.com%2fresearch-analysis%2fthreefold-increase-in-recycling-needed-to-help-meet-2030-deman.html%3futm_campaign%3dpc018204%26utm_medium%3dorganic-social%26utm_source%3dtwitter%26hsid%3d18f6a6d7-8407-45c6-aa7c-f2f9121946c1&text=Threefold+increase+in+recycling+needed+to+help+meet+2030+demand+for+lithium-ion+EV+batteries+%7c+IHS+Markit+","enabled":true},{"name":"linkedin","url":"https://www.linkedin.com/sharing/share-offsite/?url=http%3a%2f%2fihsmarkit.com%2fresearch-analysis%2fthreefold-increase-in-recycling-needed-to-help-meet-2030-deman.html%3futm_campaign%3dpc018204%26utm_medium%3dorganic-social%26utm_source%3dtwitter%26hsid%3d18f6a6d7-8407-45c6-aa7c-f2f9121946c1","enabled":true},{"name":"email","url":"?subject=Threefold increase in recycling needed to help meet 2030 demand for lithium-ion EV batteries | IHS Markit &body=http%3a%2f%2fihsmarkit.com%2fresearch-analysis%2fthreefold-increase-in-recycling-needed-to-help-meet-2030-deman.html%3futm_campaign%3dpc018204%26utm_medium%3dorganic-social%26utm_source%3dtwitter%26hsid%3d18f6a6d7-8407-45c6-aa7c-f2f9121946c1","enabled":true},{"name":"whatsapp","url":"https://api.whatsapp.com/send?text=Threefold+increase+in+recycling+needed+to+help+meet+2030+demand+for+lithium-ion+EV+batteries+%7c+IHS+Markit+ http%3a%2f%2fihsmarkit.com%2fresearch-analysis%2fthreefold-increase-in-recycling-needed-to-help-meet-2030-deman.html%3futm_campaign%3dpc018204%26utm_medium%3dorganic-social%26utm_source%3dtwitter%26hsid%3d18f6a6d7-8407-45c6-aa7c-f2f9121946c1","enabled":true}]}, {"name":"rtt","enabled":true,"mobdesc":"Top"} ]}