Customer Logins
Obtain the data you need to make the most informed decisions by accessing our extensive portfolio of information, analytics, and expertise. Sign in to the product or service center of your choice.
Customer Logins
Three top transformative technologies to watch in 2019
16 January 2019
IHS Markit Technology Expert
Each year at CES, a novel set of star attractions invariably emerges: a device that breaks new ground—like LG's roll-up TV at this year's CES 2019; or a force so powerful it reconfigures the technological landscape—like 5G and its anticipated significant impact once fully deployed.
Now that CES is over, attention is almost certain to start swirling around this year's winning products and devices. Often, however, what isn't discussed or understood is how innovations are a result of singular forces of change; how these changes, in turn, are interrelated or influence one another; and how both advances and challenges in one field might propel or impede developments in related, intersecting spaces.
In a new white paper, IHS Markit explores how these transformative technologies, powerful on their own, are now converging to bring about fundamental change in many aspects of our lives. Transformative technologies will shape and influence how we interact with the world, the way we do business, our means to access information and entertainment, and the conduct of our communications.
Below are three of the primary trends that IHS Markit believes will exert a major impact on consumer and commercial markets alike in 2019.
Trend 1: video everywhere
These days video is truly everywhere: omnipresent, unmissable, unavoidable. Whether in smartphones, TVs, automotive displays, digital signage, home security, video surveillance, and even in drones (thanks to their cameras), the ubiquity of video is matched by its easy accessibility—obtainable via streaming as well as over-the-counter (OTT) subscription.
But although a boon to the consuming and viewing public, video everywhere is forcing significant industry change. Competition for consumer attention and revenue is intense, and businesses are scrambling to adapt to change while also coping with rising demand. In fact, online video subscriptions from both traditional media players and OTT game-changers like Netflix and Amazon will more than double between 2017 and 2022 to nearly one billion during the period, demonstrating the explosive growth in store for video, IHS Markit figures show.
At the heart of the "video everywhere" trend are the media sectors: TV, home entertainment, video games, and social media. Other industries, however, will also be increasingly reliant on video technology, including security, education, and healthcare.
There will be challenges to overcome. Current-generation network infrastructure is not equipped to handle the rapid rise in video traffic. How to monetize content to allow for a good return on investment remains a problematic issue. And the growing scale and quantity of video captured in everyday life bring up important concerns related to privacy, security, and data protection.
Trend 2: the edge
The edge refers to computational processing run close to either the sensor data or the human-machine interface—the so-called edges" of a network—instead of being performed at centralized nodes or in a cloud environment.
The edge can be anywhere. A connected car, for example, is an edge on wheels. And while some edge solutions will be built to handle less data for fewer users, others will be large and handle massive datasets for many users, including data centers distributed around a metropolitan area.
Such a decentralized approach is transforming the way networks are deployed and how devices are built, while also enabling new revenue streams. This is because compute resources become available closer to the end-consumer.
The edge affects the entire value chain—from semiconductor providers, through manufacturers, to media, security, gaming and other segments. And as the edge continues to grow in importance, understanding cost vs. performance will be a top priority.

Deploying at the edge effectively means contending with the large bandwidth required. Other barriers to edge deployment are its high cost and the many technical considerations involved. And because no standard software stack exists, also at stake is the question of how an operator can manage, monitor, operate, and control thousands of edge sites.
In a recent survey of 14 edge thought leaders and market movers, video content delivery emerged as the top edge application, which 92% of the respondents identified as an area of impact and concern.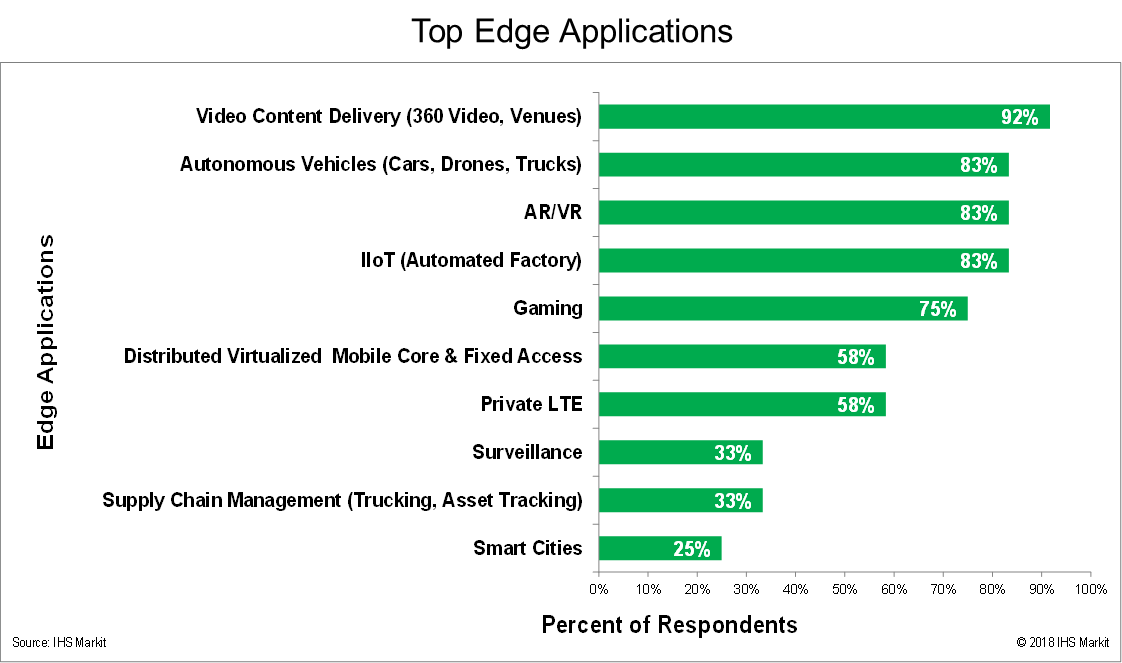 Trend 3: Artificial Intelligence
Artificial intelligence (AI)—once dubbed the frontier of the future and is just now making its way into systems, platforms, and devices—will eventually touch all industry domains and transform our world. Currently present in the form of digital assistants like Amazon's Alexa in devices like smart speakers, AI systems are also animating cars, video surveillance, the enterprise setting, factory environments, hospitals, and data centers.
At present, AI is implemented on end-point devices, at the edge of the network, or in the cloud. Hybrid combinations are also suitable for certain applications, with each approach entailing its own use cases, specific requirements, and performance needs. Cloud AI, for instance, will provide more computing power to analyze data and allow more complex algorithms, such as deep learning—possibly close to where the training data is gathered.
Moving forward, new algorithms and methods will further enhance AI efficiency and problem-solving capabilities, driven by the high complexity of several applications and the prevalence of Big Data. Even so, many components and elements in the AI equation need to mature, advance, and succeed for AI to fully develop. There are concerns, too, on potential issues around privacy, latency, and stability, especially as AI becomes more pervasive and deeply embedded into everyday life.
Technology insights in other key areas
The IHS Markit white paper also explores developments in other transformative technologies aside from the above three areas of video, edge computing, and AI. These other transformative technologies include 5G, blockchain, the human-machine interface (HMI), next-generation cloud gaming, and the Internet of Things (IoT).
To find out more, download our complimentary white paper, The Top Trends of 2019: Powered by Transformative Technology.
For additional resources, visit the Transformative Technologies research service on our website.
IHS Markit Technology Expert
Posted 16 January 2019