Customer Logins
Obtain the data you need to make the most informed decisions by accessing our extensive portfolio of information, analytics, and expertise. Sign in to the product or service center of your choice.
Customer Logins
The unconventional offshoot

01 October 2013
IHS Markit Energy Expert
A relatively quiet renaissance is occurring as an offshoot from the unconventional revolution.
The direct impacts of new technology used in unconventional fields have become clear. Technology is transforming the uneconomical into the unconventional and is reshaping the global energy picture. The US has led the world in oil production growth since 2008, and this tight oil production growth adds to the new, abundant US gas resources from the shale gale. Rightfully, the unconventional revolution and its implications, including the potential of North America energy independence, are the top headlines. Horizontal drilling and hydraulic fracturing are the most cited technological keys for unlocking oil production from tight rocks.
But there is a new, quieter impact of this technology developing. The focus on unconventional activity has overshadowed the impacts of the same new drilling and completion technology on conventional production, and specifically on boosting recovery from conventional fields that have produced for many decades.
On a global basis and over time, the conventional oil reservoirs recovery factor has averaged about 34 percent. That means almost two-thirds of the oil is still in the reservoir. This oil behind pipe in areas with existing wells, infrastructure and pipelines to market is a high value target to slow production decline rates and aid reserve replacement work. Several mature producing areas provide examples of technology associated with unconventional activity now being used in conventional reservoirs.
In Canada, the Viking and Cardium plays represent oil and gas formations that have produced from their more conventional zones and vertical wells since the mid-1950s. Both plays were in decline until operators began drilling horizontally and applying modern hydraulic fracturing techniques. Companies characterize this revitalization of the play as "halo" drilling of more marginal reservoir areas that were not vertically drilled originally.
For instance, the tighter "A" zone was typically overlooked in the early vertical development of the Cardium, but horizontal drilling and slickwater fracturing help to offset the porosity and permeability quality issues that caused it to be overlooked. The Cardium "B" is the deeper and more localized of the two zones. It is believed that this lower portion of the Cardium Formation holds significant remaining hydrocarbon reserves. These lower zones were well known but uneconomic until a few years ago, when advancements in horizontal drilling and fracturing technologies allowed them to be exploited. The revitalized Cardium is expected to produce 519 million barrels of oil and condensate, almost 1.6 Tcf of gas, and 96 million barrels of NGLs out to 2036, with most of that production occurring in the next six to seven years.
In the East Texas Basin, the Woodbine formation provides another good example of technology applied to a mature reservoir. The Woodbine is well known as the primary producing horizon in East Texas Oil Field. The field was discovered in 1930. In the last several years a horizontal Woodbine play has developed from a core area in Madison and Grimes counties and is now expanding into adjacent counties in Texas RRC District 3. Recent horizontal well IPs in the play range from 200 to over 1100 bopd. Most active operators are Encana, Samson Lone Star, EnerVest Operating, Crimson, Marlin Energy and others.
In the mature Permian Basin oil province, Apache continues to horizontally drill into the long-producing San Andres, Grayburg and Clear Fork zones to boost the conventional production from these assets. For good measure, Apache also is sweeping oil out of the reservoirs and into the horizontal wellbores using a waterflood enhanced recovery. In the graphic below, Apache not only shows a considerable inventory of planned wells in these zones as the projects were launched but also shows the significant production increases for each zone in their respective curves. The beginning of the horizontal program in 2010 and 2011 is obvious as is the turnaround in declining production.
According to Apache, more than five older fields have been successfully tested horizontally with the waterflood. In fact, in the early days of the program, Apache reported that only 23 horizontal wells accounted for 5 percent of its production from these large, old fields—a startling statistic when you consider the size of Apache's Permian legacy assets.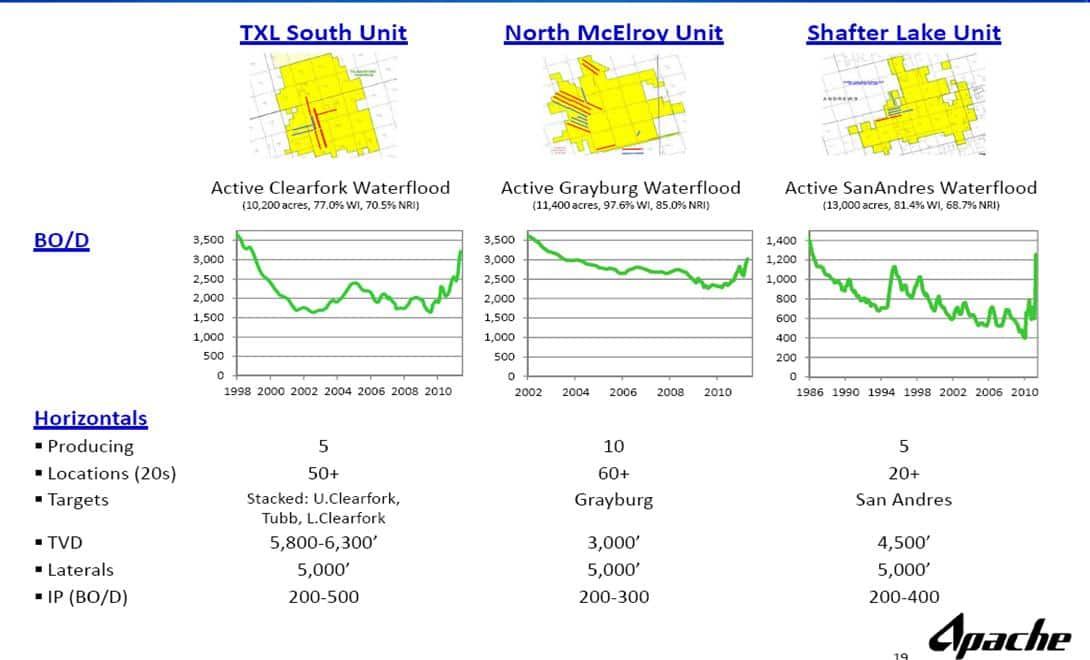 Last month at the Summer NAPE IHS Business Conference, Apache's Vice President, Permian Region, John Christmann III, emphasized the importance of the horizontal projects for Apache's production replacement goals. He noted that new technology combined with enhanced recovery efforts have at least offset the decline rate in Apache's legacy assets in the Permian and in some cases have boosted recoveries--quite an accomplishment in zones that have produced for so many decades.
What are the global implications of this quiet renaissance in conventional oil brought on by technology? Some quick research shows an estimate of 6 Trillion barrels of conventional oil in place worldwide. If horizontal drilling and hydraulic fracturing alone or combined with other enhanced recovery methods can move the global conventional oil recovery factor up 10 percent from its current 34% average, as much as 600 billion additional barrels could be produced. Since the world has found and produced just over 1 Trillion barrels to date through history, 600 billion barrels represents almost 60 percent of that historical production—a dramatic addition to energy supplies. The chart below shows IHS projections for world crude production out to 2035.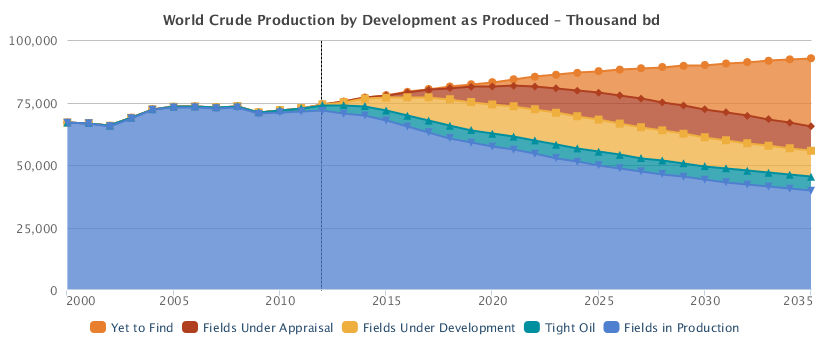 Note the decline for fields in production in blue. Tight oil, fields under development, fields under appraisal and the yet-to-find are all needed to offset the conventional production decline. In the yet-to-find category, a little less than 30 million barrels per day will be required to keep overall production in the 90 million barrel per day range by 2035. Yet-to-find would have to produce more than 10 billion barrels on an annual basis. Conventional revitalization from horizontal drilling and fracturing can play a key role in achieving this level of production. And, since this revitalization work will happen in areas with existing infrastructure and access to markets, it can certainly be a more economic approach to hitting the yet-to-find goal than exploring in the harsh environments of ultra-deep water or the high Arctic.
Posted 1 October 2013
---
Follow IHS Markit Energy
RELATED INDUSTRIES & TOPICS
{"items" : [ {"name":"share","enabled":true,"desc":"<strong>Share</strong>","mobdesc":"Share","options":[ {"name":"facebook","url":"https://www.facebook.com/sharer.php?u=http%3a%2f%2fihsmarkit.com%2fresearch-analysis%2fthe-unconventional-offshoot.html","enabled":true},{"name":"twitter","url":"https://twitter.com/intent/tweet?url=http%3a%2f%2fihsmarkit.com%2fresearch-analysis%2fthe-unconventional-offshoot.html&text=The+unconventional+offshoot","enabled":true},{"name":"linkedin","url":"https://www.linkedin.com/sharing/share-offsite/?url=http%3a%2f%2fihsmarkit.com%2fresearch-analysis%2fthe-unconventional-offshoot.html","enabled":true},{"name":"email","url":"?subject=The unconventional offshoot&body=http%3a%2f%2fihsmarkit.com%2fresearch-analysis%2fthe-unconventional-offshoot.html","enabled":true},{"name":"whatsapp","url":"https://api.whatsapp.com/send?text=The+unconventional+offshoot http%3a%2f%2fihsmarkit.com%2fresearch-analysis%2fthe-unconventional-offshoot.html","enabled":true}]}, {"name":"rtt","enabled":true,"mobdesc":"Top"} ]}