Customer Logins
Obtain the data you need to make the most informed decisions by accessing our extensive portfolio of information, analytics, and expertise. Sign in to the product or service center of your choice.
Customer Logins
The safe city: Assessing opportunities and challenges in a budding security concept

12 December 2018
Alexander Richardson
The safe city is a relatively new phenomenon, a concept borne out of modern-day needs to provide security, smooth operations, and quality of life to today's complex urban centers. The safe city is often discussed in tandem with another concept—the smart city—and the two ideas may even be interchangeably used by some.
However, in the IHS Markit lexicon, the safe city is, in fact, just one of six major areas under the smart city. One can say, then, that the smart city is a much larger rubric that also includes, besides the safe city, the areas of mobility and transport, energy and sustainability, social and physical infrastructure, and the smart economy.
While the smart city is generally focused on connecting devices to enhance the lives of a city's citizens, the safe city focuses specifically on the safety and security of people, property, and assets. And even though a smart city doesn't automatically qualify as a safe city, a safe city must always utilize smart city concepts, including data gathering, analysis, and cross-agency collaboration.
The safe city necessarily encompasses multitude technologies, the most relevant of which include video surveillance and its storage, video analytics, command and control room technologies, physical security information management (PSIM) software, broadband LTE, and information and communications technology (ICT).
The safe city market: size, growth, and drivers
The global safe city market in 2017—the latest year for which full figures are available—was worth $16.2 billion, IHS Markit data show, and projected to reach $29.6 billion by 2022. The market is made up of a range of technologies, each of which contributes to the underlying dynamics influencing growth.
Asia Pacific was the biggest regional market, making up close to 50% of the global market, with $7.7 billion in revenue in 2017. This is unsurprising, as the safe city concept has experienced great success in the region. Drivers of this market, including explosive growth in urban populations, strong GDP expansion, and an often top-down governance structure, led to successful projects in China, India, Pakistan, and Singapore, among other countries.
Behind Asia Pacific were North America and Europe in second and third place, respectively, with a combined share nearing 40%. The Middle East & Africa region and the Latin America region were smaller by comparison, each making up less than 10% of the total safe city market.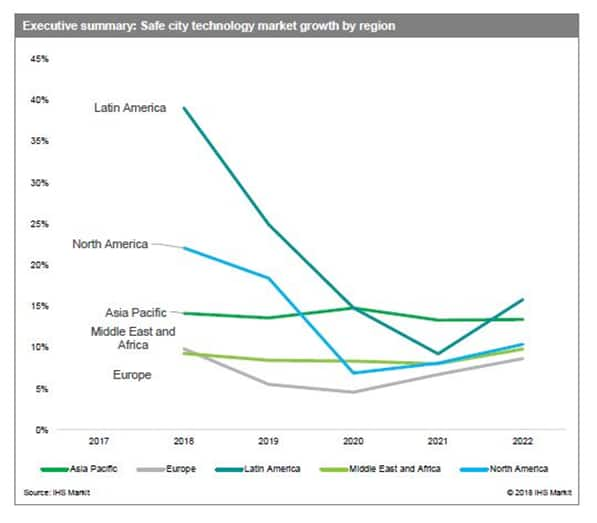 Among technology segments, video surveillance was the largest in the safe city market, with video surveillance equipment and hardware in 2017 representing 45% of total safe city global revenue. Strong surveillance infrastructure is critical to the success of a safe city, given that a large portion of analytics and operational procedures is driven by surveillance inputs.
The fastest-growing market is forecast to be LTE—in this case, the broadband used for critical communications—at a compound annual growth rate exceeding 30% from 2017 to 2022.
Fueling the need for integrated safe city systems is an array of macro factors, including economic growth and rapid urbanization, with the systems requiring data inputs from a range of sources and a multi-agency approach to reducing crime and managing city security.
Several micro trends also impact the market. Many—including analytics, the Cloud, higher-resolution cameras, and broadband networks—facilitate the speed at which a safe city project can become productive by enhancing the quality of intelligence provided to law enforcement, making technological capabilities more cost-effective.
Safe city projects around the world
As of June 2018, IHS Markit counted approximately 120 publicly announced safe city projects that either had been completed or were under way globally. A list of the world's top candidate safe cities, segmented by region, is available from the new IHS Markit study, Safe City Report - 2018.
To examine the most suitable candidate cities for safe city initiatives, IHS Markit developed the Safe City Index, using various indicators from the IHS Markit Economics and Country Risk team to assess more than 1,500 cities around the world.
The key factors in determining ranking are the city GDP score, the city population score, and the country-level risk indicator scores for expenditure, strategic risk, political risk, security risk, and sovereign risk. Another factor in ranking is the project score: Each candidate city has had at least one publicly announced safe city project.
Safe city projects, especially in larger cities, are vast because of the technological complexity surrounding the range of different systems that must be brought together. For this reason, planning is critical, and considerable time must be allocated to identifying specific goals.
A key challenge is the identification of the appropriate stakeholders and gaining their support. This is important because the scale of safe city projects means entailing the coordination of many agencies, such as law enforcement and traffic management, all of which will need to communicate and work well together.
A big test to the success of a safe city system is the planning and design of the city's surveillance and security networks and technologies. Often cities do not consider the kinds of cameras that need to be installed specific to their purposes—the time of day for their operation, whether they are to be remote-controlled, and the pixel or resolution requirements of the government agency involved. Such considerations are critical to video analytics and the correct interpretation of captured data.
A third challenge is budget, especially because budgets for safe city projects often come from multiple sources, given the involvement of a variety of stakeholders.
Other challenges include the absence of absolute standards, coping with legacy infrastructure, the question of storage owing to the huge amounts of data being generated, partnerships, and the procurement process.
For more information on the safe city and related areas of inquiry, visit our Security Technology research service. Categories within the research service include access control & fire, critical communications, cyber security & digital ID, and video surveillance.
Alexander Richardson is Senior Research Analyst, Critical Communications, at IHS Markit
Posted 12 December 2018
RELATED INDUSTRIES & TOPICS