Customer Logins
Obtain the data you need to make the most informed decisions by accessing our extensive portfolio of information, analytics, and expertise. Sign in to the product or service center of your choice.
Customer Logins
The real prize behind smart appliances

Everyone is making a smart fridge. Appliance companies-ranging from Germany's BSH and Miele, Electrolux from Sweden and China's Haier and Midea, through to the major consumer vendors like LG and Samsung from South Korea-are all making smart fridges. And adding to a growing list of "smart" domestic devices, there are also smart ovens, smart washing machines, smart dishwashers and smart air conditioners. Yet once you get past the novelty value, there are serious questions as to why these things are needed, and very different answers emerge, depending on the appliance type.
First, however, it is worth addressing the bigger concept of "smart" in appliances. To be sure, putting a few sensors and a Wi-Fi chip does not impose any significant additional cost into most devices. Where the additional cost does come up is around more complex sensors, like cameras, and usable features, like touch displays. And this immediately creates a barrier around what confers useful smart-ness at home.
Regardless of the connectivity standard chosen (typically Wi-Fi), a smart appliance still requires some set-up from the consumer, which immediately pushes the burden of usefulness one step further away. That's because I won't bother connecting a smart fridge to my Wi-Fi if the sum total of its additional usefulness over my regular fridge is simply that the smart fridge sends data back on how often I open the door-or, as is more often the case, turns simple analog controls into complex app-based controls. It is not easier, better or more useful to increase the temperature in my fridge by putting that into a connected smartphone app, rather than having a mechanical wheel inside the device. And so the question then moves toward further justification-one of finding or inventing more useful reasons to have a connected kitchen or laundry room.
Surprisingly, the task of finding use cases has turned the rather staid industry of making white goods into one buzzing with questions on consumer behavior, ecosystems and lifestyle. Industrial companies become tech companies, initiating hackathons to try and invent new ways to use a camera in a fridge, while exploring new business cases around shared economy and crowdsourcing. It would be nice to believe in the altruistic view of why companies are trying to make the world more connected-and it is undoubtedly true of many of the incentives and mission statements around the smart home -but the cruelty of market forces will ensure that the winning formula is the one that makes the most money. And following the money in the kitchen takes you well past the fridge.
Historically, the home appliance industry has organized itself around profitability, which has most benefited the scale economics seen by companies that offer products of mechanical similarity. Companies that specialize in boxes with spinning things make dishwashers, washing machines and dryers; those that develop cooling systems make fridges, freezers and air conditioners; and those with a history in heating elements make hobs, ovens and cookers. Many of course make all of the above and more, but the development of mechanically alike products is the outcome of market forces on the core mechanism of profitability based on scaling of similar design and production.
The real transformation in home appliances is that rather than specializing in types of machines, we are moving toward controlling spheres of activity: making food, doing laundry, cleaning up. And the money in making food is not in the appliances-it's in the food. In 2015 over $80 billion of kitchen appliances were sold, big and small. During the same time around $12 trillion of food product and beverages were sold. While laundry appliances are worth almost $50 billion in sales each year, new clothes, accessories and shoes are worth much more, at well over $2 trillion (of which most is clothing). And in the case of cleaning and air conditioners, the cost of appliances ($170 billion) can be measured against the opportunity cost of the leisure time that has been saved and the level of comfort achieved-both altogether much harder numbers to calculate but obviously of intrinsic value to the consumer.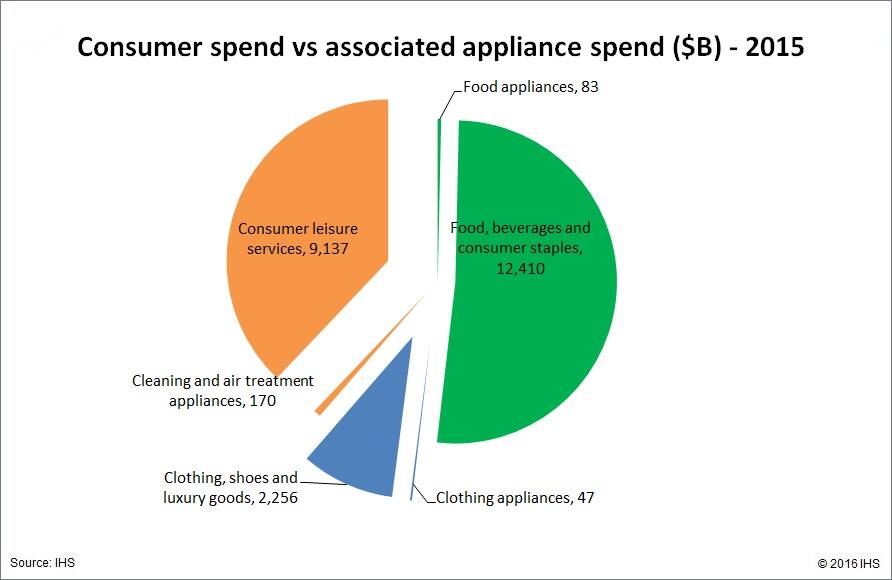 In revisiting the question of why make a smart appliance, the logic suggests that this goes further than niche consumer perks-like having a picture of the inside of your fridge when you're shopping, or being able to turn on the washing machine when you're at the office, or even the more useful setting of powering up the air conditioner on your way home.
All this, then, is about creating the information as well as the marketplace for transacting fast-moving consumer goods, food and clothes. For instance, the lifestyle narrative for the connected kitchen of the future already revolves around cooking food together with your devices. The devices see what you buy, where you buy, where you keep food, when you cook it, how you cook it and why you cook it and the extension is to help you replenish your stock of foodstuff as you use it. For every $500 fridge that is bought (and lasts for 10 years), someone is putting $100 of food into it every single week. And for every $500 on a clothes dryer or washing machine around $100 is spent on clothes every month.
So the key to successful smart appliances isn't about the "killer app" driving usage-whatever that app turns out to be-which means that people actually connect and use the device's smarts. The killer app is the means to the end, that of controlling your daily and weekly spend on a much bigger industry than appliances-which is to say, on food and drink, on clothes and shoes, on lifestyle. In the same way that the money in TV isn't in the TVs (it's in the content) and the money on the internet isn't on smartphones and laptops (it's on ads and shopping), so the revolution in the kitchen isn't about the fridge, it's about what's in the fridge.
Tom Morrod is Senior Director for Consumer Electronics, Broadband and Video Technology, within the IHS Technology Group at IHS Markit
Posted 6 October 2016
RELATED INDUSTRIES & TOPICS