Customer Logins
Obtain the data you need to make the most informed decisions by accessing our extensive portfolio of information, analytics, and expertise. Sign in to the product or service center of your choice.
Customer Logins
The Industrial Internet of Things is here, but widespread adoption remains elusive

10 November 2017
Jenalea Howell
For many people, the term "Internet of Things" (IoT) is, by now, a familiar turn of phrase-a catchy expression that refers to the vast universe of electronic devices and other objects embedded with sensors and software, all connected via networks, enabling the collection, exchange, and analysis of data. A subset of IoT is the Industrial Internet of Things (IIoT), which utilizes the same concepts underpinning IoT but applies on a much bigger scale to industrial entities and processes.
One way to differentiate the two is through their area of focus. Consumer IoT segments are applicable to personal devices, such as smart home systems or wearable electronics. In comparison, the IIoT governs the realm of machines and sensors in industries, often those of critical nature where the failure of systems may result in larger disruptions; or conversely, whose efficient functioning can bestow widespread benefits on both the entity and customers of the particular IIoT process or solution. A breakdown in IIoT utilities, for instance, could presage widespread power blackouts; while a smooth IIoT operation could translate into a lifesaving mechanism, such as when it allows for the seamless monitoring by hospitals of a patient's vital signs during surgery.
To date, an increasing body of evidence supports the many advantages to be gained by firms when they adopt IIoT, leveraging connectivity sensors, software, and analytics. Often a predetermined goal propels a firm's impetus to seek an IIoT solution, and the specific outcome is at the core of a decision-although the innovation that IIoT brings is also central to gaining the internal buy-in of an IIoT solution. One key use case for IIoT is the need-applicable to any industry-to transfer knowledge from an aging workforce to a younger one, with minimal loss of expertise. For instance, the adoption of IIoT can help reduce the skills lost by specialists retiring. IIoT-enabled technologies such as VR can also accelerate the training of less experienced staff.
Another use case is that IIoT adoption can accelerate factory productivity rates, via reduced unplanned downtime on the one hand as well as easier and quicker product customization on the other. A third strong argument is that workplaces incorporating IIoT become much safer, benefiting from 24/7 insight into the well-being and safety of worker environments. In emerging markets, meanwhile, IIoT technologies lower the cost of entry in manufacturing by reducing the need for expensive processes like prototyping, at the same time improving quality and worker productivity standards.
Worldwide, shipments of industrial IoT devices across the categories shown in the charts below are forecast to rise to 252 million devices in 2021, up from 99 million in 2016, IHS Markit data show.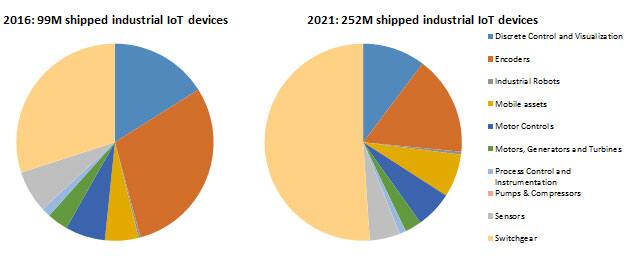 Pilots occur ahead of scale deployments
Manufacturing companies, like those in other sectors, are taking a cautious approach to IIoT adoption. Among the areas of concern are the potential for disruption that results in unexpected downtime, as well as the risk of cyberattacks and loss of data. Companies are, therefore, engaging in trials to help them assess the effectiveness of new technologies and prospects governing return on investment. The deployment of IIoT outside of core production processes, such as for monitoring assets with drones or in logistics, also helps them test the viability and impact of new technologies.
For meaningful change to occur through adoption of IIoT solutions, manufacturers need to implement IIoT in areas of output that directly impact the manufacturing process, such as in motors, machinery, and other capital equipment. By doing so, an IIoT solution can then be unleashed to its full potential-powering the continuous collection and processing of huge reams of data, in order to generate valuable and much-sought-after insights With the growing sophistication of IIoT technology through advances in processing power, software, and platforms, the challenge today is one of broader understanding and acceptance of IIoT within the industrial culture, so that manufacturers can be moved toward greater implementation. For traditional incumbents used to trusting in their systems, a particular fear is placing their valuable cache of data in the cloud, especially at a time when hacking and other cybersecurity threats have become rampant and pervasive.
The four phases of IIoT
There are four phases of the IIoT with innovation occurring at every phase, creating challenges and opportunities alike for manufacturers and suppliers. These four phases, as defined by IHS Markit, are Connect, Collect, Compute, and Create.
In the Connect phase of evolution, the foundational component for IoT, connectivity and processing capabilities are embedded into devices in IoT solutions. For this phase, continuing advances in 5G and private LTE networks will help address issues related to device connectivity-specifically those pertaining to security, capacity, and network coverage. However, the prevailing lack of common connectivity standards remains a concern. Over the next few years, new technologies-such as time-sensitive networking (TSN), private LTE, and 5G-bring the potential for greater bandwidth and lower latency.
In the next phase known as Collect, the objective is to gain access to the data of connected devices and move or store this data. With the inclusion of sensor data, the importance of network management and planning is critical for a successful IoT solution. For this phase, standards relating to machine-embedded sensors and I/O link sensor connectivity will improve the data collection and transfer process. At the same time, the role of IIoT gateways-acting as a bridge and the communication protocol translator-between the IIoT device and cloud will expand to support edge analytics/data processing for added intelligence.
In the third phase of Compute, the collected data is then analyzed and processed for the user to generate intelligent and informed decisions. Here it becomes critical to identify which data should be handled at the so-called "edge" of networks for local processing; and which data should be aggregated and stored in the cloud or if a hybrid solution is most appropriate. For this phase, security concerns will restrict the adoption of cloud-based services for storage, processing, and analyzing of large data volumes. Edge computing then emerges as a viable alternative to locally processed data, sharing only necessary information with the cloud.
In Create, the final phase, unique solutions provide value to stakeholders through access to transformational data, ultimately achieving very specific, predetermined outcomes, including decreased downtime or outages in operations, reduction in waste, higher cost savings, or new business models. In this phase, existing capabilities such as 3D printing will become more sophisticated, and artificial intelligence will be used more intensively.
Where IIoT stands with various industries
The adoption of IIoT varies across the industrial landscape, depending on the openness of each vertical in embracing IIoT technologies, as well as on individual industry knowledge, conservatism, access to capital, and integration challenges. Analysis is necessarily complex in the case of IIoT, especially because industrial coverage is broad and intersects with multiple vertical markets, resulting in an incredibly diverse set of end customers compared to, say, verticals in the IoT universe.
In the five sample verticals below, IHS Markit tracks the position of each vertical relative to its IIoT evolution phase.

The Manufacturing space, for instance, is now at the stage where the industry is using advanced sensors to expand asset monitoring, with edge computing supporting additional data processing capabilities undertaken separately in the cloud.
In Energy, the oil and gas industry is seeking to apply advanced analytics on available data to automate upstream processes while also bringing about operational efficiency through increased drilling accuracy, resource savings, and improved equipment maintenance.
In Maritime, the industry is moving toward satellite services to capture many potential applications, such as asset tracking, route optimization, and equipment monitoring.
In Agriculture, IIoT is being expanded in smaller agricultural units for them to partake in potentially bigger opportunities in the future, even as larger farms move a step further toward drones and robotic technology for large-scale field support.
In Chemicals, industrial applications for IIoT remain limited at present, due to the high risks involved in critical assets within the process. The Chemicals industry must also see how they can maximize revenues through IIoT, as revenue opportunities are presented through the billions of plastic IIoT devices projected to be shipped across all industries and providing demand to the specialty plastics sector.
Overall, the ramifications of IIoT adoption are much greater than comparable considerations for consumer-centric IoT applications. This is because the factors of production involved in IIoT are so much larger and cover critical spheres of human activity, where the failure of systems is not an option.
Moreover, each vertical has some form or component of manufacturing that is involved in the production of its goods, which means there is a direct relationship and impact that can be measured by a manufacturing entity's adoption of-or failure to adopt-IIoT, for better or worse. For most manufacturers, the roadmap to IIoT adoption will be one dictated by their own needs and customers.
Jenalea Howell is Research Director, Internet of Things, within the IHS Technology Group at IHS Markit
Also contributing to this piece are Sheryna Gurmeet Singh, Research Analyst; and Alex West, Principal Analyst, Smart Manufacturing-both likewise with the IHS Technology Group at IHS Markit
Posted 10 November 2017
RELATED INDUSTRIES & TOPICS