Customer Logins
Obtain the data you need to make the most informed decisions by accessing our extensive portfolio of information, analytics, and expertise. Sign in to the product or service center of your choice.
Customer Logins
The circular economy

27 September 2017
Dr. Mark Morgan, Ph.D.
A circular economy is an alternative to a traditional linear economy (make, use, dispose) in which we keep resources in use for as long as possible, extract the maximum value from them whilst in use, then recover and regenerate products and materials at the end of each service life.
IHS Markit is committed to sustainability, both in terms of its own business ethos as well as supporting its customers in improving their sustainability performance. The circular economy ("CEC") and sustainability go hand in hand.
A key area for the chemicals industry where CEC and sustainability are important is unsurprisingly plastics and polymers. IHS Markit, in its everyday business tracks and forecasts over 50 polymer families. In simple terms, the global market in terms of volume exceeds around 310 million metric tons or >$400 billion as a business. These range from the commodity polymers, much of which is used in packaging, through engineer-ing polymers used in durable goods in sectors such as automotive, construction, etc., through to advanced high performance polymers for aerospace, defence, etc. Elastomers too, are polymers with a life cycle, as well as more specialised polymers for personal care, cosmetics.
From a holistic perspective, the Ellen MacArthur Foundation has been established to promote and facilitate CEC developments across multiple industries. In the plastics industry the vision reflects several initiatives from exploiting renewable resources for polymer building blocks, designing polymers for enhanced recyclability, maximising re-use, optimizing recycling and overall reducing environmental impact, most notably polymer leakage into natural systems.
Recycling revisited
Today many communities in the world collect plastics for recycling and energy recovery. However, on a global basis according to the Ellen MacArthur Foundation, only 14% of all polymer packaging is recycled. The industry needs to do better. Recycling occurs in many ways from re-use to re-purposing. The plastics industry has reacted with sorting technology improvements as part of a wider strategy to recover quality products for recycle. Some of the challenges are as follows:
Accessing mono-polymer types in high purity, 99.9 percent
Recycled polymer that is contaminant-free Reliable supply chain
A quality recycled resin quality able to displace virgin material
Cost-effective, i.e., at a comparable price to virgin polymer.
However, there is a growing move to rethink polymer design in a way that facilitates recycling to enable clean polymer recovery for the replacement of virgin resin. The recycling industry plays a substantial role in the evolution of the CEC.
Time for a rethink
Perhaps it is now time to rethink and revisit older approaches to recycling and their impact on the CEC. In the early 1990s, a number of companies were exploring the idea of polymer cracking, not so much to recover monomer units, but rather hydrocarbon feedstocks that could slot into the existing hydrocar-bon supply chains for refinery FCC use (for fuels, propylene, butylenes, etc.) and steam cracking (for ethylene propylene, butadiene, etc.), e.g., as described in US 5,364,995. Many companies and consortia were involved: BP Chemicals, DSM, Enichem, El Atochem, etc. Today, revisiting this type of approach could be worth reconsidering. The simplified flow diagram opposite provides an artistic view of how such a process could operate integrated with an optimised plastics collection, advanced sorting, densification processes, etc. In this case plastics are cracked in a fluid bed reactor at 500°C-550°C in an inert atmosphere. This supplies a complex separation train to recover off-gases for fuel, filers, and hydrocarbon streams for resupplying polymer building block production.
In summary, many producers and consumers of polymers have endorsed the work of the Ellen MacAr-thur Foundations and its pursuit of promoting the Circular Economy. All players along the polymer value chain need to collaborate to make this happen from resin producer, compounder, processor and end-user to develop resins and systems that facilitate reuse and recycle. The ideals of the CEC in the polymers industry indicates that more needs to be done to reduce polymer leakage into the environment and economically enhance recycling beyond the low levels of today.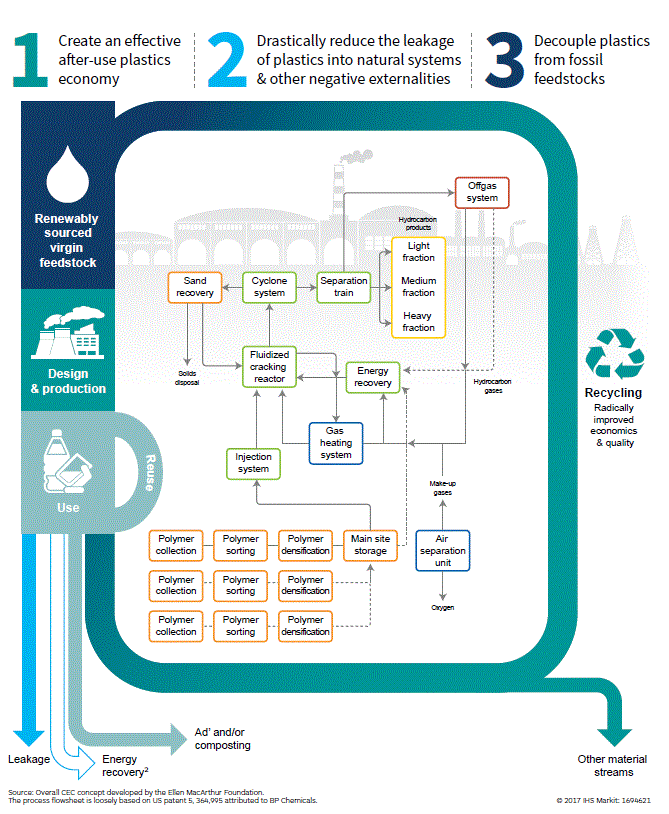 The Waste and Resources Action Programme (which operates as WRAP) is a registered UK Charity No. 1159512 and registered as a Company limited by guarantee in England & Wales No. 4125764.
Dr. Mark Morgan serves as a Managing Director for IHS Markit Chemical Consulting
Posted 27 September 2017
RELATED INDUSTRIES & TOPICS