Customer Logins
Obtain the data you need to make the most informed decisions by accessing our extensive portfolio of information, analytics, and expertise. Sign in to the product or service center of your choice.
Customer Logins
The best-of-the-best: Automotive Loyalty Award winners named

15 January 2014
IHS Markit Automotive Expert
Last night 33 winners were recognized for automotive loyalty and conquest during the Polk Automotive Loyalty Awards presented by IHS. For those of you unfamiliar with how owner loyalty is measured, it's determined when a household that owns a new vehicle returns to market and purchases or leases another new vehicle of the same model or make. 
This year's Polk Loyalty Awards recognized the best-of-the-best and winners were named in eight featured categories. Additionally, 25 segment-level loyalty winners were announced, many of which were repeat winners from previous years.
Of the eight featured categories, Ford Motor Company dominated once again this year. The company earned honors in the prestigious Overall Loyalty to Make and Overall Loyalty to Manufacturer categories as well as being recognized in the African American Loyalty to Make category, which highlights the company's ability to retain owners of African American decent. Mark Fields, Chief Operating Officer for Ford Motor Company, accepted the Polk Automotive Loyalty Award for Overall Loyalty to Manufacturer in addition to serving as the evening's keynote speaker. Meanwhile, Toyota earned top honors in the Hispanic and Asian Loyalty to Make categories, Subaru in the Most Improved Conquest Percent of Registrations, and Audi in the Highest Conquest Percent of Registrations award category.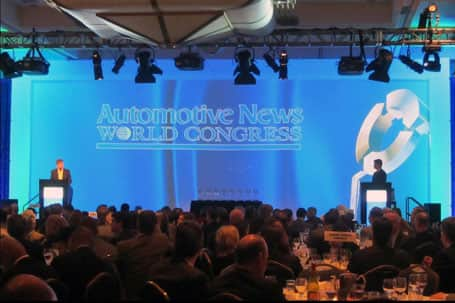 Here are a few key market facts that I shared with the audience last night. They help to paint a picture of the changing automotive environment regarding owner loyalty and defection.
First of all, there was a strong increase in the number of consumers returning to market in the 2013 Model Year. Based on IHS Automotive's recent analysis, more than 7.4 million consumers returned to market in the 2013 model year; this is up from 5.9 million in model year 2012.  A strong 26 percent increase. Digging a bit deeper, we found that owners from three manufacturers ‒ General Motors, Toyota and Ford ‒ account for half of the total return-to-market population. This clearly illustrates the importance of customer retention for these high-volume manufacturers, but it also shows the huge opportunity for other smaller manufacturers to conquest these returning-to-market owners.
Secondly, an average of 51 percent of consumers returning to market in model year 2013 stayed loyal to a brand. This is slightly higher than our 2012 model year findings of 50 percent and demonstrates the effort needed to retain customers. Even as overall brand loyalty is around 51 percent, it is still a very volatile marketplace, with brands fighting every day for customer retention.
Thirdly, ethnic representation among new vehicle buyers continues its significance. For the 2013 model year, we identified that nearly one out of every five owners returning to the new vehicle market are from three ethnic groups:  Asian, African American and Hispanic. This highlights the importance for OEMs to work with their multicultural agencies to connect their brands with these key consumer groups who, by the way, are continuing to increase their buying power.
Overall and across the US auto industry, OEMs are continuing to place greater emphasis on owner loyalty and their efforts are certainly paying off. Be sure to check out the complete list of Polk Automotive Loyalty Award winners.
RELATED INDUSTRIES & TOPICS