Customer Logins
Obtain the data you need to make the most informed decisions by accessing our extensive portfolio of information, analytics, and expertise. Sign in to the product or service center of your choice.
Customer Logins
Tesla is heavily shorted across the capital structure

TSLA 5.3% 2025 bond price hits new low
Short balance for TSLA bonds currently $261mm
TSLA equity remains largest US equity short
With the share price moving negative for 2018 to date, Tesla shares may be nearing a cross-road, after trading up nearly 15% on the year in late February. While equity short sellers continue to hang around, shorts in the most liquid TSLA bond have made a tidy profit so far in 2018. They have not covered to lock in the profit, suggesting that they think the credit will continue to deteriorate.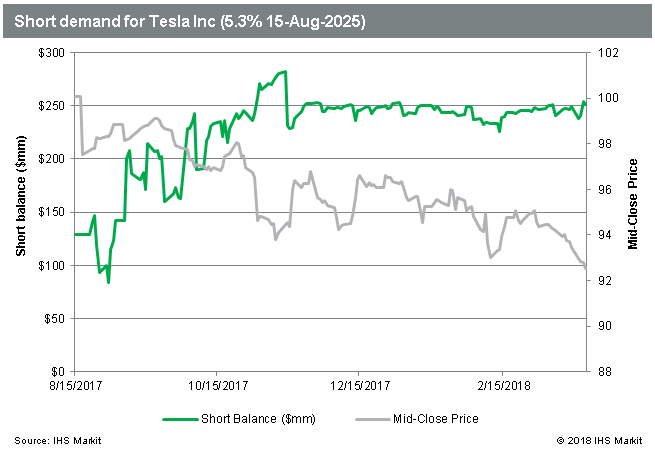 The 5.3% coupon issue maturing in 2025 saw short demand trend up last fall, pushing over $280m in early November, according to IHS Markit evaluated data. Coming in to the end of 2017, some short covering coincided with the bonds trading back up to 96 cents on the dollar. This week, IHS Markit shows the mid close price hit 92.5, the lowest level following issuance of the bond in August of last year.
Short sellers have not covered, and there is still a par value of $251m short in the 5.3% 2025 issue, equating to 13.2% of the total issue size. That represents the vast majority of $261m total short demand across the four TSLA bonds with short balances. The limiting factor for short sellers has been the available supply of bonds, with the utilization of lendable supply currently at 99% ─ having not been less than 90% since October. Accordingly, borrow costs have trended up and are currently at the highest level recorded for new borrows.
For equity short sellers, there isn't currently much limitation on size, with active utilization of supply from lenders at 70%, though that's well above the lowest level observed in 2017, just below 50%. The cost of borrowing the shares is elevated beyond general collateral rates, but remains a far cry from the rates observed in late 2016.
The proxy record date (on February 7th) caused rates to blow out to double digits for new borrows. Some shareholders pulled back shares they had lent out, so that they could vote them - and those who lent their shares on loan were able to charge a premium to forego their voting rights.
The current short borrow is 29.8m shares, up from 27.8 on March 15th. The next exchange short interest publish on March 26th was collected for settlement on March 15th, so it may print lower than the last observation, but given the increase in borrows since then, we predict the subsequent number released on April 10th will reflect the recent increase in short demand. The current equity short balance is $9.4bn, making Tesla the most shorted US equity in dollar terms.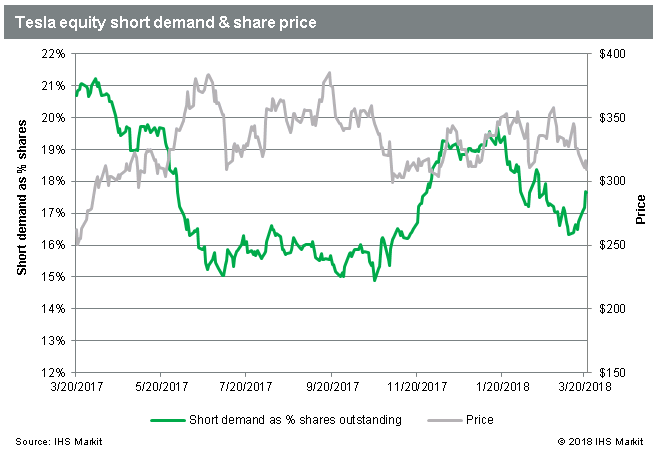 With the short demand for Tesla increasing through the recent sell-off - and the short demand for bonds fully utilizing the available supply - it appears short sellers are looking for more downside before they begin to cover.
Is this the same road we've been down before? Or are we perhaps just further along the road we've been on the whole time?
Only time will tell, so stay tuned for more insight from IHS Markit.
IHS Markit provides industry-leading data, software and technology platforms and managed services to tackle some of the most difficult challenges in financial markets. We help our customers better understand complicated markets, reduce risk, operate more efficiently and comply with financial regulation.
---
Follow Financial Services
RELATED INDUSTRIES & TOPICS