Customer Logins
Obtain the data you need to make the most informed decisions by accessing our extensive portfolio of information, analytics, and expertise. Sign in to the product or service center of your choice.
Customer Logins
Tech companies in healthcare: New players making new waves
When the subject of healthcare is discussed, among the players that immediately come to mind are familiar names in the medical or pharmaceutical world—the likes of GE, Philips, and Siemens, all of which have long and storied accomplishments in the field.
However, what many do not know is that healthcare today is also drawing active participation from companies not traditionally associated with the healthcare sphere—entities, for instance, from Silicon Valley known more for their technological prowess and innovation.
Case in point: At the recent HIMSS Conference, some of the big technology firms in attendance included Amazon, Cisco, Google, IBM, Microsoft, Qualcomm, Uber Health, Verizon, and Intel-each one eager to demonstrate the value it brings to healthcare through current products, services, infrastructure or investments.
Based in Chicago, HIMSS represents some 70,000 individual members, 630 corporate members, and more than 450 non-profit organizations. The HIMISS 2018 show, held in early March in Las Vegas, sought to provide a forum for discussing today's most pressing health information and technology challenges, while also offering members and healthcare professionals networking opportunities and a chance to see new healthcare products and solutions.
New faces on the block
A slew of tech firms is making its presence felt in healthcare.
Amazon, through its Amazon Web Services (AWS), provides healthcare organizations in nearly every country with relatively low-cost IT infrastructure via the public cloud. More recently, Amazon announced it was forming, together with Berkshire Hathaway and JPMorgan Chase, an independent healthcare company to serve the needs of US-based employees of the three companies.
For its part, Microsoft allows researchers and clinicians to use its Azure cloud computing service to access genomic processing services. It collaborates with St. Jude, where genome therapy is part of the precision medicine practice for neonatal care and oncology units. St. Jude, in turn, uploads anonymized genomes to public data repositories.
Meanwhile, Google is expanding its own Google Cloud Services by launching the Cloud Healthcare API, which hopes to address interoperability challenges in healthcare data. The new API provides scalable infrastructure to ingest and manage various types of healthcare data, including HL7, or Health Level 7; FHIR, or Fast Healthcare Interoperability Resources; and DICOM, or Digital Imaging Communications in Medicine. Providers can use that data for analytics and machine learning in the cloud.
And the list goes on.
Chipmaker Qualcomm aims to provide more timely and accurate bedside information via its Capsule Vitals Plus solution. IBM Watson Health provides advanced analytics to make healthcare-related operations more productive. Verizon is developing an end-to-end solution for connecting patients to health-related environments. Uber Health enables healthcare organizations to coordinate rides for patients, caregivers, and staff. Intel is enabling predictive clinical analytics and AI. Cisco and its contact center technology is used for patient-provider contact through video and voice.
And Apple, though not at the HIMSS event, is preparing to expand into healthcare for its employees and their dependents with a network of clinics called AC Wellness.
Important reasons for participation
What is the significance of more visible involvement in healthcare by the large, multi-vertical technology players?
In the case of big cloud providers like Amazon, Microsoft, and Google, these companies already provide better security measures in protecting valuable health-related data than what the individual health systems have shown they could do, especially in light of highly publicized data breaches suffered by healthcare providers like Anthem Blue Cross or UCLA Health.
Utilizing cloud services also allows healthcare providers to focus more on their original mission of patient engagement, and the lighter on-premises infrastructure resulting from offloading major data handling to the cloud results in less burdensome data upkeep and maintenance for healthcare practitioners. Already, 25% of healthcare data is in the Cloud, and more savings can be obtained from leveraging cloud services.
The engagement of new players in healthcare could also pave the way for fresh innovation. In turn, providers might find new methods and approaches on care delivery, improving outcomes, and utilizing consumer-generated data that help create a more complete analysis of patients.
At a clinical level, transformation can take place in the management of both structured and unstructured data, feeding CDS, PHM tools, and AI. Starting with genomics in oncology, AI is now moving into gastrointestinal, musculoskeletal, neuro, and respiratory disease. At the same time, previously untapped information in images, audio, video, narrative text, environmental data, and other unstructured content are starting to make their way into AI programs to provide insights into a wide variety of patient care.
All this activity can help to complete the continuum of care and with better connectivity. In the United States, the vast scale of the US health system poses difficult challenges, but this is no reason to avoid innovation in care provision.
And a huge market is building. Projected to reach $24 billion in 2021, up from $19 billion today, is global revenue for electronic health records (EHR), picture archiving and communication systems (PACS), vendor-neutral archive (VNA), image editing (IE) software, and associated services.
Expect, once again, a big driver for change to come from the giant tech companies, which see opportunities in the multi-trillion-dollar healthcare industry.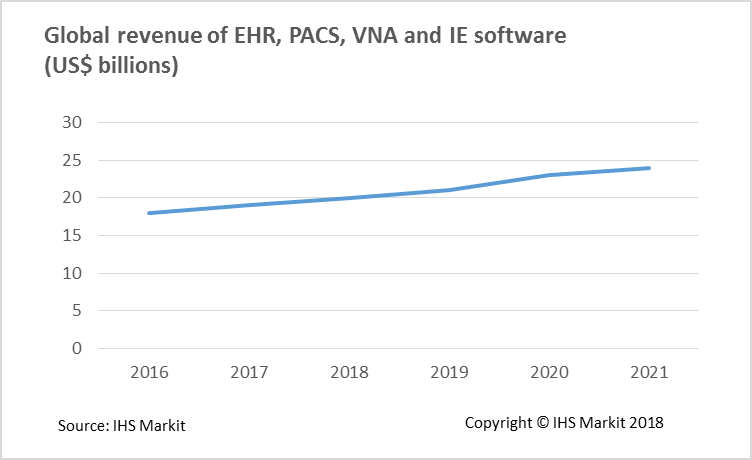 Shane Walker is Senior Principal Analyst, Healthcare Technology, within the IHS Technology Group at IHS Markit
Posted 18 April 2018
RELATED INDUSTRIES & TOPICS