Customer Logins
Obtain the data you need to make the most informed decisions by accessing our extensive portfolio of information, analytics, and expertise. Sign in to the product or service center of your choice.
Customer Logins
TDDI solutions for smartphone displays to enjoy rapid market growth this year

As display panels in smartphones continue to play an important role in brand and product differentiation, so-called TDDI solutions will rise in prominence as well with their share of market expanding quickly in 2019.
TDDI is short for touch and display driver integration, in which both the display driver and touch sensor are integrated as one component, enabling displays to be thinner as well as brighter.
Shipments of TDDI integrated circuits (ICs) for smartphone displays will approach 400 million units in 2018, according to the IHS Markit Display Driver IC Market Tracker, exceeding 20% of the total demand for smartphone driver ICs. The numbers pertain only to LCD displays, since TDDI does not apply for now to AMOLED panels.
TDDI solutions gained attention with the rapid expansion of the market for full-screen smartphone displays, of which the inclusion of TDDI solutions was among the many new requirements full-screen smartphone displays. This meant that both panel and driver IC makers had to synchronize production strategies, which led to increased demand for TDDI. But because semiconductor foundry capacity has been limited for more than a year given strong demand especially for 8-inch wafers, some fabless driver IC makers had to change foundry makers, owing to the capacity shortage.
Without any capacity limitations, TDDI shipments would have exceeded 500 million units last year, IHS Markit believes.
To date, Apple has not applied TDDI to its iPhones, while Samsung has utilized the solution for only selected models in its Galaxy-series line. It is the Chinese brands that have been aggressive and unrelenting in their deployment of TDDI.
IHS Markit forecasts that for 2019, demand for TDDI ICs will expand to 550 million units, representing projected year-over-year growth of 38%, as shown by the chart below.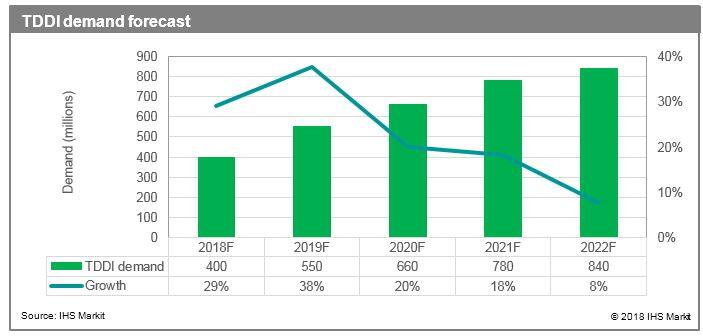 With demand for the larger screen-to-body ratio typical of full-screen smartphone displays expected to become more pervasive, TDDI combined with chip-on-film (COF) solutions will become increasingly popular. This combination reduces the bottom border of the display panel to less than 3 mm, in the process freeing up even more precious space for the smartphone display.
Demand for TDDI with COF bonding solutions is forecast to reach 180 million units this year, up from 45 million units in 2018. Last year's demand came mostly from Huawei, but the projected rise in demand in 2019 will be a challenge to the COF supply chain.
This is because COF capacity is already limited, with COF makers needing to produce more output to satisfy demand for 4K TV displays, which also require COF solutions. The shortage in COF capacity will also impact the design strategy this year of Chinese brands wishing to adapt TDDI and COF. While powerful entities like Apple and Huawei are securing COF manufacturing capacity on their own, weaker players in the COF supply chain, such as fabless driver IC makers, will very likely face difficulties securing their own COF capacity.
The COF process can be divided into three key phases: fine pitch COF-tape; IC bonding (also known as inner lead bonding); and the final test. Compared to large-sized display COF products, smartphone COF products in general should possess a slimmer pitch, measuring about 20 microns (um) or less, which theoretically should make smartphone COF easier to test than for large display panels like those used for TVs. But because COF capability is not mature and COF capacity is limited, testing of TDDI-COF products takes longer than normal. As a result, challenges like these are likely to remain for the time being, especially if no new incoming investments are made to resolve such bottleneck issues.
Among players. two IC manufacturers, Novatek and Synaptics, led the TDDI market in 2018, accounting for more than 60% of shipments and near-total domination of the combined TDDI-COF space. Their pre-eminence last year will be advantageous in letting them gain key scarce resources in 2019.
David Hsieh is Research & Analysis Director at IHS Markit
Posted 2 January 2019
RELATED INDUSTRIES & TOPICS