Customer Logins
Obtain the data you need to make the most informed decisions by accessing our extensive portfolio of information, analytics, and expertise. Sign in to the product or service center of your choice.
Customer Logins
Tape and disk storage present viable long-term video surveillance storage options
The video surveillance industry has evolved dramatically over the last 50 years-from whirring VCRs, to digital video recorders (DVRs) and spinning hard disks, and now to network-based video surveillance and associated information technology (IT) infrastructure.
For end users, however, a thorny challenge at present has to do with storage. Thanks to increasingly large amounts of video surveillance data being generated and more requirements to store this data for longer periods of time, many traditional approaches to long-term storage are proving too expensive to cope with the data explosion in video surveillance. One solution for end users that has seen increased market traction of late, especially in some high-camera-count systems needing the most cost-effective, long-term data retention, is to use different types of storage media in a multi-tiered environment. This can be an advantageous means to satisfy the demanding storage requirements of video surveillance data, without compromising on the quality of the video being stored or the length of time the footage can be retained.
Three market drivers
Three main drivers account for video surveillance data explosion and greater video surveillance storage requirements. These include the increasing numbers of cameras being used overall; the more advanced specifications of these cameras, offering higher megapixel counts up to and above 4K ultra-high-definition resolution; and the greater value and retention times now placed on data by multiple types of end users, going beyond those in traditional security.
This year, more than 127 million video surveillance cameras will be sold via professional channels.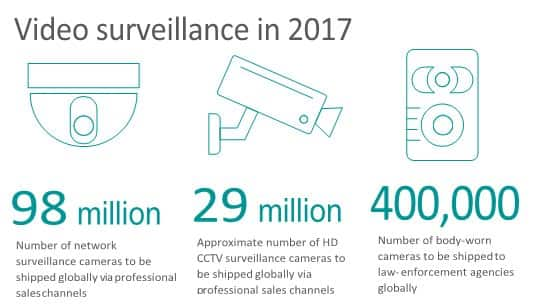 Multiple tiers of storage
Where data storage is concerned, treating all video surveillance data with a one-size-fits-all approach can be inefficient. Most video surveillance footage is never reviewed, and the likelihood of review and the value of the data often diminish over the lifetime of the data. Yet end users often still require storage of video surveillance footage at high quality and for extended periods. Some end users, such as police departments or local governments, have found that traditional single-tier storage, like all-disk or disk-cloud hybrids, are not cost-effective for their long-term storage requirements.
An effective way to combat the increased costs associated with greater storage requirements is to think differently about data use. Using a multi-tiered storage approach, different types of storage media, such as disk, file-based tape, and flash can be combined into a single file system. This means the budget and mission goals can be more efficiently balanced, as performance can be flexed based on the likelihood of data use. Cloud can also be incorporated into this approach.
In many scenarios the speed of data recall offered by a tape library is not sufficient, so it makes sense to forgo tape. Yet, for some users able to trade off immediate for near-immediate access speeds to their oldest data, tape can bring the high-capacity, long-term retention with no compromise on the quality at which video surveillance footage is stored or the length of time that the data can be kept.
In a multi-tiered storage system, disk-based storage is still used as the high-performance primary tier. It is often designed to account for 25-30% of the initial total capacity; but once configured, further disk storage may be required only if additional bandwidth or camera streams are added. The remainder of the storage capacity can be built out in different storage tiers, such as on file-based tape.
In those scenarios where the only parameter that requires increasing is the data retention time, building out further capacity on tape can become even more economical.
For more info:
Josh Woodhouse is Senior Analyst, Video Surveillance, within the IHS Technology Group at IHS Markit
Posted 20 June 2017