Customer Logins
Obtain the data you need to make the most informed decisions by accessing our extensive portfolio of information, analytics, and expertise. Sign in to the product or service center of your choice.
Customer Logins
"Taiwan Team" eyes "mega-scale" offshore wind projects

A group of Taiwanese clean energy companies plan to develop "mega-scale" offshore wind projects, banding together to form "Taiwan Team."
The ambitions of the joint venture (JV) led by Swancor Renewable Energy extend beyond the horizons of its native land too, with plans to win business elsewhere in Asia, which is now and is expected to remain the top region for global wind sector growth in the coming decade.
The unveiling of the potential homegrown champion 5 July comes ahead of a ramping up of local procurement requirements in the third phase of Taiwan's offshore wind development program, said Shan Xue, IHS Markit principal research analyst.
Taiwan's plans for offshore wind development involve a three-stage strategy. It is targeting 5.7 GW of installed capacity by 2025 during the first two stages. In May, Taiwan raised the bar for the third stage, or "Phase III" of development, by 5 GW to 15 GW. It aims to build 1.5 GW of resources per year between 2026 and 2035.
The country plans to start auctioning off 3 GW for 2026-27 in 2022, and then a further 3 GW each in 2023 and 2024, for 2028-29 and 2030-31, respectively.
Until now, the offshore wind sector in Taiwan has been dominated by overseas players such as Denmark's Ørsted and Copenhagen Infrastructure Partners, Germany's wpd and EnBW, Japanese utility JERA, and various affiliates of Australian financial services group Macquarie.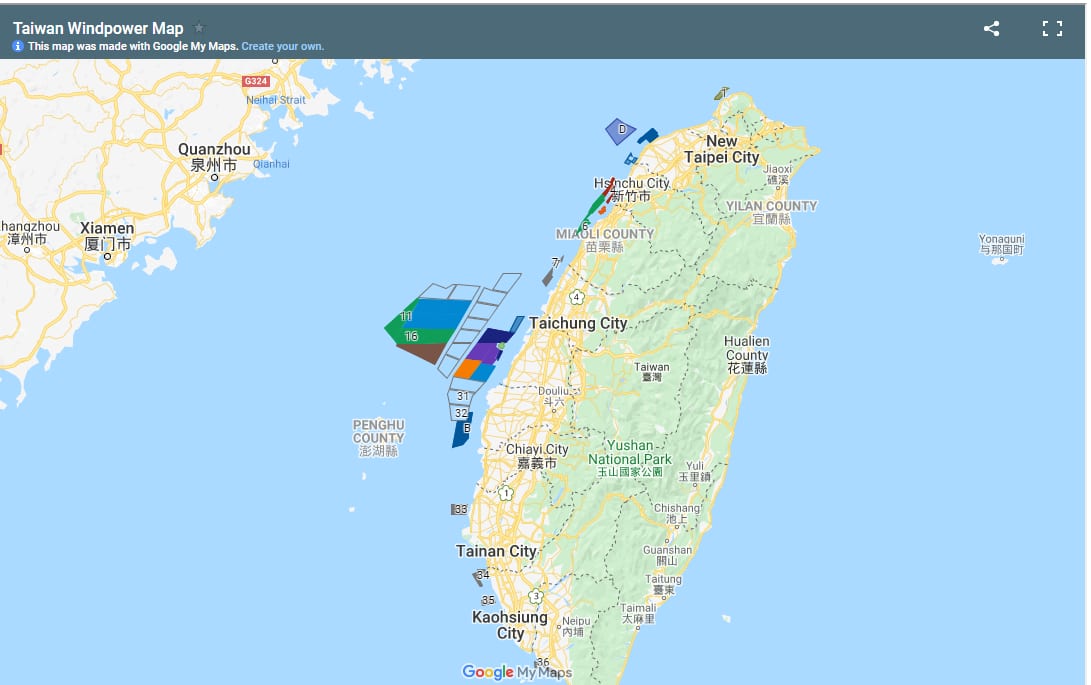 Source: Eiger Law
But Swancor, which has had success previously in combination with overseas partners in the waters off Changhua County, now plans to work with domestic partners in blocks up the coast off Miaoli County in northwestern Taiwan, it said.
Swancor teamed up with offshore wind turbine supplier Tien Li Offshore Wind Technology, turbine casing specialist Yeong Guan Energy, and J&V Energy Technology in the JV.
The latest draft of the Phase III Offshore Wind Energy Zonal Developer Selection Mechanism was released in May. In that draft, 60% local procurement is mandated, IHS Markit's Xue told Net-Zero Business Daily. If not, the developer won't be eligible to take part in auctions, she added. Although the local procurement level was trimmed compared with the previous draft, companies are still obliged to comply with the requirement, which is higher than in the first two stages of the country's plans.
That's where Taiwan Team has an edge.
Taiwan Team will initially focus on the development of Formosa 4, a fixed-bottom project, before moving on to Formosa 5, which will be a floating wind project, the companies said (see map).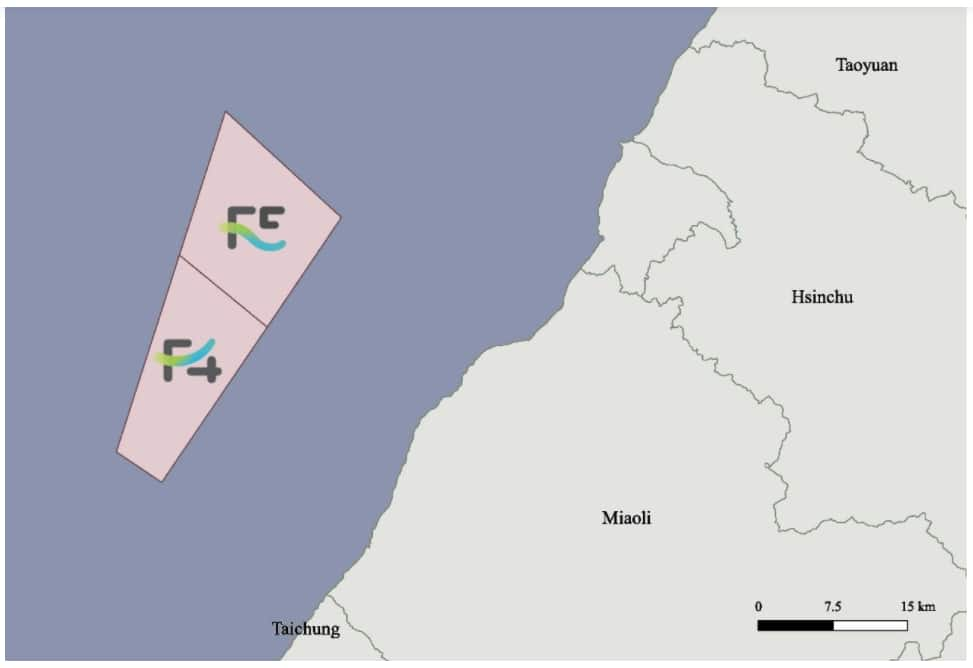 Source: Taiwan Team
The nearby Formosa 1 facility, a 128-MW project located 2-6 kilometers off the coast of Miaoli County, was Taiwan's first offshore wind farm and began commercial operations on 27 December 2019. Swancor teamed up with international partners for the project. It is Taiwan's only offshore wind farm currently operating commercially.
The company is also involved in the construction of the 376-MW Formosa 2 facility, Taiwan's second offshore wind farm. Work on the project is scheduled to be completed by the end of 2021, according to Swancor.
To the south, offshore work began on the Greater Changhua 1 and 2A projects, which have a combined capacity of 900 MW, in the first quarter of 2021, according to the facilities' backers, including Ørsted, with construction slated to be finished in 2022.
The Greater Changhua facilities at four sites in waters off Changhua County will have a combined capacity of 2.4 GW. The Greater Changhua 2B and 4 wind farms have a combined capacity of 920 MW while Greater Changhua 3 is set to have a capacity of 600 MW.
Construction of Greater Changhua 2B and 4 is scheduled to begin in 2025, and they will be fully commissioned in 2026, said Ørsted. A power purchase agreement for Greater Changhua 2B and 4 was signed in July 2020 for Taiwan Semiconductor Manufacturing Company to receive the entire output of the facilities for 20 years, the first deal in Taiwan for the entire output of an offshore wind project.
Taiwan's plans for offshore wind and developers interest are based on favorable meteorological conditions. Winds off the Taiwanese coast offer an average speed of greater than 10-12 meters/second, ranking them in the top 10 worldwide, according to law firm Clyde & Co.
Strong winds, especially in a region prone to visits from typhoons, demand a lot of equipment. Asian markets were at the front of Siemens Gamesa executives' mind earlier this week when the turbine manufacturer announced its 11-MW SG 11.0-200 DD model had joined its SG 8.0-167 DD model in being certified typhoon-proof.
In the announcement, the company said more than 1,200 turbines using its offshore direct drive platform are operating across the globe, including at Formosa 1. It is also the turbine supplier for the Formosa II and Greater Changhua 1 and 2A projects.
On the horizon?
Taiwan Team hopes the JV's initial foray in the offshore wind sector at home will lay the groundwork for success elsewhere in Asia. The JV partners said they believe the expertise and experience they develop in Taiwan can give them a foothold in offshore wind's fastest-growing markets.
"As the Taiwan government strives to make Taiwan a global leader in renewable energy, it is our responsibility to unite as the Taiwan Team to be stronger together instead of individual companies on their own," said Swancor CEO Lucas Lin.
Taiwan is seeking help from offshore wind frontrunner the UK to build its base in the sector. On 7 July, the UK's Offshore Renewable Energy (ORE) Catapult teamed up with Taiwan's Industrial Technology Research Institute (IRTI) to support the growth of the offshore wind industry in Taiwan. ORE also hopes to create export opportunities for UK businesses, it said.
ITRI is a non-profit R&D organization founded in 1973 to boost the domestic high-tech economy. ORE said the two organizations will collaborate on large-scale offshore wind research and innovation projects in the Taiwanese offshore wind market.
The UK is currently top of the global offshore wind capacity table at more than 10 GW, according trade association RenewableUK. The UK had a total pipeline of 41.3 GW in late 2020, the data show.
European companies were responsible for almost £1.7 billion ($2.35 billion) of investment in the Taiwanese offshore wind market in 2020 alone, according to ORE.