Customer Logins
Obtain the data you need to make the most informed decisions by accessing our extensive portfolio of information, analytics, and expertise. Sign in to the product or service center of your choice.
Customer Logins
Taiwan seeks to scale up offshore renewables while phasing out nuclear

Seeking to dramatically expand its renewable energy capacity, Taiwan's Ministry of Economic Affairs (MOEA) has announced the selection of ten proposed offshore wind projects, for a total added capacity of 3,836 MW.
The selection process is part of the ministry's broader plan to add 5.5 GW of new offshore wind capacity by 2025, in line with the strategic investment in domestic sources of energy. Seven developers submitted successful bids, which were evaluated based on technical and financial capabilities, along with commissioning timeline projections. Bidding was competitive, with a reported 10 GW worth of projects submitted for the 3.5 GW of grid capacity that was initially offered, although after initially assessing the volume and quality of applications, the MOEA increased the available grid capacity to 3.8 GW. The applicants that were not selected will be allowed to re-apply at a second auction, scheduled for June and expected to add another 2 GW of planned offshore wind projects.
The biggest winners of the auction were Denmark's Ørsted and Copenhagen Infrastructure Partner (CIP) and Germany's Wpd, which were each awarded 900 MW - 1 GW of grid capacity. The Taiwan authorities declined to consider bids from Chinese firms, as geopolitical tensions notwithstanding, the administration is understood to be seeking higher degree of energy security via diversity of supply. Danish renewables company Ørsted was awarded capacity for two projects - 605 MW Changua 1 and 295 MW Changua 2 - which are slated to be connected to the grid by 2021. Ørsted termed the award "a breakthrough moment for offshore wind in the Asia-Pacific region" and commented that its next steps will be to obtain the remaining necessary permits and secure a feed-in-tariff by signing a power purchase agreement with Taipower, followed by a final investment decision. Ørsted is also the co-owner of Taiwan's only operating offshore wind project, the 8 MW Formosa I, located off Miaoli county along the northwestern coast. Ørsted, along with partners Swancor and Macquarie Capital, took the final investment decision in late April to expand the wind farm's capacity to 128 MW in 2019. Although this expansion is occurring separately from the recent auction, the MOEA did award 378 MW of grid capacity for Formosa II, operated by Taiwan-based Swancor.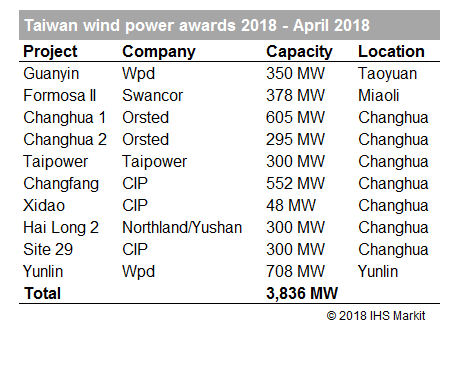 Figure 1: Taiwan wind power awards 2018
German company Wpd is expected to commission both of its projects in 2020-2021. The first will be situated 8 km off the Yunlin coast, with a capacity of 650 - 700 MW, while the second, the 350 MW Guanyin project, will be built 2 km off the coast of Taoyuan county. CIP was awarded a total of 900 MW, but commented to IHS Markit that even this may not be sufficient capacity for its planned wind projects. The company was allocated a total of 600 MW for the Changfang and Xidao projects, which have respective planned capacities of 552 MW and 400 MW. For the moment, Xidao is limited to 48 MW, but Jesper Holst, CEO of CI Wind Power Development Taiwan, commented that the company is exploring options to secure extra capacity. The company was also awarded 300 MW for a project called Site 29, which will be developed in partnership with Taiwanese China Steel Corporation and Mitsubishi subsidiary Diamond Generating Asia (DGA).
A joint venture of Canada's Northland Power and Singapore's Yushan Energy were awarded capacity for the 300 MW Hai Long 2 wind farm, adding to the first phase of the project, which is already under development. Once complete, the project could reach over 1 GW of capacity, but is not expected to be commissioned until 2024. Finally, state company Taipower was selected for a 300 MW project (also called Taipower). In total, the authorities anticipate an investment of TWD 962.5 billion (USD 32 billion) in the next decade, resulting in an annual carbon emissions reduction of 10.47 million tonnes. In addition to abundant coastlines and strong winds, Taiwan offers an attractive and stable investment climate in general, and the MOEA has taken steps to create particular incentives for rapid development of wind power. Contract terms include 20-year power purchase agreements and feed-in tariffs above European prices and if developers sign a sales and purchase agreement with Taipower before the end of 2018, they will be guaranteed specific purchase rates.
For Taiwan, the rapid deployment of wind power is more an urgent matter of energy security rather than a green energy ambition. The island state of 23 million people is in the unenviable position of relying on imports for 98% of its energy needs, while distributing electricity via aging and largely out-of-date infrastructure. The latest official figures show Taiwan's energy mix to be composed of 29.4% coal, 48.9% petroleum, 13.7% gas, 6.3% nuclear, with the combination of biomass, hydro, geothermal, wind and solar amounting to less than 2%. Although Taiwan's suppliers are reasonably diverse - including coal from Australia and Indonesia, oil from the Middle East and gas from Qatar, Malaysia and Indonesia - its imports all rely on unfettered access to the sea lanes in and around the Taiwan Straits, leaving the island state vulnerable to the decisions of the mainland. For a time, expansion of nuclear energy seemed like a potential solution, but that changed following the Fukushima earthquake and subsequent nuclear meltdown in Japan, which caused anti-nuclear sentiment to rise across the region, forcing the suspension and eventual abandonment of construction at the planned 2,600 MW Lungmen nuclear power plant. There are now three operating nuclear plants on the island, with a total capacity of 4,890 MW, all of which are slated to be decommissioned by 2025 at the end of their authorized 40-year lifespans, adding to the energy deficit problem. The current President, Tsai Ing-wen, ran on a platform of reducing reliance on nuclear power and raising the share of renewable energy to 20% by 2025.
If the shift in energy mix comes fully to fruition, it will be profound and not without cost. Electricity prices in Taiwan are kept artificially low, forcing Taipower to operate at a deficit by mid-2017 and leaving little budget for the sorely need upgrades to the power grid. A large-scale blackout in August 2017 highlighted the need for new investment, and despite strong public opposition to price increases, the state company announced earlier this year that a 3% rate hike would be implemented, albeit only for large-scale energy consumers. Minister of Economics Shen Jong-chin predicts that by 2025, electricity prices will be 20% higher, due to the scheduled shut-down of the remaining nuclear capacity and the resulting increased share of renewable and gas-fired power plants. However, the progressive administration is poised to take full advantage of the rapid pace of investment and decline in the cost of renewable power, and certainly has sufficient incentive to make the transition as painless as possible. Taiwan's economy is heavily dependent on the technology manufacturing sector, and the administration has offered guarantees of a stable power supply to some of its own most important companies, leaving little doubt that it will expand its capacity one way or another.
This article was first published in the IHS Markit International Energy Letter on May 3rd, 2018. Learn more about our upstream intelligence reporting and analysis services, including the International Energy Letter.
Amanda Nelson is one of our editors for the International Energy Letter publication.
Posted 11 May 2018
---
Follow IHS Markit Energy
RELATED INDUSTRIES & TOPICS