Customer Logins
Obtain the data you need to make the most informed decisions by accessing our extensive portfolio of information, analytics, and expertise. Sign in to the product or service center of your choice.
Customer Logins
Swiss maker u-blox bulks up to first place with SIMCom acquisition

Switzerland-based u-blox, a leading vendor of cellular Internet of Things (IoT) and positioning components, announced plans on January 20 to acquire the cellular IoT module and modem business of SIMCom Wireless Solutions from Shanghai, China. The announced offer is for $52.5 million, and will include the cellular IoT module products and solutions of SIMCom as well as its patents, R&D and sales staff, and customers. U-blox expects the deal to close within the next three months, by the end of March.
SIMCom: a large but troubled entity
SIMCom has had a long, but challenging, history in the cellular IoT module market. The company rose to a strong second-place position in terms of shipments during the 2000s, behind Siemens Wireless Modules (which eventually became the M2M unit of Gemalto. SIMCom achieved its No. 2 ranking largely on the basis of government programs in China seeking to provide fixed wireless terminals (FWT) to the country's villages and rural communities, in an effort to bridge the urban-rural telecommunications gap.
However, SIMCom struggled to translate its success in the Chinese FWT landscape to broader-based traction in the cellular IoT market, after mobile phone penetration in China reduced the need for FWT units. The final year in which SIMCom was able to achieve a second-place finish in the market was back in 2010. From 2011 to 2015, SIMCom was in fourth place, IHS Markit estimates, although it rose to a virtual tie for third place with Sierra Wireless in unit shipments in 2016.
In recent years, SIMCom has both competed extremely aggressively on price-recording a 7.6% gross margin for its wireless modules segment in the first half last year-and entered the value-added services segment of the market by offering solutions for smart vending machines. Nevertheless, the company still has not gained significant traction outside of the Asia-Pacific (APAC) region, even when APAC-based competitors, such as Wistron NeWeb Corp. (WNC), Huawei, Foxconn, and Quanta Computer started to make inroads into the AT&T and Verizon module programs.
Probably the most telling indicator of the difficulties in execution for SIMCom can be gleaned from the official u-blox press release of January 25, as u-blox provided guidance of $75 million in increased revenue to be realized over the course of the three remaining quarters of 2017, stemming from the acquisition. The fact that SimTech Group Company Ltd., the parent company of SIMCom, had sold $75 million in revenue to settle for $52.5 million underscores that company management did not feel a viable path forward was possible for SIMCom in the cellular IoT module business.
Acquisition rationale: u-blox isn't SIMCom
Given the challenges described above for SIMCom, why would u-blox make this acquisition? There are five primary strategic reasons, IHS Markit believes, that suggest u-blox can take on the SIMCom business and make it a success.
Proven ability to execute: Unlike SIMCom, u-blox has dramatically expanded its portion of the global market since 2010, with its share of shipments rising from 0.5% to 8.0% in the first half last year. With the deal, u-blox will bring a new set of skills, processes, expertise, technology and systems in promoting products from the acquisition to the market.
Leverage existing u-blox customer relationships: In contrast to SIMCom, u-blox has been successful in forging extensive relationships with customers in the automotive sector, and in Europe and North America. For these markets, u-blox can leverage its relationships to introduce products from the acquisition in a way that SIMCom couldn't.
Provide world-class customer support: A prime differentiator separating u-blox and the three traditional market share leaders of the cellular IoT space-Sierra Wireless, Gemalto and Telit-from the rest of the competitive landscape, largely in the APAC region, is the commitment of the four majors to extensive customer support aimed at helping customers design and deploy cellular IoT products. Although some APAC competitors have used price to leverage themselves into the module programs of AT&T and Verizon, IHS Markit believes that the difference in level of support will remain an important added benefit that u-blox can offer to make products from the acquisition more attractive to customers.
Access to the China market: Conversely, one area where the acquisition brings a much-needed boost to u-blox is in expanding its presence in the APAC region, especially in China. For all of its challenges, SIMCom was selling millions of modules in the region. With China Mobile, that country's leading mobile operator, estimating it will connect 200 million cellular IoT devices by the end of 2017, China will be a critical geographic gap for u-blox to fill, which the acquisition does nicely.
Chip technology: An interesting synergy is the combination of the LTE chip technology from u-blox with the price competitiveness of SIMCom. While low prices meant razor-thin margins for SIMCom, the ability for u-blox to cut out a third-party chipmaker's margin means the company could potentially fare better economically selling at the same prices. Even so, it is uncertain to what extent this synergy can be achieved, since the bulk of SIMCom shipments are 2G modules, while that of u-blox is in 4G chip technology.
Significant, but not transformative, impact to the cellular IoT module vendor competitive landscape
Assuming the acquisition closes, it will likely create a new market share leader. The combined share in shipments for u-blox and SIMCom during the first six months last year was 24.5%, ahead of Telit, Gemalto and Sierra Wireless. However, a crucial point to remember is the aggressively low price points at which SIMCom competes. On a revenue share basis, the combined companies would still only equate to 15.0% of the market, behind the three vendors just listed.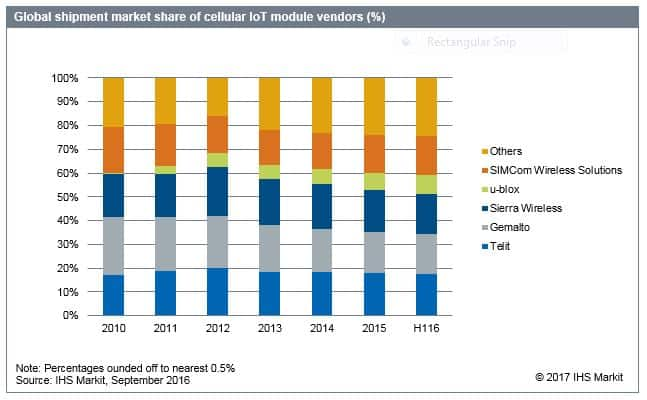 IHS Markit believes that the most immediate impact of the acquisition will be to increase the overall downward pressure on pricing in the market, as u-blox becomes able to amortize costs across a far greater volume of shipments and further leverage its differentiation in lean operations. This will have the following secondary effects:
Accelerate efforts by the top three (revenue market share) vendors to move up the value chain in offering software and services. Over the past five years, the top three vendors have increasingly added software and service offerings to their portfolio. By moving up the value stack in this way, they are able to differentiate themselves better, and operate in segments of the market that enjoy higher margins. If the acquisition increases price pressure in the module segment, as expected, the top three vendors will correspondingly have even more incentive to accelerate their efforts to move up the value stack.
Push back the rise of non-traditional, APAC-based module vendors. Over the past three years, newer, mostly APAC-based module vendors, such as those listed above in the AT&T and Verizon module programs, have gained some traction in market, collectively increasing their overall share of the market in terms of shipments. A combined u-blox/SIMCom entity, through a combination of aggressive pricing and u-blox customer relationships and technical support, be more advantageously situated to displace the APAC vendors in accounts where these newer sellers may have been finding traction.
Stave off the "chip down" inflection point. By bending the overall module pricing curve downward, a key impact is to increase the transition point at which it becomes more economical for a large-volume IoT manufacturer to switch to a direct "chip down" approach to integrating cellular connectivity, rather than use modules.
Grow the overall cellular IoT market. One other effect when the overall module pricing curve bends down is that a positive business case can be facilitated in a larger number of IoT projects, leading to more developers incorporating cellular connectivity and, thereby, increasing overall market growth for cellular IoT modules.
All told, the acquisition is good across the board: for u-blox; for SIMCom and its parent company, SimTech Group; and for IoT developers. The only ones who won't take favorably to this development will be the traditional top three module vendors, who will likely find the road ahead to be just a bit more challenging.
Sam Lucero is Senior Principal Analyst, IoT and M2M, within the IHS Technology Group at IHS Markit
Posted 20 January 2017

RELATED INDUSTRIES & TOPICS