Customer Logins
Obtain the data you need to make the most informed decisions by accessing our extensive portfolio of information, analytics, and expertise. Sign in to the product or service center of your choice.
Customer Logins
Survey shows oil, gas industry spending shifting to future needs

A new survey shows how oil industry executives around the globe are facing stronger environmental demands from governments, investors, and consumers in the coming year at the same time they are adjusting to the economic challenges of 2020.
In the survey released in January by DNV GL, an energy consulting company, 66% of senior oil and natural gas executives said their organizations would be actively adapting to a less carbon-intensive energy mix in 2021, up from just 44% in 2018.
This finding alone suggests that "priorities are shifting as investors reassess the risks of financing oil and gas projects, and as governments and industry pour billions into green recovery strategies following the COVID-19 pandemic," DNV said.
DNV has been conducting the benchmarking survey every year since 2011 to gauge industry sentiment, confidence, and priorities in the coming year. In November and December 2020, more than 1,000 senior industry professionals and executives (from publicly traded and private companies) participated in the survey.
DNV attributed the relatively robust spending plans for 2021 to two factors. First, a hope that oil and gas demand and prices will recover quickly from the COVID-19 pandemic, particularly since governments around the world have pledged ongoing support for their economies. Second, the shift to low-carbon fossil fuel projects and renewables.
Executives indicated that the worst of the belt-tightening might be over, as 62% said they will either maintain or increase capital expenditure (capex) in 2021. This is down from 72% who expected steady or rising capex at the start of 2020.
However, only 39% of respondents said they are "confident" about industry growth in 2021, compared with 76% at the start of 2019. Also, 39% said they are "pessimistic" about growth in 2021, compared with 7% at the start of 2019. "Our annual survey of senior oil and gas professionals shows how 2020 has taken its toll on the industry," DNV said.
IHS Markit perspective
The findings in the survey match up with data from IHS Markit about spending levels in 2020 and forecasts about oil companies' intentions going forward. IHS Markit found that global energy sector capex fell from about $1.42 trillion in 2019 to $1.26 trillion in 2020 (all figures in 2018 dollars), or about 11%.
In a report released in mid-January, "COVID-19 to reset global energy sector capex lower and greener over the next five years," IHS Markit said the pandemic's impact will reverberate for a while. Global energy sector capex in 2021-2025 will be about 8% lower than the 2015-2019 period, falling to about $6.6 trillion from around $7.2 trillion. "Combined, we see cumulative investment in the upstream and downstream oil and gas sectors, coal mining, and fossil fuel-fired power generation (coal and gas) in 2021-2025 coming in around $840 billion, or 20%, below 2015-2019 levels," IHS Markit said.
On the other hand, non-hydro renewable energy investments will rise in 2021-2025 to $1.3 trillion, an increase of 14% compared with 2015-2019. "The combination of materially lower fossil fuels investment and continued strong capex for non-hydro renewables means that non-hydro renewables investment as a share of total energy sector capex will average about 20% over the forecast period, in line with 2020 levels and up from an average of just 16% over the 2015-2019 timeframe," IHS Markit said.
Inflection point?
Global executives told DNV they are grappling with whether the industry has reached the inflection point of peak oil demand. "This downturn could end up being remembered as the crisis that capped the peak of global oil demand. From here, the oil and gas industry could be forever changed by the dynamics of declining demand," DNV said.
Based on their investment plans as reflected in DNV's survey and IHS Markit's investigations, companies in every region of the world are adapting to a less carbon-intensive energy production mix (see graph).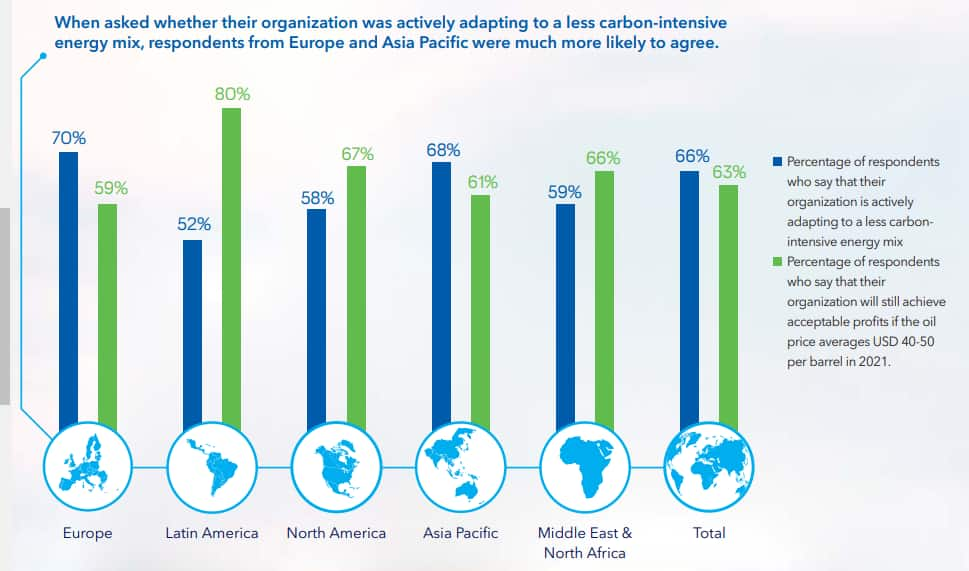 Source: DNV
Whether or not peak oil has been reached, the energy transition is changing the investment landscape. DNV reported that 46% of executives surveyed said their companies had committed to reducing carbon emissions by at least half by 2050, and they were hedging their bets by investing in a diverse range of options. Among the top categories for investment in 2021: carbon capture and storage (62%); floating offshore wind (60%); green hydrogen (58%); fixed offshore wind (57%); blue hydrogen (54%); solar PV (44%); and onshore wind (44%).
A new analysis from the Institute for Energy Economics and Financial Analysis (IEEFA), which favors a transition away from fossil fuels, says that investors are voting with their dollars in favor of clean energy portfolios. "Most signs suggest a long-term capital flight away from fossil fuel firms and toward companies that have fully embraced the energy transition," IEEFA said in an analysis released on 9 February.
As an example, IEEFA compared the performance for 2016-2020 of two exchanged-traded funds (ETFs) in the energy space. The iShares Global Clean Energy ETF (NASDAQ: ICLN) is made up of 30 publicly traded renewable energy companies, and IEEFA said it has almost quadrupled in value over the last five years. In contrast, the iShares Global Energy ETF (NYSEARCA: IXC), which has investments in 59 companies in the oil and gas sector, fell by 17% during the same period.
Investment inflows showed an even more stark disparity in 2020. "The companies in ICLN are mostly small, averaging just $206 million in market capitalization, while the IXC constituents average $17.3 billion in market cap," IEEFA said. "Smaller companies also tend to be riskier and more volatile. But even though its constituents are small, ICLN enjoyed $3.5 billion in capital inflows over the past year, dwarfing the relatively paltry $435 million that trickled into IXC."