Customer Logins
Obtain the data you need to make the most informed decisions by accessing our extensive portfolio of information, analytics, and expertise. Sign in to the product or service center of your choice.
Customer Logins
Structural upstream project changes expected to continue to drive costs down by 15% until 2022, countering inflationary cyclical costs

The new IHS Markit Upstream Innovation Index (UII) for the first half of 2019, which tracks construction and operations costs of 80 oil and natural gas projects, dropped by 15.7% from 2014 to 2018. This indicates reductions in costs due to innovation, combined with cyclical cost reductions seen since 2014, where construction costs have dropped over 40%. IHS Markit forecasts cost reductions because of innovation will continue with the UII reaching 69.7 by 2022, translating to an additional 14.6% reduction.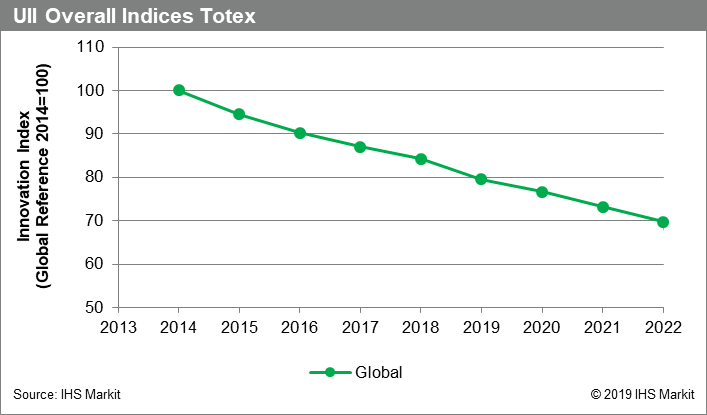 Figure 1: Upstream totex innovation index
While the headline numbers offer guidance to stakeholders, deep-diving into granular numbers offers insights of how capex and opex are being affected in different terrains (deepwater, shallow water, and onshore) or in different regions. The numbers suggest that trends are replicated, albeit with different magnitudes.
IHS Markit has developed the UII to quantify the effects of innovation on oil and gas project development, following the oil price collapse of 2014, which meant that many oil and natural gas development projects planned prior became unfeasible. This forced operators to seek new ways to reduce construction and operating cost to enable projects to become economically viable under a low oil price environment.
Between 2014 and 2017, decreases in commodities, labour and equipment contributed to cost reductions in the downturn era, and substantial cost reductions were achieved via structural cost reductions, comprising both design changes and efficiency drive to do things better. The question that investors and operators need to answer is "are these cost reductions sustainable, how can we quantify them, and how can we drive changes forward and not backslide?".
The UII address these questions and can be used as a standalone index to evaluate and forecast the impacts of innovation on upstream capital and operating costs in the short term. The UII tracks only innovative structural cost changes that occurred historical, and using a proprietary methodology developed by IHS Markit to forecasts these trends for the next five years. The UII can be used in conjunction with the Upstream Capital Cost Index (UCCI) and Upstream Operating Cost Index (UOCI) to assess the total cost movement of an asset over time.
IHS Markit defines innovation as a new method of executing projects in a manner different to the old norm used prior to the 2014 oil price collapse. By this definition, innovation includes technological advances, simplification, standardization, and modularization adopted to reduce project costs, during construction and operation.
UII is calculated based on capex and opex of a portfolio of projects, comprising of 50 oil projects and 30 natural gas projects across diverse terrains and spanning all geographical regions worldwide. Global oil and gas total cost (totex) is used as the reference with the third quarter 2014 set to 100 as the starting point for generating the indices. Figure 1 shows how Innovation has reduced totex by up 15.7% up to now and how its forecasted to provide an additional 14.6% by 2022.The overall impact of innovative practices will dampen cost increases and maintain cost reductions for a longer period.
With upstream construction and operating costs already showing signing of escalation, IHS Markit expect upstream cost inflation beyond 2018, with expectations of a 2-3% annual increase. We expect the inflation element of cost changes will be countered by innovative practices, including greater adoption of efficiencies, acceptance of using new designs and focus on technology solutions including digitalization, IoT, AI and additive manufacturing, where stakeholders strive to optimize processes to achieve significant cost savings in the near-term.
Besides providing quantitative directions of how innovation impacted project costs, the UII can illustrate the impacts of certain practices on cost reduction, and help companies set higher achievement targets by illustrating best practices and what is possible for projects to reach their optimal potential. It also allows operators to perform "gap analysis" for a specific project or a portfolio of projects.
---
Follow IHS Markit Energy
RELATED INDUSTRIES & TOPICS