Customer Logins
Obtain the data you need to make the most informed decisions by accessing our extensive portfolio of information, analytics, and expertise. Sign in to the product or service center of your choice.
Customer Logins
How Long Will Strong Short-Term Oil Demand Growth be Sustained?

Electric vehicles (EVs) dominated mainstream news in 2017. From the launch of Tesla's Model 3 in July, to China's and India's proposals to create combustion engine-free cities, headlines sparked increased speculation about peak oil demand, with Shell CEO Ben van Beurden suggesting that this could be as soon as the late-2020s.
However, talk of the end of the oil age is at odds with the current upward trajectory of demand. Current oil demand growth is matching the China-fueled global commodity supercycle of 2003-07. Over the last five years refined product demand growth has averaged 1.2 MMb/d, while total global oil liquids demand growth (which includes natural gas liquids from crude and natural gas production) has averaged 1.6 MMb/d over the same period (see Figure 1).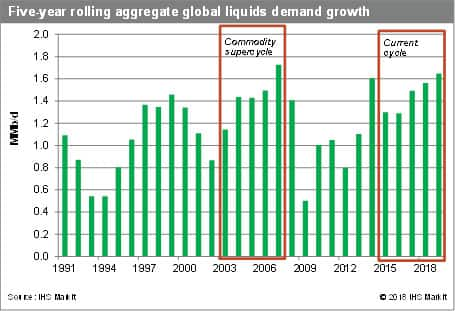 Figure 1: Global liquids demand growth
So, although EVs undoubtedly have the potential to disrupt the energy and automotive sectors in the longer term, they currently make up around 1.5-2.0% of total global vehicle sales and account for less than 0.5% of the global vehicle fleet; their influence on the market in the short term is thus limited.
Although current demand growth is aping the gains made during the commodity supercycle, the drivers of growth and composition of that growth are quite different. Understanding the differences between the cycles can help us anticipate how long the current cycle might last and how material-and durable-the gains made might be.
Essentially, IHS Markit sees some key differences between the current cycle and the commodity supercycle. Firstly, the demand growth is broader based now than it was during the commodity supercycle, with OECD countries and NGLs both accounting for a much larger portion of growth. Secondly, the supply-side and refining constraints that ultimately put the brakes on demand growth in the previous cycle are not present today. Supply is abundant and the refining sector has sufficient spare capacity to meet the demand increase. Without the constraints that ended the previous surge in growth, understanding the current demand-side growth drivers is key to predicting the longevity of the current oil demand surge.
The question now is: how long will this growth last? Will ongoing economic growth and low, stable oil prices continue to support demand into the medium term? Or will OECD demand growth be short-lived as oil prices start returning to higher levels, fuel economy improves, EV penetration grows. Furthermore, for how long will NGLs provide unusually high support to oil demand growth? The drivers of oil demand are part of a sensitive balance (see Figure 2).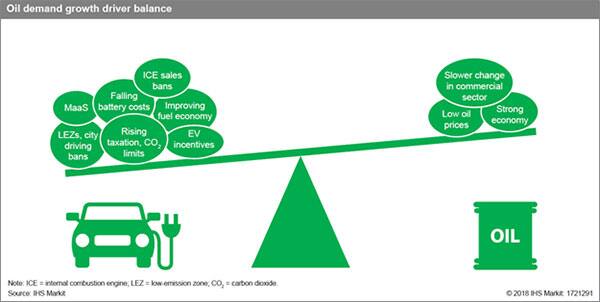 Figure 2: Oil demand growth driver balance
Looking forward, we expect a continued reduction in energy intensity to gradually offset the factors currently supporting demand growth. Several growth drivers, notably in EVs and fossil fuel regulation, have developed rapidly in the past year and are likely to continue to do so over 2018-19.
For example, with a fleet turnover time of about 12 years, even if diesel loses significant ground to gasoline and hybrid/EVs in new car sales, it will take several years for the overall fleet structure to change significantly. Thus, the erosion of diesel demand will be gradual.
This year will bring greater clarity to how quickly certain drivers will affect demand and answer questions such as: how far reaching will regulatory changes be? How soon will they be enacted? For how long will EV incentives support the market, and what will happen to sales when they stop? How soon will the commercial sector embrace change and reduce its reliance on diesel?
Looking further ahead, we expect refined product demand growth to start easing back toward 1 MMb/d per year, principally because of continually improving vehicle efficiency, progressively supported by increasing EV and hybrid vehicle sales. Vehicle efficiency improvements will be more influential on oil demand than fuel substitution over the next 10 years.
The period of strong oil demand growth from the commodity supercycle of 2003-07 was ended by the 2008 global recession. The current cycle of strong oil demand growth is more likely to gradually ease than to crash, providing ongoing short-term support for global refining margins.
This blog is a summary of a detailed report published on the IHS Markit Refining and Marketing service, to learn more please contact the authors.
Visit Refining & Marketing to find out more.

Spencer Welch is Director, Oil Markets and Downstream in IHS Markit based in London
Eleanor Budds is a Principal Analyst, Oil Markets and Downstream in IHS Markit based in Paris
---
Follow IHS Markit Energy
RELATED INDUSTRIES & TOPICS