Customer Logins
Obtain the data you need to make the most informed decisions by accessing our extensive portfolio of information, analytics, and expertise. Sign in to the product or service center of your choice.
Customer Logins
Strong dividend growth in Singapore amid uncertainty

• Constituents in MSCI Singapore set to pay SGD 16.8bn in ordinary dividends for 2019, up 7.4% on 2018
• Banks drive dividends in Singapore, offset by lower payouts from Financial Services, Media and Travel & Leisure sectors
• MSCI Singapore trades at a dividend yield of 3.6%, ranked second among indices within the Asia Pacific region
Against a backdrop of uncertainty stemming from global trade tensions, authorities in Singapore downgraded their forecast for economic growth to a range between 1.5% to 2.5%. The modest outlook is in line with the latest PMI reading, which showed a contraction in Singapore's manufacturing industry for the second consecutive month. The dividend outlook however, illustrates a contrasting picture as we are projecting ordinary dividends from MSCI Singapore companies to grow for the third consecutive year to SGD 16.8bn in 2019. Including special payouts, we are expecting total dividends to come in at SGD 17.3bn.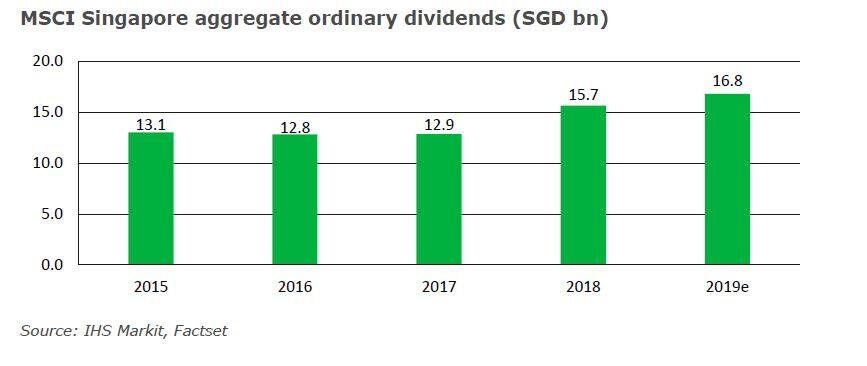 Banks, telecommunications and property-related companies anchor dividends from MSCI Singapore, accounting for almost three-quarters of the payouts from the 25-member index. The estimated 7.4% jump in ordinary dividends is primarily attributed to our bullish forecasts on the payouts from banks, although we are seeing muted dividend growth from the second and third largest dividend paying sectors.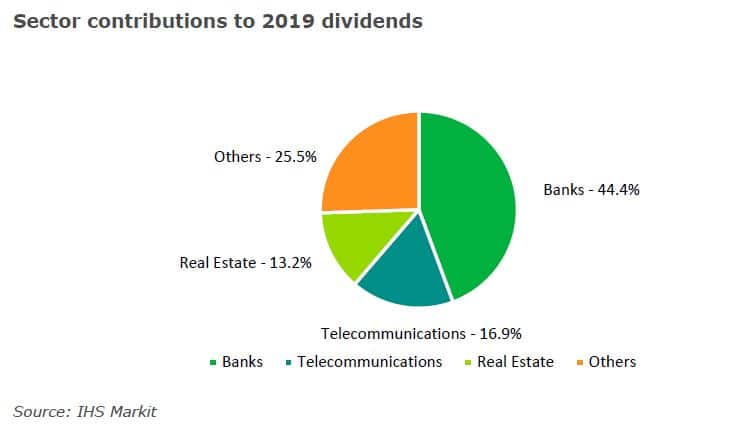 Banks continue to drive dividend growth
Singapore's dividend trajectory is heavily influenced by the big three Singapore banks as these lenders contribute 44.4% of payouts from MSCI Singapore. On the back of strong fundamentals and a positive earnings outlook, ordinary dividends from DBS Group Holdings (DBS), United Overseas Bank (UOB) and Oversea-Chinese Banking Corporation (OCBC) are projected to reach a multiyear high of SGD 7.5bn, which translates to a year-on-year increase of 18.7%. Total dividends will however, fall by 1.4% due to the absence of a SGD 1.3bn one-off special dividend, announced by DBS in February last year.
Dividends from property developers are stable; Real Estate Investment Trusts (REITs) outlook is positive
Dividends from property developers account for around 32.5% of the sector dividends in 2019. Distributions from Capitaland Limited (Capitaland), City Developments Limited (City Developments) and UOL Group Limited (UOL) were either flat or higher in recent years. This underscores their intention to pay dividends on a sustainable basis and is supported by their high level of recurring income. For 2019, we are forecasting ordinary dividends from these three property developers to amount to SGD 721m or SGD 829.9m if we were to include the regular special dividends from City Developments.
We are forecasting distributions from REITs to amount to SGD 1.5bn this year, translating to a year-on-year increase of 0.5%. The modest growth is mostly due to the decline in distribution from Capitaland Mall Trust (CMT), attributed to an advanced distribution announced in October last year.
Distributions from Telecommunication sector subdued
The telecommunication sector is represented by Singapore Telecommunications (Singtel) and accounts for 16.9% of aggregate dividends. We are expecting Singtel to keep its ordinary dividends flat for the fifth consecutive year and are forecasting the company to pay SGD 2.5bn in dividends this year. This is consistent with guidance from the company, which states Singtel will maintain its dividends at SGD 0.175 per share till FY20.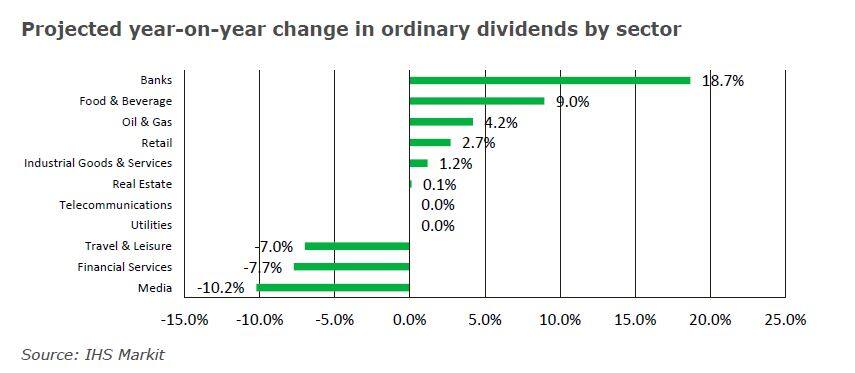 Dividend cuts from three sectors - Financial Services, Media and Travel & Leisure
The Financial Services sector is represented by Singapore Exchange and we are projecting dividends to fall by 7.7% to SGD 321m. This is however due to the split pattern of its dividends and not a reflection of any deteriorating fundamentals.
The media sector is represented by Singapore Press Holdings (SPH); we are expecting total dividends to come in at SGD 161.5m in 2019, reflecting our expectation that dividends will fall for the sixth consecutive year.
Dividends from the Travel & Leisure sector have been erratic, due to the volatility in Singapore Airlines (SIA)'s distributions. Elsewhere, both ComfortDelgro Corporation and Genting Singapore Limited have a history of growing its dividends steadily and we expect this practice to continue going forward. We are pencilling in a 0.9% increase in dividends from these two companies to SGD 652.6m in 2019
How does MSCI Singapore perform against other indices?
MSCI Singapore trades at a dividend yield of 3.7% and is ranked second among indices around the region. MSCI Australia generates the highest yield at 4.1% and this suggests that on average, companies in these two countries are more generous when it comes to rewarding shareholders.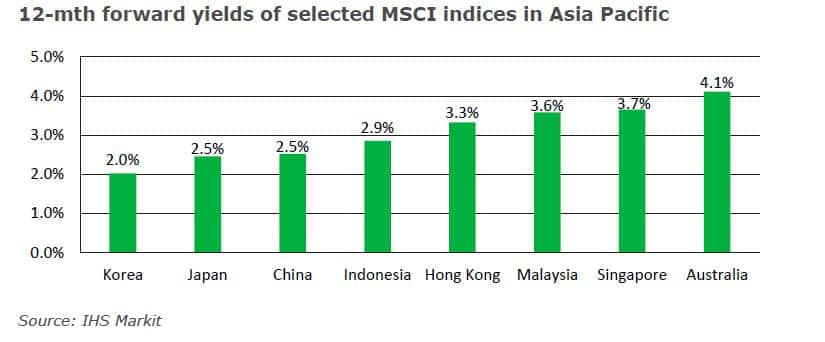 To access the report, please contact dividendsupport@ihsmarkit.com
Chong Jun Wong, CFA, Senior Research Analyst at IHS Markit
IHS Markit provides industry-leading data, software and technology platforms and managed services to tackle some of the most difficult challenges in financial markets. We help our customers better understand complicated markets, reduce risk, operate more efficiently and comply with financial regulation.
---
Follow Financial Services
RELATED INDUSTRIES & TOPICS