Customer Logins
Obtain the data you need to make the most informed decisions by accessing our extensive portfolio of information, analytics, and expertise. Sign in to the product or service center of your choice.
Customer Logins
Steam Cracker Turnaround and Global Olefin Market Balance

Seasonality in steam cracker availability will once again be a major contributor to the accessibility of material and the market balance in 2021. The Covid-19 pandemic, resulting lockdowns and economic collapse of 2020 will continue to weigh on the petrochemical industry in 2021 as the world learns to live and deal with this new disease. One factor that will impact the olefin industry is the delays that were seen on steam cracker turnarounds in 2020. This is of particular note for Europe where many 2020 turnarounds have been pushed into 2021, and the result is that what should have been a year of very limited maintenance will in fact see a large level of turnarounds.
However, the level of steam cracker outages is not simply a function of planned down-time but impacted by delayed restarts and other unplanned issues which are often more disturbing to the market than planned outages. In Europe, unplanned plant outages made up for a low level of total capacity loss in 2016-2018 but in the last two years this figure rebounded sharply, and in 2019, exceeded the level seen even in 2015. With a relatively heavy set of European cracker outages expected to be seen in 2021, a reasonably high level of capacity loss due to delayed restarts can be assumed along with the usual typical losses. However, this may be mitigated given that much of the planned loss will be related to one unit which is expected to be down all year, maintenance outages are otherwise forecast to be at typical levels. Naturally, unplanned outages are difficult to forecast with many uncontrollable factors potentially leading to lost production.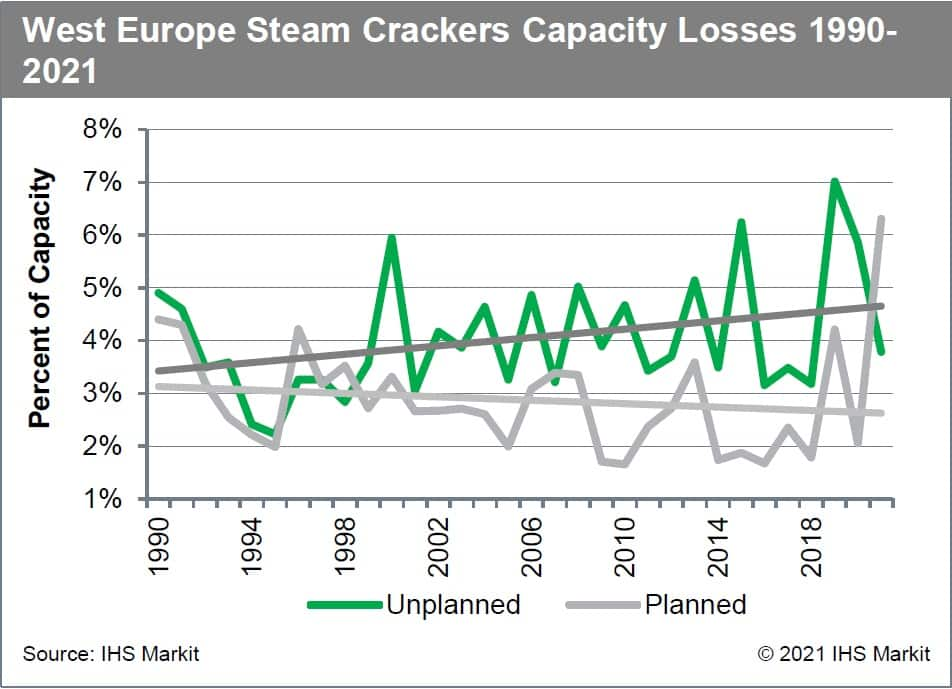 The long-term view of planned and unplanned outages in Europe puts the current level of maintenance into perspective. In the 1990s, the average percentage lost to planned maintenance was 3.2 percent, in the 2000s that figure dropped to 2.8, and in the 2010s the average has been just 2.4 percent. This downward trend has been matched by an upward move in unplanned or technical outages during the same time periods. The shift towards longer intervals between turnarounds had not been compromising performance as unplanned outages had moved back to a lower level in the period of 2016-2018 whilst preserving these lower maintenance losses. However, the trend was broken in 2019 and 2020 when exceptionally high losses were seen. It is worth noting that a portion of the unplanned losses can be associated to delayed restarts, which have a high probability after planned maintenance, and were a contributory factor to the 2019 increase, though not in 2020.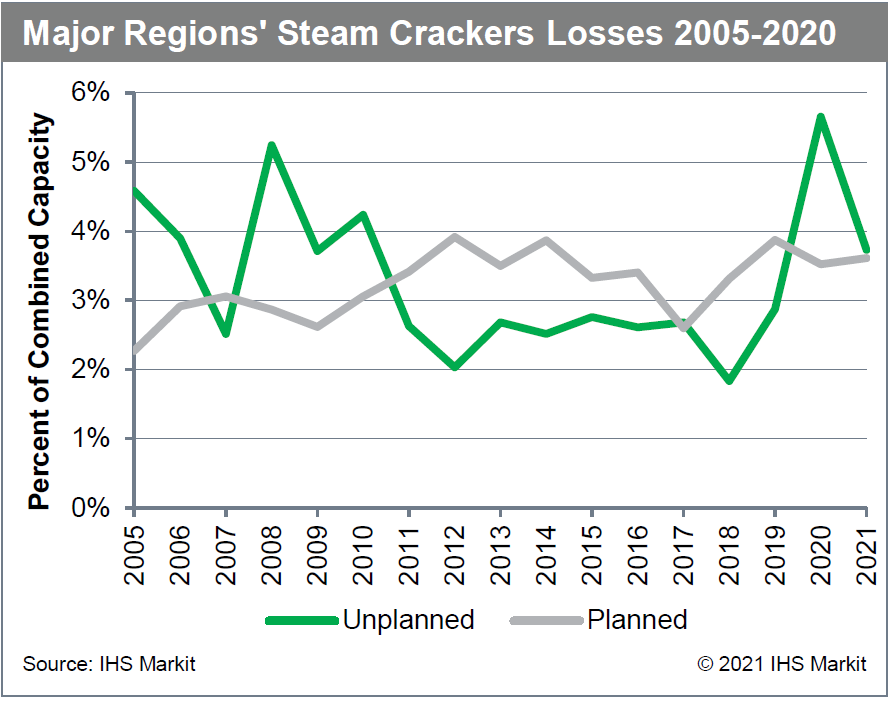 With turnaround information available for the U.S., West Europe, Northeast Asia and Southeast Asia, a reasonably good image of the likely pressure on the global olefin markets can be drawn as the majority of global capacity is captured. The long-term changes for steam cracker operators and whether they focus on preventative planned maintenance or take their chances with unplanned issues do not follow the trend seen in Europe. On a global basis, more planned maintenance was seen in the 4-5 years following the financial crisis than had been seen beforehand. The scale of unplanned issues has also declined, although the period around the financial crisis may have slowed the restart of crackers and skewed the figures slightly. Up to 2019, global unplanned issues were running at about 2.7 percent versus a pre-crisis level of around 3.5 percent, but 2020 saw exceptionally high losses of 5.7 percent. The large jump in the 2020 unplanned losses was a combination of several problems in Asia, prolonged outages in Europe and the impact of hurricanes in the U.S. The combination of planned and unplanned losses pushed the total level of outage to over 9 percent on an annual average basis. When placing typical European figures next to the global number, there is a stark difference between maintenance, typically 1 percent lower in Europe, and technical outages, around 1.5 percent higher.
Bringing the focus back to the present market, the dynamics for turnarounds start to fill in the shorter-term outlook for ethylene supply. When considering the combination of planned outages in the U.S. (above average), Europe (far above average) and Asia (below average) the industry will see constraints at points during 2021, though, given the excess of capacity in the market, those constraints are not expected to be prolonged. The exceptionally high level of losses expected in Europe and very high losses in the U.S. will both be focused in the second quarter. The result is that, despite continued additions of new capacity, the underlying market balance, which is long, is unlikely to be visible on a consistent basis until the second half of 2021. Should unplanned issues continue to weigh on supply, as they did in the second half of 2020, the market may maintain its current tight balance until it shifts longer in the second half of the year.
Chemical Market Advisory Service: Europe & Middle East Light Olefins offers a comprehensive yet focused view of the European and Middle Eastern light olefins markets. While this service concentrates predominantly on Europe and the Middle East, it also benefits from the insights provided by our Asian and North American practices, making it a fully integrated service.
Clients receive quarterly price forecasts each month, along with a quick reference appendix containing data on supply and demand, trade, operating schedules, new project listings and price forecasts. Through continual, personal contact with key industry sources, chemical consultants gather and study industry-specific data, then analyze and translate it into valuable insights and forecasting advice.
Products covered:
Propylene
Propylene derivatives: Polypropylene, Propylene Oxide, Acrylonitrile, Cumene, Acrylic Acid, Oxo-Alcohols
Ethylene
Ethylene derivatives: Polyethylene, Ethylene Oxide / Glycol, EDC / VCM / PVC, Styrene, Alpha Olefins, Vinyl Acetate Monomer (VAM)
RELATED INDUSTRIES & TOPICS