Customer Logins
Obtain the data you need to make the most informed decisions by accessing our extensive portfolio of information, analytics, and expertise. Sign in to the product or service center of your choice.
Customer Logins
Spain sets records for renewable power generation

Renewable sources generated 43.6% of Spain's electricity in 2020, their largest share since the nation began keeping records in 2007, according to a report issued in December by Red Eléctrica de España (REE), which operates the country's power grid.
Spain generated 109,269 gigawatt hours (GWh) of electricity from renewable sources in 2020, 11.6% more than in 2019. Overall power generation fell by 4% in 2020, totaling 250,387 GWh. (All 2020 data are preliminary.)
"The share of green energy generation in 2020 is 6.1 percentage points higher than that of 2019 and is 3.2 percentage points higher than the previous maximum annual share recorded in 2014," REE said in its report.

Wind power contributed 21.7%, close behind nuclear power at 22.2%. Next in line was gas-powered combined-cycle generation (17.8%), hydro (11.9%), cogeneration (10.8%), and solar photovoltaic (6.1%). Solar PV was the fastest-growing, up nearly 66% year on year.

In contrast, falling power demand and the growth in renewable output led to a 60% year-on-year decline in coal-fired generation in 2020. At 5,064 GWh, coal-fired generation is accounting for only 2% of the country's power needs, REE said.
The balance of power generation in 2020 (7.6%) consisted of solar thermal, biomass and other renewables, and fuel oil and other fossil fuels.
Despite the economic slowdown due to the coronavirus pandemic, Spain added 2,706 megawatts (MW) of wind and solar PV power capacity in 2020. According to REE, Spain's installed power capacity currently stands at 109,674 MW, of which 53% is renewable.
Economic recovery and clean power goals
Spain's Integrated National Energy and Climate Plan has a goal of 74% of electricity from renewable sources by 2030. This plan was buttressed in July 2020 by the Royal Decree-Law 23/2020.
According to law firm Osborne Clarke, the new decree makes a number of changes that will make it easier for clean energy facilities to gain access to the electric grid. These include updates to the annual bidding process to supply renewable power; speedier authorization of "non-substantial" modifications to power facilities; and enhancements to energy-efficiency quotas, which are applied to fossil fuel producers and large users.
In an analysis of the new decree, IHS Markit said Spain's intent is to put an end to speculative use of grid capacity that has tied up transmission without guaranteeing that renewable energy projects will be built. "Under Royal Decree Law 23/2020, developers with grid access permits are bound to the completion of certain milestones, limiting total development time to five years," the analysts said in an August report.
Since January 2019, IHS Markit said, 136 GW of potential renewable capacity has received grid access, with an average application rate of 30 GW per month.
IHS Markit forecasts strong growth for renewables over the next five years (see graph), helped in part by new regulations and investments as part of the country's post-pandemic economic recovery plan.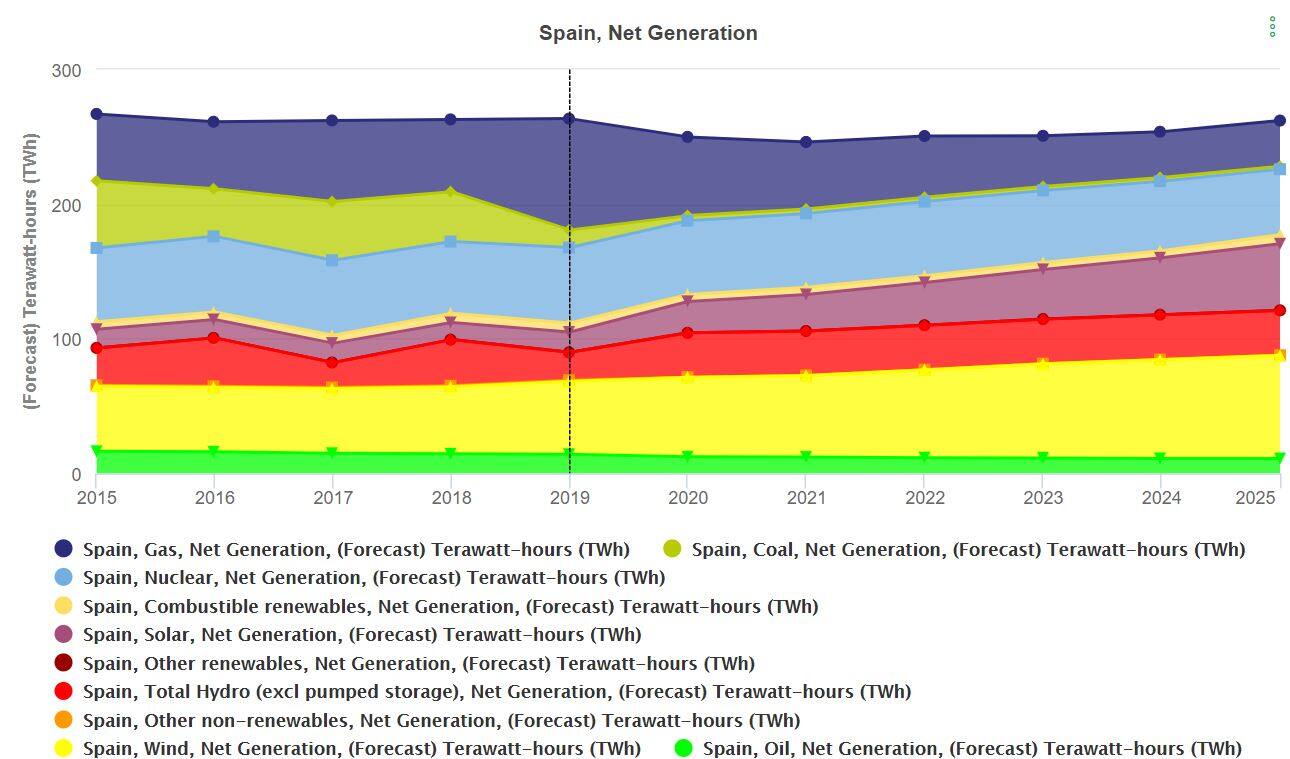 In 2019, Spain's government signed an agreement with energy producers to phase out coal-fired generation by 2030 and nuclear power by 2035. One issue for the country, according to IHS Markit, is an excess of gas-fired power capacity, and rules that make it illegal to retire or mothball a gas plant for economic reasons.
One of the keys to continuing to reduce Spain's fossil fuel usage is an expansion of cross-border power transmission with Portugal and France. REE reported that the December 2020 auction of transmission allocations generated €33 million ($40.6 million), an increase of 22% from auctions held last year. In the Spain-France direction, 800 MW was offered and allocated for each hour of the year, with the auction setting a price of €5.03/MWh. In the Spain-Portugal market, 340 MW was offered and allocated for each hour of the year, establishing a price of 10 euro cent/MW. (It should be noted that the year-ahead allocations held in December were for only part of the overall cross-border transmission capacity, with the rest sold on a spot and quarterly basis.)

Projecting through the end of 2020, REE said Spain will have imported 18,687 GWh of power and exported 14,830 GWh.
RELATED INDUSTRIES & TOPICS