Customer Logins
Obtain the data you need to make the most informed decisions by accessing our extensive portfolio of information, analytics, and expertise. Sign in to the product or service center of your choice.
Customer Logins
South Korean quest for solar unimpeded by coronavirus

Solar Energy installations continue to dominate South Korea's push for renewable energy installation despite the coronavirus pandemic that was responsible for postponing a number of such projects across the globe.
South Korea instead has seen solar energy capacity at the electric utility level nearly double since President Moon Jae-In assumed office in 2017 and since has taken steps to phase out coal- and nuclear power for renewables. This includes Moon's public declaration on Oct. 27 to achieve net zero carbon status by 2050 and a request of $7 billion to fund his initiatives to boost renewables.
The International Energy Agency revised its initial record renewable energy installations in 2020 after the coronavirus spread across the globe, saying these installations would lag in 2020 and pick up in 2021.
Likewise, the International Renewable Energy Agency earlier this year declared that solar and wind installations would bear the brunt of postponements due to the pandemic that brought most economic activity across the globe to a halt.
Solar installations in South Korea were unaffected by the pandemic, as the country didn't ever require the need to enforce full lockdown, which the IEA said affected supply chains of essential materials in countries like China and India.
"In South Korea, there has been rarely no impact on solar photovoltaic installation this year," Vince Heo, associate director of IHS Markit's Gas, Power and Energy Futures team in Seoul. "You can see that from the installation pace this year and also 2020 GDP outlook which remains relatively resilient at -1.1%."
Solar dominates renewables
Solar power currently dominates South Korea's renewables with 67 percent of installed capacity or 10.5 GW, nearly double the 5.1 GW seen at the end of 2017 when Moon's government took over. As of July, South Korea has installed 2.3 GW of solar capacity, according to an IHS Markit analysis of the country's electric power.
In contrast to solar installations, other renewable sources expanded, but not at the same pace.
IHS Markit data show that hydropower capacity increased by 1.6% to 1.8 GW between 2017 and 2019, but then growth remained essentially flat throughout 2020. Wind capacity increased by 25% to 1.51GW during this same period, with 62MW added by July of this year. Biomass as a renewable source also nearly doubled its capacity to 834MW in 2019, adding 277 MW this year.
South Korea's most recent draft ninth energy plan seeks to boost installed capacity of renewables mainly through wind and solar additions to 33.7 percent in 2030, up from 13% in 2019.
Coal overshadows power generation
In terms of power generation, renewables currently contribute 6%, and Moon's government wants to boost this share to 40% by 2034. But for now, renewables remain overshadowed by coal-fired generation, which in 2019 was responsible for 40% of generation at 227,834 GWh, according to IHS Markit analysis of S. Korea's coal profile.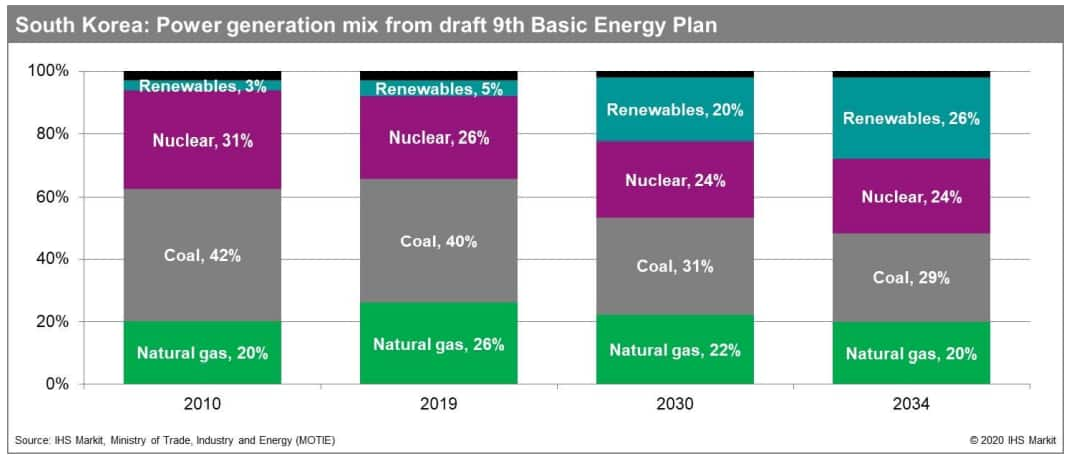 In 2019, solar energy generation nearly doubled to 11,801 GWh compared with 2017. This year, the country looks to be on track to exceed that amount, with 10,180 GWh of new solar generation installed as of July 2020.
The renewables share of power generation is expected to grow as Moon's plans to retire coal and nuclear plants in the latter half of this decade starts to take effect. Moon has redoubled his administration's efforts to make good on his election campaign promise to wean the country away from its reliance on coal- and nuclear-fired generation despite his inability to cancel already planned future coal power plants.
This July, Moon renewed his promise to phase out coal-fired generation with the rollout of South Korea's version of the $61.9 billion "Green New Deal" of $38 billion would come from the federal government. This includes $38 billion for boosting the installed capacity of renewables to 42.7 GW from its current level of 15 GW.
Carbon Neutrality
Under this plan, South Korea also aims to phase out coal-fired generation as its targets carbon neutrality by 2050, a goal Moon formally committed to meeting in a 27 Oct. speech to the country's National Assembly.
"By replacing coal power generation with renewable energy, we will create new markets and industries and create jobs," Moon told the assembled lawmakers, as he sought an additional 8 trillion won, or $7 billion, to pursue green initiatives in 2021.
Those initiatives included 4.3 trillion won or roughly $3.8 billion for building the infrastructure to charge and supply electric and hydrogen-powered vehicles and expanding regional renewable energy projects.
Moon's announcement came two days after Japan announced its 2050 net zero goal with a commitment to reconsider its reliance on coal. South Korea and Japan took the cue from China, which last month pledged to achieve carbon neutrality by 2060.
Environmental groups, such as Kim Joo-jin, chief executive officer of Seoul-based Solutions For Our Climate, said 27 Oct. that he welcomed the carbon neutrality goal. At the same time, he said the government should not just stop at the declaration but instead take a number of steps immediately to reach its goal.
"It is most effective to immediately stop construction of new coal power plants and rapidly reduce existing coal power plants, and financial support for domestic and foreign coal projects should also be immediately stopped," Kim said.
Korean Electric Power Corp., or KEPCO, already has announced that it will build two LNG power plants in Vietnam and Philippines instead of the coal-fired power plants. The state-run utility also has indicated that it will no longer invest in overseas coal-fired power plants.
RELATED INDUSTRIES & TOPICS