Customer Logins
Obtain the data you need to make the most informed decisions by accessing our extensive portfolio of information, analytics, and expertise. Sign in to the product or service center of your choice.
Customer Logins
Solar, wind to dominate 2021 US generation installations: EIA

After a strong 2020 for new renewable power installations, 2021 is looking even more promising, as it is expected to represent more than 80% of the capacity that will start commercial operations this year, according to an inventory released by the US Energy Information Administration (EIA) 11 January.
Overall, EIA is forecasting that 39.7 gigawatts (GW) of new generation will come online in 2021, with utility-scale solar photovoltaic accounting for 39%, followed by wind at 31%. About 15% of the new capacity will be natural gas-fired power, and 3% will come from the new nuclear reactor at the Vogtle power plant in Georgia. The balance will be battery storage operations.
For 2020, EIA is estimating that about 38 GW of new power will be installed, an increase of 65% from 23 GW in 2019.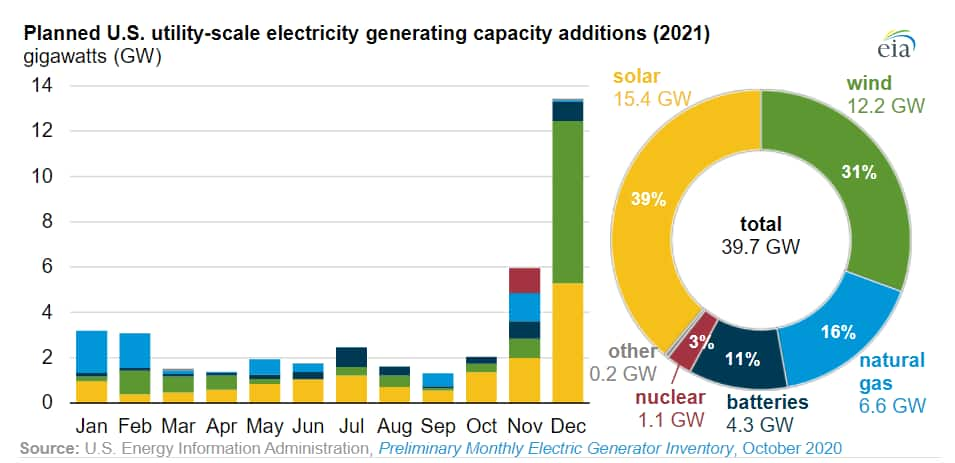 "Installations were robust in 2020—no question about it. Final data for 2020 is not yet available, but all indications are that both wind and solar set records for annual installations," said Douglas Guiffre, IHS Markit director, North American power markets.
"The surge in 2020-particularly for wind-was anticipated and supported by the scheduled phaseout of the federal tax credits. There were some project delays-particularly during the period of widespread lockdowns due to the COVID-19 pandemic-but the industry responded well," Guiffre added.
Not only could the pandemic's impact ease in the latter half of this year, but wind and solar will benefit from a five-year extension of tax credits through the Consolidated Appropriations Act, which passed Congress 21 December 2020 and was signed by President Donald Trump. "This will improve the economics for projects that can capture them and will lift expectations for new installations in the mid-2020s," Guiffre observed.
More support is likely to come from the new Biden administration, added John Hensley, vice president of research and analytics for the American Clean Power Association. "The Biden team has laid out an ambitious, comprehensive approach to climate change policy that recognizes renewable energy's ability to grow America's economy and create a cleaner environment and a more prosperous and equitable future," he said.
"Clean power plants are the top choice for new power capacity additions in the country, and we anticipate this being 'the new normal,'" he continued. "Momentum for clean energy has been building, and we expect significant growth in 2021 as the country continues its transition to majority clean power over the next decade."
Solar PV leads the way
EIA forecasts new utility-scale solar PV capacity will set a record in 2021 of 15.4 GW, well above the record set in 2020 of 11.7 GW. More than half of the capacity is planned for four states: Texas (28%), Nevada (9%), California (9%), and North Carolina (7%).
New wind capacity will fall below the record amount set in 2020. For 2021, EIA said 12.2 GW of wind capacity is scheduled to come online this year, down from an expected 20.9 GW in 2020. Texas and Oklahoma are expected to account for more than half of the 2021 wind capacity additions, including the largest facility, the 999-MW Traverse wind farm in Oklahoma.
One trend IHS is watching in 2021 is which power markets are seeing the largest installations of renewables outside of California.
"For the past five years, installations have been more concentrated in key markets-California for solar, which accounted for more than 25% of solar additions-and the so-called 'wind belt' (MISO, SPP and ERCOT power markets), which accounted for about 80% of wind installations in 2016-20," Guiffre said. MISO coordinates power production and distribution for parts of seven Midwest and Plains states; SPP oversees parts of 14 states from Wisconsin to New Mexico; and ERCOT manages power for most of Texas.
"Going forward, these markets will still be important, but the growing competitiveness of wind and solar, along with corporate procurements and growing decarbonization goals, will drive more widespread deployment," he added.
EIA's report says gas-fired installations will continue as well in 2021, with planned additions at 6.6 GW. Combined-cycle generators are set to account for 3.9 GW, and combustion-turbine generators for 2.6 GW. More than 70% of these planned additions are in Texas, Ohio, and Pennsylvania, EIA added.
IHS Markit is a little less optimistic than EIA about gas-fired generation this year, putting the likely startup at closer to 4.0-4.5 GW. "Gas-fired generation, which accounted for about one-third of all capacity added over the 2016-2020 period, will fall to around 10% of new supply in 2021," Guiffre said. "However, gas additions may bounce back in 2022 as there are a handful of fairly large projects in the pipeline that we expect to be completed next year."
In terms of power generation retirements, EIA said in a November 2020 report that approximately 9.1 GW of power generation is scheduled to be closed in 2021, of which 8 GW is nuclear and coal capacity.
Battery storage
EIA also reported that battery storage is coming into its own this year, representing a complement to renewable power by providing generation during times when renewable sources are not operating. EIA expects the US capacity of utility-scale battery storage to more than quadruple by the end of 2021, with as much as 4.3 GW of additions slated to come online this year, or 11% of projected new power capacity.
The year is off to a robust start, as Vistra Energy announced the start of operations of the world's largest battery storage facility on 8 January, a 300-megawatt (MW) facility in California, with a 100-MW addition planned this year. EIA said this is likely to be surpassed by the end of the year if the 409-MW Manatee Solar Energy Center in Florida meets its in-service schedule.
Both of those projects exceed the scale of the 250-MW LS Power Gateway Energy Storage project in California that began operation in August 2020, briefly holding the title of the world's largest battery storage facility.
The World Bank has identified the US and Asia Pacific as the leaders in installing battery technology in the last decade. With Democrats in charge in both houses of Congress, the battery storage industry is optimistic about legislation to incentivize battery storage installations stalled since 2019.
In a report in July 2020, EIA detailed the growth of battery storage in the US, from 59 MW of capacity in 2010 to 859 MW at the end of 2018, and now well above 1,000 MW.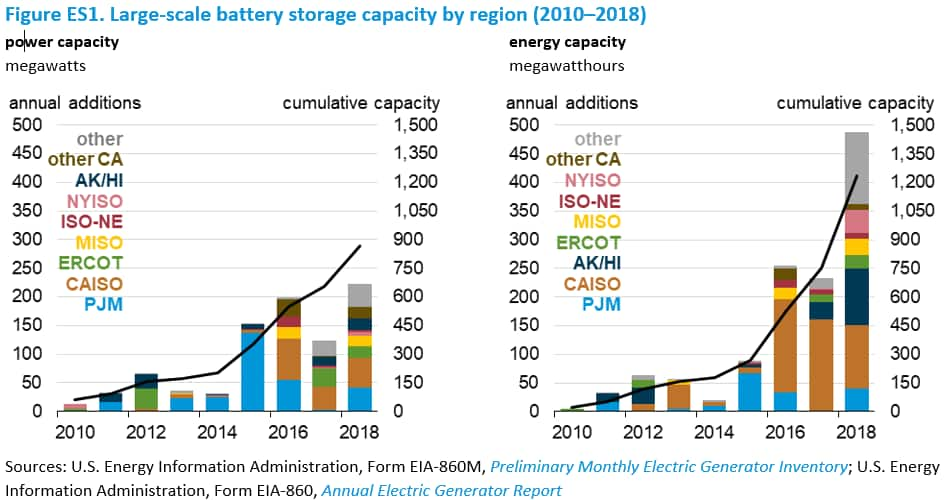 RELATED INDUSTRIES & TOPICS